Work to begin on 'Fire Dance' this week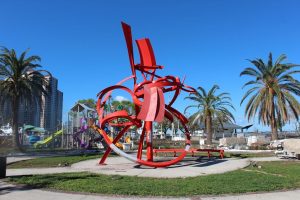 Work will begin on the 25-foot modernist red sculpture in Centennial Park West known as Fire Dance this week. The sculpture is being sanded, primed and repainted.
The City has engaged Noel Painting to do the honors. One of the largest and most respected painting contractors in the entire state, the company has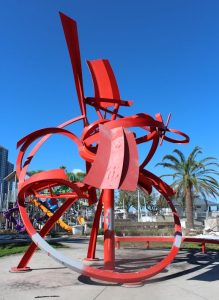 painted everything from modest family homes and multi-million-dollar estates to Publix grocery stores, Harley dealerships, high-rise condos, major hotels and the Alliance for the Arts. Under the direction of father-son team Steve and Travis Noel, the company has built a reputation over the years for blending traditional craftsmanship with current technologies. The latter is especially important in connection with Fire Dance.
Since its installation in March of 2011, Fire Dance has experienced significant fading even though sculptor David Black had Dupont add UV protection to the red paint he used in the fabrication process. By using a Kynar-based resin, Noel Painting hopes to avoid a similar result.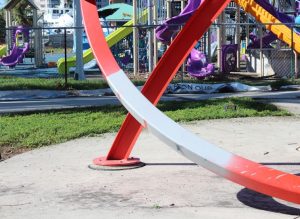 The Kynar paint produce has a chemical property that prevents the UV light spectrum from passing through the polymer. Based on field studies dating back as far as 1965, Kynar-painted surfaces don't just retain their original color, they also protect the underlying metal from rust, corrosion and overall weathering and temperature extremes. This works to extend the metal's useful life by years if not decades.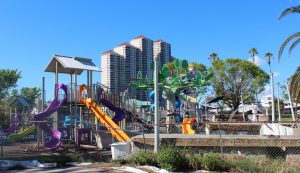 Work on the sculpture has been planned for several months. The Public Art Committee had hoped to have Fire Dance repainted in time for Centennial Park East's official re-opening. Regrettably, Hurricane Ian caused significant damage to the park. The surge that accompanied the high-Cat-4 storm deposited massive portions of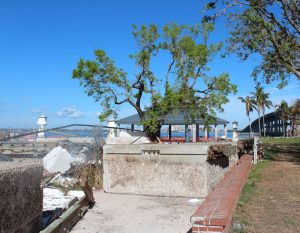 Legacy Harbour Marina's floating dock in the park. Several immense sections of the concrete-and-styrofoam dock came to rest within 50 feet of the sculpture. A few landed in the playground on Fire Dance's western perimeter. As a result, the City has re-installed fencing around the park and indefinitely postponed the park's re-opening.
Noel Painting expects to complete work on Fire Dance before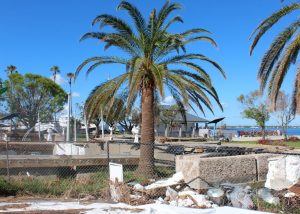 Thanksgiving. Until then, the sculpture will be barricaded so that painters will have unfettered and undisturbed access to the sculpture and the immediately surrounding area. But the public will be able to watch the work from afar, which will include turning the sculpture gray for several days as primer is applied to the piece.
October 31, 2022.
RELATED POSTS.
'Fire Dance' to be repainted in late September