Erik Schlake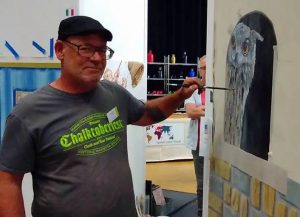 Fort Myers Mural Society muralist Erik Schlake is one of 39 artists participating in the Fort Myers River Basin Mural Project. Not only is he contributing a mural panel for the obelisks that flank either side of Edwards Drive, he is leading the team that is installing the mural panels on the stanchions and obelisks that encircle the detention basin.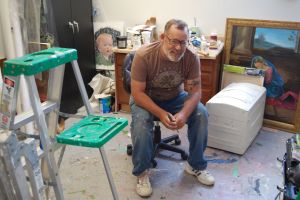 Schlake has been influenced over the years by traditional decorative art as well as contemporary street art. He combines various styles in his work, infusing classic painting with elements of trompe l'oeil, grisaille, and other traditional decorative art in an effort to engage and interact with the viewer a less formal mode of communication. It's a style he often refers to as "modern traditionalist."
"I
didn't want to simply paint on canvas," Eric explains. "There is something powerful about changing an entire environment through murals or decorative arts. In creating a new environment, you are not only able to transform the space, but how people view themselves in that space."
Schlake has been invited to participate in the 2017, 2018 and 2019 Salon, a worldwide gathering of artists from different countries who exhibit their work, teach master classes and discuss old and new techniques.
A New York native, Erik did not begin painting until he moved to St Louis at the age of 23. But it wasn't until he was introduced to various forms of decorative arts, particularly the work of European decorative painters, that he settled on a direction for his fine art.
After moving to Englewood, Florida, Erik was involved in several artistic endeavors. As a resident artist at Hermitage Artist Retreat in Englewood, Erik coordinated a project that brought together nine mural artists from all around the country to collaborate and educate. That experience fostered an inner calling that has prompted Schlake to work on small community murals and art projects, including the creation of a mural with six high school age participants that commemorates the work of Ken Mitchell, a local artist whose work is in the Florida State collection.
Schlake has gone on to participate in street art painting festivals like Sarasota Chalk Festival, Safety Harbor Bloomn' Chalkfest, Fort Myers ArtFest, Lake Worth Street Painting Festival and Marietta Chalktoberfest, as well as participating in Naples Italy's Corsico di Internazionalle de Madonnari.
"People want to connect with art and through art," Erik observes. "It's not enough to just paint a pretty picture. People are looking to engage. There was a time when art was primarily about the artist and their ideas, but that time is passing. Art is now becoming more about finding ways for people to connect, not only with the art but each other. It's our job as artists to become facilitators of those moments."
Erik works under the name Erik Schlake Murals LLC, a licensed and insured company in Florida.
January 28, 2023.