Roland Ruocco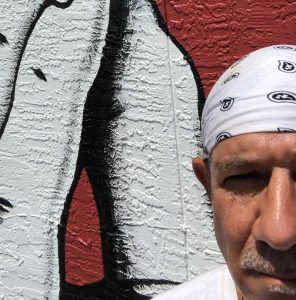 Muralist Roland Ruocco has contributed four compositions to the Fort Myers River Basin Mural Project, a homage to iconic Fort Myers banker, businessman and real estate developer Harvie Heitman that will be installed on one of the four obelisks on Edwards Drive and panels to be installed on the stanchions surrounding the basin that depict the shuffleboard courts that were located at one time next to the Hall of 50 States, the fire that claimed the Lee County Packing House on Memorial Day in 1953, and drovers unloading cattle from a barge,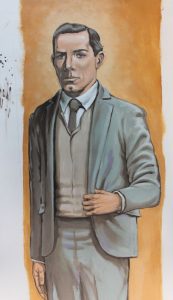 on which he collaborated with his artist wife, Wendy White.
Roland Ruocco is a realist painter whose work has been influenced by comic book illustration, graffiti and old masters from the Romantic period. Since relocating to Southwest Florida in 2018, Ruocco has participated in mural projects in Fort Myers, Cape Coral, Bokeelia, Pine Island and Estero.
A Brooklyn native, Ruocco attended The High School of Art and Design in Manhattan followed by the Pratt Institute in Brooklyn. After moving to South Florida, Roland established a working studio in Lauderdale by the Sea in 2001 and an open studio in Miami's Wynwood Art District in 2010.  At Wynwood, Ruocco took an active role in the vibrant neighborhood art scene, which included Art Base each December.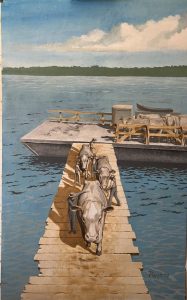 On the East Coast of Florida, Ruocco has exhibited at The Box Gallery in West Palm Beach (2022, 2018), Art Fest in West Palm Beach, RW Art Gallery in Miami (2015 & 2016) and LED-illuminated wall sculptures at Art Palm Beach at the Palm Beach Convention Center in both 2013 and 2015 as well as the biennial International Kinetic Art Exhibition in Boynton Beach, FL (where he displayed his LED, audio/video driven machines Digital Deity and Silicone Oracle. In addition, Roland received a Broward County, FL Cultural Division grant in 2013 to fund his Earth Counterpart Exhibition, an interactive exploration of a virtual Earth-like planet visualized through highly-detailed digitally-rendered terrain and weather maps with theoretical scientific data, together with large paintings depicting planetary conditions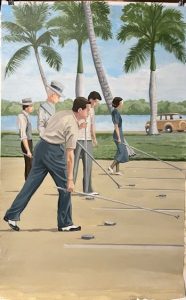 of various locations.
In Southwest Florida, Ruocco has exhibited at the Sidney & Berne Davis Art Center (2019, 2018). In addition, his Southwest Florida studio serves as home for the New Light Foundation, Inc., a non profit 501c3 charitable organization where Ruocco and his wife, artist Wendy White, conduct grant driven art based community outreach programs.
January 28, 2023.