Finalists chosen for Fire Station 17 artwork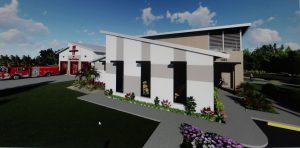 The City of Fort Myers Public Art Committee has announced that Robert Barnum, Haijing Wu and James Lynxwiler are the finalists for the artwork that is to be installed at Fire Station 17, which is being constructed in Ward 6 on Six Mile Cypress Parkway. Each artist will receive a $500 honorarium to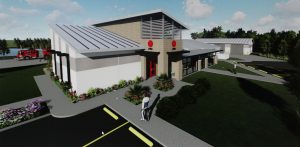 design a representational three-dimensional artwork of sufficient size, scale and composition to be visible to passing motorists and pedestrians. The winning design will ultimately be installed adjacent to the flagpole that will be erected in the parking area along Six Mile Cypress,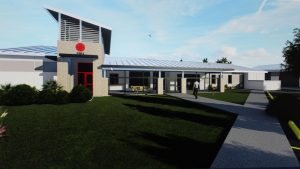 where it will accommodate small groups that periodically gather for memorial event such as 9/11 commemorations and observances for fallen firefighters and police officers.
Michigan-based Robert Barnum creates figure-intensive, figure-driven environments or visual narratives that possess an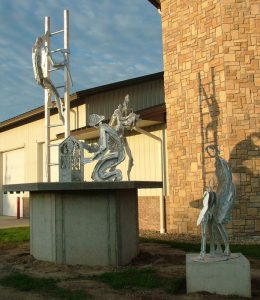 elongated modernist flair in the tradition of renowned sculptor Alberto Giacometti. He also incorporates into his sculptural designs visual language through cut words, images and symbols. In essence, viewers do not just see Barnum's figures or landscape-form sculptures. They also read them like organic shaped pages in a figure form book.
Robert's letter of interest states that the site selected by the Fire Department and the architectural firm that has designed the facility, BSSW Architects, is ideal for his figure-intensive sculptures. While a number of his previous sculptures
have scaled to more than 25 feet in height, BSSW has placed a 15-foot limit on the height of the installation that will be commissioned for Station 17 in order to preclude the piece from competing with the height of the flagpole. In any event, Barnum envisions an elegant multiple figure homage to the courageous work of the firefighters and EMTs who serve Fort Myers.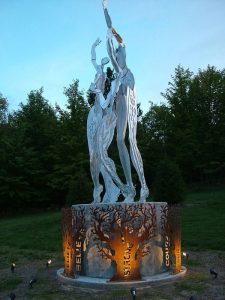 Among Barnum's commissions is Firefighter EMT Monument in Canadian Lakes, Michigan (which contains two components and five figures with a concrete base that supports dedication plaques), Volunteers (a multiple-layer 26-foot-long relief dedicated to the firefighters and EMTs of Anchorage Alaska), Touch the Sky and Rescued. Two of Barnum's monuments have received Congressional recognition. Barnum received his Bachelor of Science from Southern Oregon State University and his MFA from Idaho State University.
Washington State sculptor Haijing Wu has been producing public artwork since 1984. While most of his images feature bronze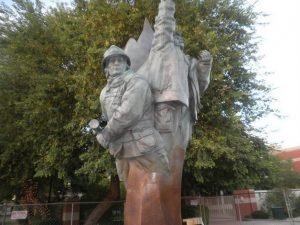 figurative sculptures, he also works in both stainless steel and aluminum.  In the past 36 years, Wu has created more than 100 public artworks in the United States and China. Wu's work emphasizes the marriage of art and architecture, with a focus on works that are both aesthetically meaningful and visually dynamic, specific to the site's location, function and social context.
Haijing's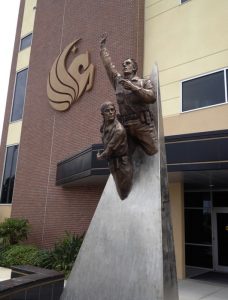 letter of interest belies his strong passion for fire service commissions. "Their spirit of courage, accomplishment and sacrifice, which I am called upon to convey, inspires me. I feel a sense of responsibility to pass on that message to future generations through my commemorative artwork and to encourage them to create a legacy of their own. With respect to Fire Station 17, Wu promises to create an artwork which stands on its own artistic merit, content and style; fosters a sense of place, where people can pause for reflection, meditation and commemoration; contributes to our appreciation of our men and women in firefighting; and educates future generations to understand their contribution to our community.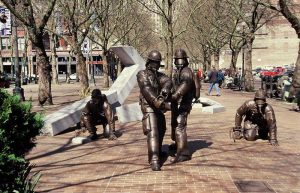 Most of Wu's U.S. commissions have been in Washington state and Arizona. The Station 17 project would represent Wu's debut in the state of Florida. Haijing holds a BFA in Sculpture from Sichuan Academy of Fine Arts in China and his MFA in Sculpture from the University of Washington.
Colorado-based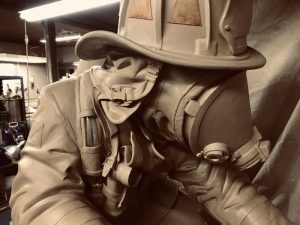 sculptor James Lynxwiler is not only a public artist possessing more than 25 years of experience. He is a career firefighter in Fort Collins as well. While James has worked primarily in bronze in the past, increases in the cost of materials post-pandemic coupled with the tight $50,000 budget for the Station 17 project will probably compel Lynxwiler to embrace either stainless steel or aluminum for this project. Still, he envisions a heroic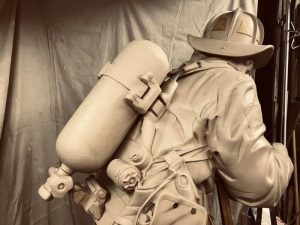 size representational artwork, possibly featuring a firefighter fully clad in turn-out gear, SCBA and face piece to represent both male and female members of the fire service. "Dressed out and ready to work symbolizes vigilance and readiness," James adds in his letter of interest.
Lynxwiler has produced a number of fire-themed and fire house projects,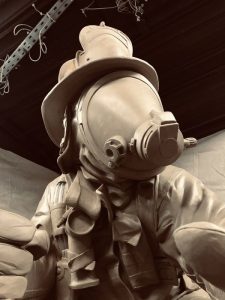 including Firewatch at Fire Station and Call to Action for Fire Station #6 in Greeley, Colorado. He is also a finalist for three other fire station projects, one in Boulder, another in Aurora and a third in Laramie, Wyoming.
James has received regional and national recognition for his work, including Juror's Choice at the Berkeley Art Center National Exhibition, North American Sculpture Exhibitions in Golden and an Honorable Mention at Florida National.
Berkeley is also a Guggenheim Foundation grant finalist and a recipient of an artist grant through the Colorado Council on the Arts.
The finalists were chosen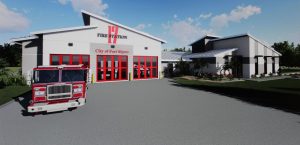 from a field of sixty-eight applicants, whose submittals included letters of interest, images of prior commissions and their resumes.
Each finalist now has roughly seven weeks to research the site, the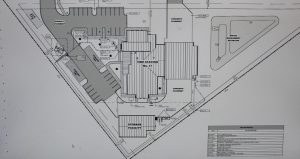 facility and the history of the Fort Myers Fire Department and produce a concept for a representational sculpture approaching, but not exceeding, fifteen feet in height and that is to be installed in close proximity to the flagpole that will be erected adjoining the parking area along
Six Mile Cypress Parkway.
Each finalist will be afforded thirty minutes on Tuesday, February 15, to present their concepts to a selection committee consisting of the Public Art Committee and designees from the Fort Myers Fire Department, BSSW Architects and a member at large from the neighborhoods surrounding the new firehouse. All presentations will be virtual, beginning at 4:15 p.m. The selection committee will meet in City Council chambers. The meeting is open to the public and Ward 6 residents, property and business owners and other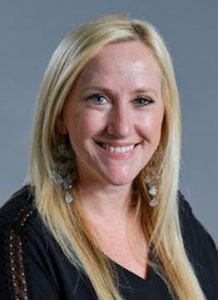 stakeholders are encouraged to attend.
Station 17 will provide fire and EMS services to all residential developments along Six Mile Cypress Parkway that are located south of Colonial Boulevard and north of Daniels Parkway, as well as the southbound lanes of I-75, responding to calls within the City's six-minute response model ninety percent (90%) of the time. The station will house a staff of eight plus the shift captain with an App Bay that has the capacity for six emergency vehicles including a fully Advanced Life Support (ALS) fire engine with a minimum of three personnel, one of which is a paramedic.
Station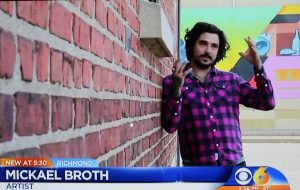 17 will be a "Missile Level E Essential Facility." As such, it will be equipped with an emergency generator with a 72-hour operating timeframe. During tropical cyclones and other emergency activations (including natural and manmade disasters, disease outbreaks and other public health emergencies), the facility will house overflow and secondary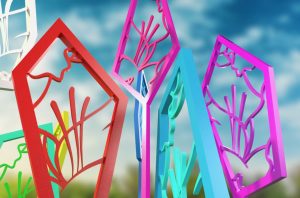 or satellite Emergency Operations Center functions and accommodate other City assets needed in order to manage and coordinate emergency responses. There is also a separate detached storage/multiuse facility with a fuel dispensing station.
Ward 6 is represented by Councilperson Darla Bonk,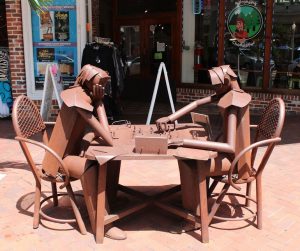 who is excited about the growing presence of public art that can be enjoyed locally by her constituents. Earlier this year, the City's Public Art Committee commissioned a new modernist sculptural installation titled Rise Above for a new park that is being constructed at The Forum. Upon its completion, three sculptures by Columbian artist Edgardo Carmona will also be relocated to the Forum Park Art Hub.
For more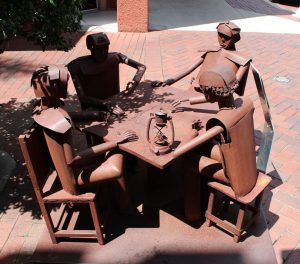 on the City's public art collection and art hub initiative, please download Otocast, a free mobile phone app that provides narrative, photographs and audio content about many of the 41 outdoor artworks located throughout the City of Fort Myers.
December 29, 2021.