Aspiring actor Giselle Meyer is homeward bound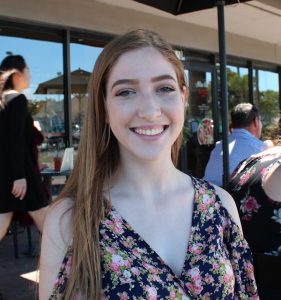 Oasis High sophomore Giselle Meyer recently thrilled Foulds Theatre audiences as the Lady of the Lake in the Youth Alliance Theatre's production of Monty Python's Spamalot the Musical. It was her first leading role, but it won't be her last. With powerful rock-the-house vocals, the fluidity of a veteran dancer and a commanding presence every time she takes the stage, Southwest Florida won't be able to hold on to this triple threat for long. In fact, Meyer cops to much larger aspirations. She's homeward bound.
Home for Meyer is the Gershwin, Imperial, Lyric and the Majestic. They're not just any old Broadway
theaters. They are venues synonymous with big, flashy musical productions ranging from Oklahoma, South Pacific and Camelot to Jesus Christ Superstar, Les Mis and Phantom of the Opera.
"I grew up on Broadway, at Radio City and listening to Broadway musicals in the car," Giselle confides. A theater devotee, her mom (Stephanie) was so adamant about exposing her daughters to the genre that she dragged them into Manhattan every chance she got.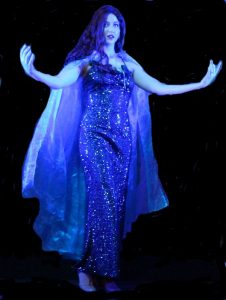 Fortunately, Penn Station was just a one-stop, 30-minute train ride from their home in Union County, New Jersey. So from the time she was two until the family relocated to Cape Coral when Giselle was seven she saw an astounding number of shows.
"I remember it so vividly," says Giselle of that halcyon period during which she bonded not only with her mother and sister, but the myriad female characters who sang and danced their way across the Broadway stage.
"And I remember sitting there and saying, 'That's really cool. I want to do that too.'"
At first, "doing that too" meant dancing.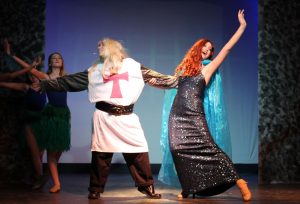 Tall for her age (she's presently 5'9"), mature beyond her years and more than a little precocious, she made an impression on her big sister's dance instructor, who made room for Giselle in her classes even though she was only two. And for the longest time, she thought of herself as "this dancer kid." It was dance, dance, dance.
But somewhere along the way,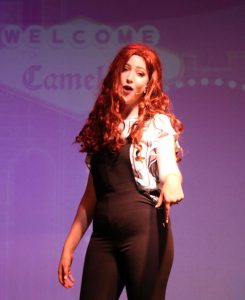 the paradigm shifted. She began to envision herself as someone who could sing, dance and act.
"But she never verbalized that to me or anyone else," Stephanie Meyer wryly observes. But she got a clue to her daughter's changing ambitions when Giselle announced that she wanted to add voice lessons when she started 6th grade.
Her first show followed soon after. It was the Lynn Ahrens' one-act musical Once on this Island.
"I just loved it, loved everything about it from the costumes, the singing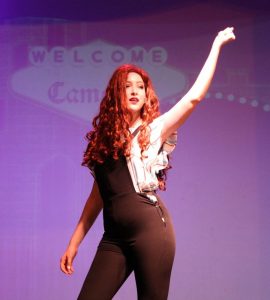 and performing to the dancing, of course," recounts Giselle. But she reached a turning point in 2016 when she took on roles in Thoroughly Modern Millie with Lori Oliver at the Naples Performing Arts Center and James and the Giant Peach for City Scenes/Alliance Youth Theatre.
"That was my first public theater experience, and although I knew I liked [musical theater] for a while, that was what really set it for me," Giselle proclaims. "Two shows at once. I like being busy [school starts at 7 and sometimes rehearsals go on until 11 at night] and I liked the environments I was in.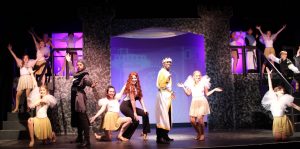 I had such a good experience in both places."
Since then, Meyer has gone on to appear in five more shows at the Alliance, including Legally Blonde Jr., Xanadu, Peter Pan Jr. and Heathers the Musical.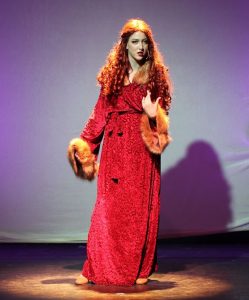 In Heathers, Giselle was not only in the ensemble as a cheerleader, she also played a stoner chick. But Spamalot was not only Giselle's first lead, it was a production that took her craft to a whole new level, proving that the dancer can also sing and act.
And it almost never happened.
"I wasn't planning to do Spamalot," say Giselle with a self-deprecating grin. But, fortunately, she thought better of her decision and went to the open audition with a song she thought would represent the character of the Lady of the Lake very well.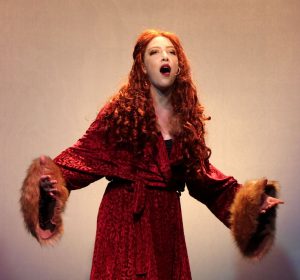 Her instincts were on target. She got called back.
"It's always an actor's goal to score a leading role," says Giselle candidly. "There are a lot of Broadway leads out there, but this has to be one of the most iconic, amazing roles to play. She's really the only female part [in Spamalot]. She gets a lot of attention. The libretto for her vocals is amazing, and I figured that would be a good fit for me."
Indeed it was, and the number that particularly distinguished Meyer as both a singer and an actor was "Whatever Happened to My Part? (or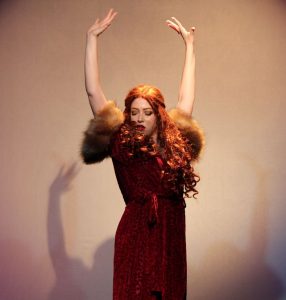 Diva's Lament)."
It's a number that not only allowed her to belt out edgy lyrics ("This is one unhappy diva; The Producer's a deceiver; There's nothing I can sing from my heart; Whatever happened to my part?"), but demonstrated her versatility and evolving acting skills. She gives credit for the latter totally to Director Carmen Crussard, who really got after her about the facial expressions and affectations she needed to employ in order to do justice to the song.
"'I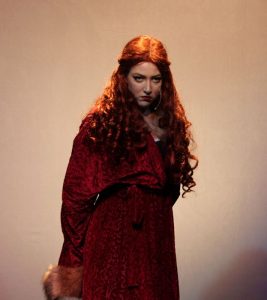 know you can do more,' she told me. She's the one reason why my performance in that number looks the way it did because without her, I wouldn't have been able to pull it off."
But it's actually another number that is more emblematic of Meyer's homeward bound quest, "Find Your Grail."
If you trust in your soul
Keep your eyes on the goal
Then the prize you won't fail
That's your grail. That's your grail.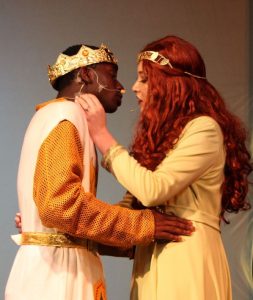 Giselle's first step in finding her grail is a difficult one. While she really loves her friends and teachers at Oasis [where she is enrolled in the AICE program], her school does not have a formal theater program. Productions at Oasis are all student run and directed. There's only so much she can learn in a independent study setting or by watching bootlegs online.
So next year, the A student will be transferring to North Fort Myers High School Center for Arts and Media. Classes in the Center range from game simulation and ballet to acting and sculpture, but all prepare students for success in their advanced studies, whether it be in the visual or performing arts.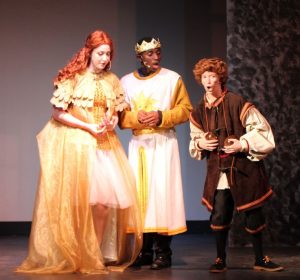 And she is already researching colleges that offer BFAs in musical theatre, and taking campus tours. While the holy grail of collegiate musical theatre programs is unquestionably Carnegie Mellon, NYU's Tisch School of the Arts and the University of Michigan, the high cost of tuition and living accommodations at those institutions all but rule them out – unless one of them were to offer a full-freight scholarship (hint hint).
So in all likelihood, Meyer will stay in state, attending either FSU, UCF or Florida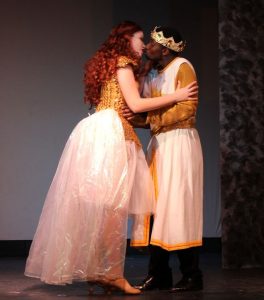 Southern College in Lakeland. The latter three not only permit her to stay closer to home for the time being, they enable her to take advantage of the Bright Future Scholarship she is working towards receiving.
But whether she stays in state or winds up at some other institute of higher learning, she plans to make a beeline for Broadway as soon as she had diploma in hand. Once there, she'll audition, work and perhaps seek her masters at Julliard or the Manhattan School of Music.
It's only natural for Meyer to get a little apprehensive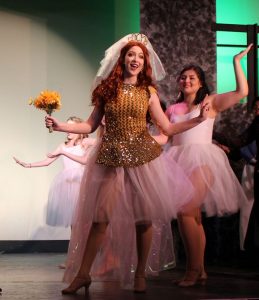 when she ponders her goal of landing a part in a Broadway musical one day.
"But that's where I'm heading. That's where I'm trying to get. I know there's a million actors trying to do the same thing. Maybe in Florida, there aren't a ton of 5'9" girls who sing and dance, but in Manhattan there's a million of them. So it's a little nerve-wracking. But I'm really excited by the prospect of [succeeding in spite of the odds]."
So be strong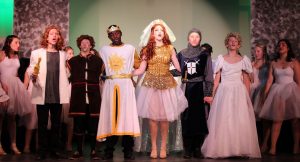 Keep right on to the end of your song
Do not fail
Find your grail. Find your grail.
But in the meantime, Meyer simply focuses on the tasks at hand. That includes three hours of dance instruction each week at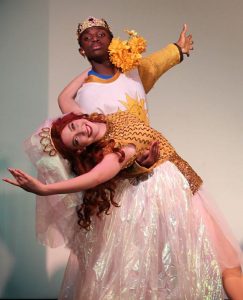 Kelly's Dance in the Cape, voice lessons, and the correlative drills, cardio and stretching that she has to do at home. Plus, her vocal instructor is continually entering her in competitions for scholarships and exposure. Most of the judges are college instructors or headhunters who've already taken notice and are tracking her steady progress.
And between now and her departure for college, Giselle plans to perform in many more shows. In addition to City Scenes/Alliance Youth Theatre and productions at North Fort Myers High, you may see her on stage at Cultural Park and even at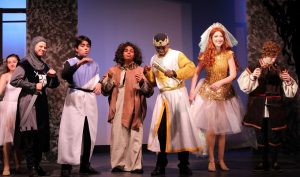 Florida Repertory Theatre, which maintains a Youth Education Program.
She acknowledges that she could seek comedic and dramatic parts at other theaters like The Lab, the CFABS Community Players or The Naples Players, but there are only so many hours in a day that's already filled with dance, voice and school.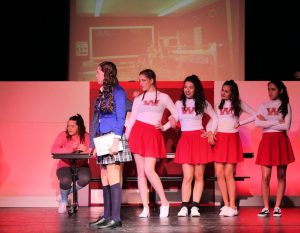 But there are other, less time-intensive ways to gain the nuance and character development required by modern-day musical theater productions. Improv, staged readings and scene study may actually be more important to an aspiring musical theater actor in developing acting skills, the ability to adapt and a fuller and more comprehensive acting resume.
But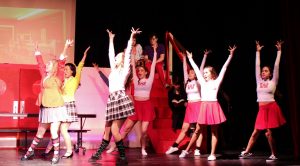 as all producers and directors know, a resume can only hint at the presence of such important intangibles as work ethic and leadership. She impressed director PJ McCready in both departments from the very first time they met (on the set of Legally Blonde, Jr.).
"Off stage,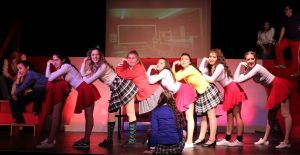 she is one of my go to girls. I can always ask her to help with dances, go over blocking, or running lines with another cast member," says McCready. "She takes her job and her responsibilities very seriously and it shows in the final product. She gets the job done, no matter what, and that is one of the things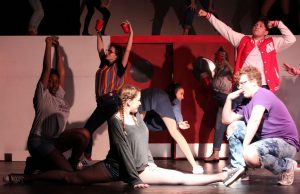 I love most about her. She works hard in every aspect of her part with us at The Alliance for the Arts … It's like that old saying about how you get to Carnegie Hall… Practice. Practice. Practice. And you can see that with Giselle. She is always ready and on top of her stuff."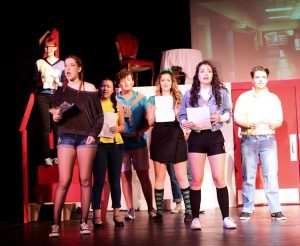 Life is really up to you
You must choose what to pursue
Set your mind on what to find
And there's nothing you can't do.
In spite of her deliberative trajectory, Giselle never loses sight of why she's so focused on her ultimate goal. She loves the people she's met and has yet to meet in theater. ("Some of my best friends are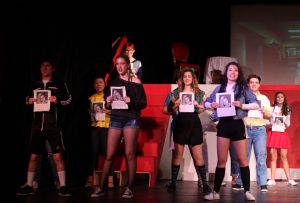 people I've met through theater.") She loves being someone else during the course of a run. ("When I'm on stage, I'm no longer Giselle. I completely submerge myself in the character. I am the character I'm portraying.") And, most of all, she loves moving people and providing them with the conduit for feeling emotions they might otherwise never experience. ("I like knowing that I can have that effect.")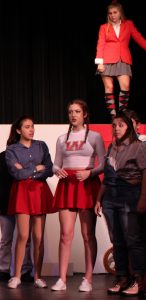 All of this works synergistically to infuse the young actor with a high degree of self-confidence, accomplishment and sense of purpose.
But she's under no delusions. The road she's chosen is full of bumps, twists and unexpected turns. But it's also fraught with unprecedented opportunity.
Only 22 percent of the plays produced in America are written by women. While there's no data on musicals, the proportions are much, much lower. But with nearly 70 percent of Broadway audiences being composed of women, musicals are likely to include far more female roles and creative team members in the future. And the roles won't be the clichéd ones of mother, wife, hag, virgin or whore. They promise to be empowering parts on a par with those traditionally enjoyed by men.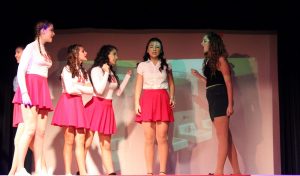 "There are so many roles I look forward to playing someday," responds Giselle when pressed to identify parts she's dying to play. "As it turned out, Lady of the Lake was a dream role. Elle Wood in Legally Blonde has been a dream role for a long time. Another is Heather Chandler in Heathers."
And don't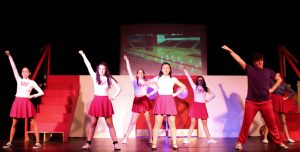 be surprised if you see her one day as Elphaba in Wicked, Velma Kelly in Chicago or Maureen Johnson in Rent. But my money is on Giselle landing the lead in a Broadway musical that has yet to be written but that will one day be mentioned in the company of these and other iconic musical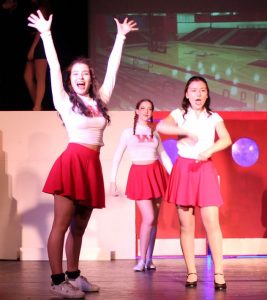 productions.
"I would say her trajectory is endless," predicts McCready. "She can take this all the way, especially with her work ethic. It's easy to look at Giselle and think 'Oh yeah, of course, Broadway leading lady.' But Giselle would make it to the top of her field no matter what area that was in. She is driven, caring, and enchanting. We are lucky to have her in our program and I can't to see how far she'll go. One thing I know for sure, I'll be cheering her on the whole way."
And it's precisely to find out just how far she really can go that Giselle Meyer is homeward bound.