Jennifer Hope is Mrs. Peacock in 'Clue the Musical'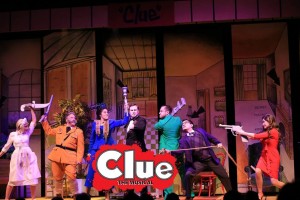 On stage now through June 24 on the main stage of the Broadway Palm Dinner Theatre is Clue the Musical. Jennifer Hope plays Mrs. Peacock, the murderous wife of corpse-to-be, Mr. Boddy. Hope is wonderful as the philandering Mrs. Peacock, who is lining up the be-medaled Colonel Mustard as her sixth husband as soon as Boddy is out of the way. Her chilly rendition of Once a Widow is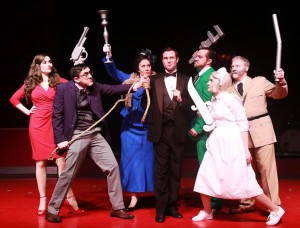 spellbinding.
Jen has been playing Clue, watching mysteries and enjoying Murder, She Wrote her whole life, but she has never been a murder suspect before. But she bears watching, and not just if you're dating or trifling with her. From the other side of the footlights, she delivers a nuanced performance of a cardboard-cutout character, and demonstrates with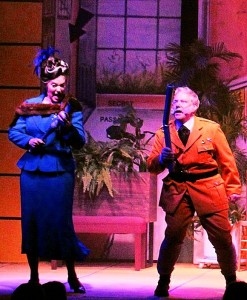 each performance that she has a feel for comedic timing and delivery. But beware. It may not be safe to stare too long into Mrs. Peacock's chocolate brown eyes!
Although Jennifer is making her Broadway Palm debut with the role of Mrs. Peacock, she has appeared with Prather Entertainment Group at its Dutch Apple Theatre location in such memorable hits as Clue, Church Basement Ladies, Oklahoma, Les Miserables, The Dixie Swim Club, Midlife 2: The Crisis Continues, and A Wonderful Life. Prior M.O. includes performing at The Kennedy Center, Grand Ole Opry and Atlantic City's Taj Mahal.
Jennifer recently shared the stage with Stephen Schwartz. Recent highlights include receiving a Broadwayworld Miami Regional Theatre Award nomination for Best Actress in a Musical for her performance as Judy Bernly in 9 to 5.
Hope started out in opera, and when she's not performing, she works as both a voice teacher and audition coach. For more on Jen and her impressive resume, please visit www.JenHopeDiva.com.
May 29, 2017.
RELATED POSTS.