Broadway Palm's 'White Christmas' delivers on multiple levels
If Bing Crosby and Danny Kate's 1954 remake of Holiday Inn has become a Christmas tradition in your household, you may think there's nothing new for you to see in Broadway Palm's production of Irving Berlin's White Christmas. Well, you'd be Ba Humug wrong! The sets are grand, the costumes sparkle, and the singing and dancing are spectacular. And if you consider yourself a true,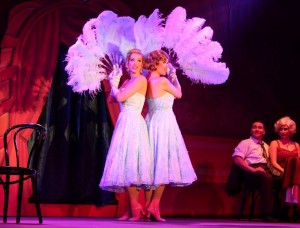 dye-in-the-wool White Christmas fan, you will be fascinated by the deviations and plot twists that have been made in order to convert the classic film into a classy live-theatre musical.
Irving Berlin's White Christmas works successfully on three different levels. For those of you who just want to be entertained, well, as the song promises, The Best Things Happen When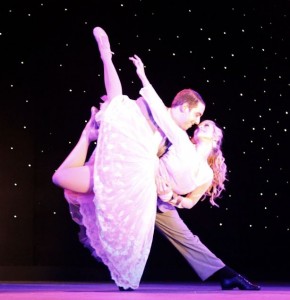 You're Dancing, and that's a function of Amy Marie McClary's skilled and imaginative choreography and the hard work, dedication and talent of her exuberant ensemble and the rest of the large holiday cast. The ensemble alone consists of ten dancers (who also sing), and when the full entourage is on stage together, it becomes as busy as Times Square on New Year's Eve. Part of the fun is watching how everyone moves through Evan Adamson's colorful, well-constructed sets. McClary is Prather Entertainment Group's resident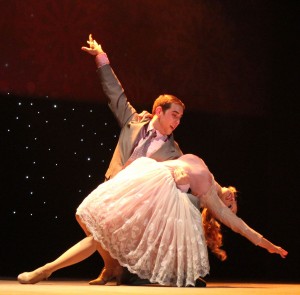 director/choreography, and she makes good use of the insights and experience she's gleaned over the years. She has staged more than 50 (yes, fifty) productions, including the 2015 national tour of Memphis.
Sami Doherty and Nic Casaula play the roles of Judy Haynes and Phil Davis, and they sizzle from the moment Casaula takes Doherty in his arms for Best Things, which incorporates many of the best elements of a Dancing with the Stars freestyle performance including a number of exacting ballroom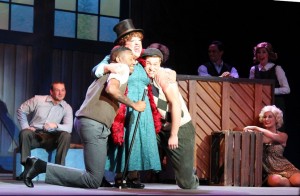 lifts and stylized drops that would even delight Carrie Ann Inaba. But there's more going on with this dance duo than just precisely-executed moves. Casaula and Doherty are well suited to one another. As Phil Davis and Judy Haynes, they display a chemistry during their routines and on-stage interactions that will make even the most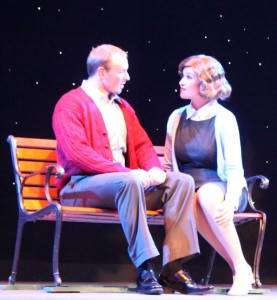 jaded and cynical viewer believe in love at first sight.
For as good as Casaula and Doherty are in The Best Things Happen When You're Dancing, the large song-and-dance numbers are spellbinding because of their sheer size, split-second timing and coordination and exceptional costuming. Even though Snow is more of a song number than a dance routine, there's a lot of intricate activity going on in a condensed space as ersatz passengers on the train to Vermont wax philosophic about washing their face and hair in snow,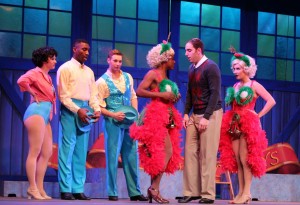 sushing through powder and executing stem christies down snow-covered ski slopes. But it's the glitzy, top-hat Act-One-ending Blue Skies and ultra-sophisticated, ivory-on-ebony Act-Two-opening I Love a Piano that will have you talking the next day as you reflect back upon the show – especially if you appreciate tap in any small measure at all.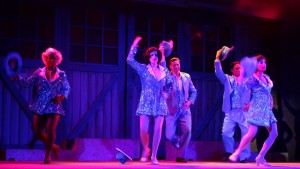 Face it, though. Many theater-goers will buy tickets to White Christmas just to hear the music. It's Irving Berlin, for love's sake! He's pure magic in a Beatles kind of way. "His melodies are haunting and catchy," Director Amy Marie McClary told Florida Weekly theater reviewer Nancy Stetson. "Blue Skies is so catchy. When you hear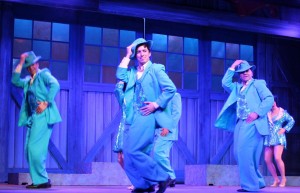 that melody, you see those clouds rolling away. He's a genius. He really is."
An example of one such haunting number is the early Act One duet shared by Troy Bruchwalskie, who plays Bob Wallace, and Katherine Walker Hill, in which they draw analogies between the unpredictability and undependability of the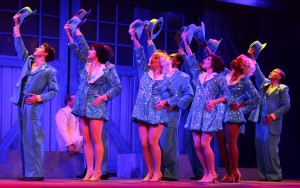 weather and love. Hill nails it with her rendition of Love, You Didn't Do Right By Me. But the most touching song in this show by far is Count Your Blessings Instead of Sheep, which the wizened Bob Wallace sings not to Betty Haynes (as in the movie), but to little Susan Waverly as Betty looks on, heart melting in the wings.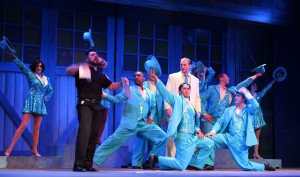 The book for Irving Berlin's White Christmas was written by David Ives and Paul Blake. It's dated (of course, the play is set in 1954), but the script has been excoriated by reviewers since the show's release in 2004 as lackluster and uninspired. Top hats off to McCleary and the cast. Through a combination of kinetic energy, fine acting and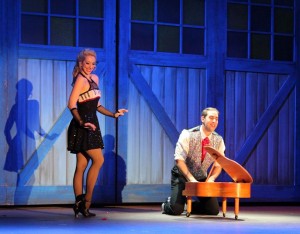 unbounded holiday cheer, they overcome whatever shortcoming exist when it comes to character development and plot.
That said, there's surprisingly more here than initially meets the eye for folks demanding deeper meaning. You may need to mine the dialogue and inject a good dose of your own life experience to discover the themes, but they're there to unwrap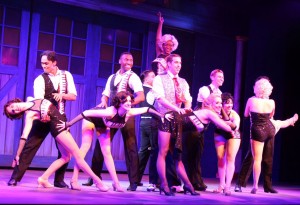 like professionally-packaged Christmas presents.
"You can't leave everything to fate," says go-getter Judy Haynes to her sister about the fake letter she sends to Wallace and Davis so that they'll come and see their act and perhaps use them in their next Broadway show. "Just like honesty needs a little plus, fate needs a little push." And speaking of using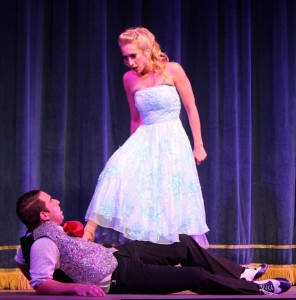 self-promotion to get noticed, Kirsten Benzing and Morgan McGhee as the Oxydol girls, Rita and Rhoda, are hilarious in their comic-relief scenes. One can only wonder what the likes of these two would have done had they had Androids, selfies and social media at their disposal to hype their every move and meeting.
The storyline has something to say about the power of good deeds. While the premise of the musical involves two army buddies going to the ends of the earth (or at least to Vermont) to repay the Old Man
who kept them alive and well throughout the Army's campaign to bring down the Third Reich. Their plan? Rehearse their new Broadway play at the General's Columbia Inn and have as many members of the 151st show up for the inaugural performance in order to save the inn from financial ruin. It is a message that's subtly reinforced through Count Your Blessings Instead of Sheep. After Bob Wallace sings it to help her fall asleep, Susan passes along that sage advice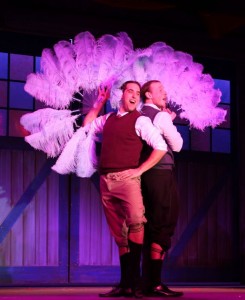 contained in the lyrics to her grandpa, the General, when he worries about how to dig the inn out of the financial morass he's gotten it into. Perhaps we'd all be better off focusing on the positive in our lives rather than souring our outlook by miring ourselves in the negativity that abounds in present-day society and culture. In fact, aren't we all responsible for contributing to the overall malaise and pessimism to varying degrees on way too many occasions?
Sami Doherty's scenes as a jealous Judy Haynes are priceless as she feeds her green-eyed monster every time social climbing Rita and Rhoda throw themselves at Phil. Of course,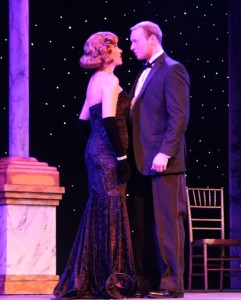 Judy herself could be viewed from the same metric, couldn't she? With foot atop Phil's prone body, she channels her inner Beyonce and tells her man that if he better put a ring on her wagging finger. But does that really solve the problem when your man has a wandering eye and the position or celebrity to attract virtually any woman he wants?
But Betty Haynes provides, perhaps, one most poignant object lesson in the entire show. Is it Bob Wallace the man or the man she wants Bob Wallace to be the person she falls in love with? And if it's the latter, is there hope for a lasting, mutually-supportive relationship or is their love doomed to failure when he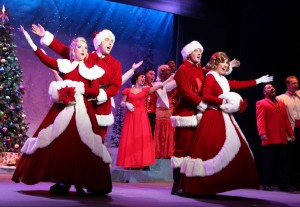 inevitably fails to measure up?
Oh, there are other themes and messages to take away from Irving Berlin's White Christmas, and that's yet another reason you should include this well-done, smartly staged musical on your holiday "must do" list.
Other standouts in this stellar production are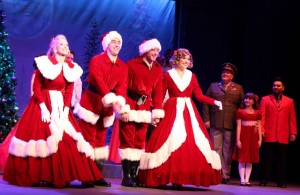 Pauline Cobrda as Martha Watson (the General's right hand who actually runs the inn), Dale Given as General Henry Waverly, Tony Conaty as the ever-flummoxed dance captain, and Jim Hefferman as the hysterically understated Ezekiel Foster. But overall, Broadway Palm's White Christmas is entertainment and nostalgia served up with a spade full of snow!
November 25, 2016.
RELATED POSTS.