Troy Bruchwalski is Bob Wallace in Broadway Palm's 'White Christmas'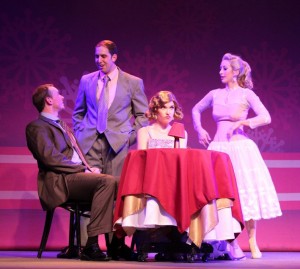 On stage now through Christmas Day at the Broadway Palm Dinner Theatre is Irving Berlin's White Christmas. Playing the role of made famous by Bing Crosby in the 1954 movie is Troy Bruchwalski.
Following in Crosby's footsteps might scare off a lesser talent. But Bruchwalski doesn't frighten easily. As understudy to the star, he stepped in on opening and press night for Adam Grabau in Hartford and "rose to the occasion with a finely
nuanced portrayal of King Arthur in the national tour of Lerner and Loewe's beloved masterpiece 'Camelot,'" recounts inthespotlightinc.org. His solution to the pressure of reprising such a storied role as that of Bob Wallace is having never seen the eponymous film. Although he plans to watch it soon, Bruchwalski told Florida Weekly reviewer Nancy Stetson that "[i]t's such an important thing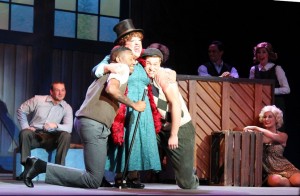 not to have preconceived notions [of my character]."
He certainly acquits himself well as a no-nonsense Broadway producer and besieged star who is always on guard for the angle being played by the people he encounters, such as the disarmingly effervescently but transparently ambitious Judy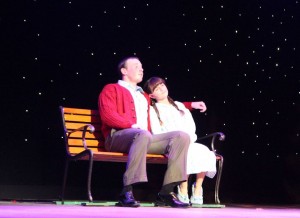 Haynes and her surly sister, Betty. He anchors each of the large production numbers featured by the show, but where he really conveys that he's a big time song-and-dance man is in his encounters with General Henry Waverly's busybody front desk manager Martha Watson and precocious granddaughter Susan.
Watson is not just another pretty face.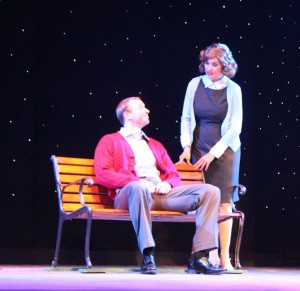 Unbeknownst to either Wallace or Davis, Watson is a retired Broadway star with a big, booming alto voice who'd love nothing more than to revive her former career with an act or two in a brand new Wallace and Davis show. Performers who've achieved a certain level of success are rarely intimidated when they encounter a colleague who's similarly accomplished. Instead, they're awed and genuinely appreciative when they unexpectedly find themselves in the presence of a former high-powered star. Bruchwalski's Bob Wallace nearly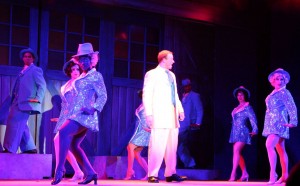 falls over himself when he allows Watson to belt out a song audition-style and suddenly realizes who she is and recalls the star power she once possessed. It may sound like a small, inconsequential insight, but it's part of the reason why a Lady Gaga relishes the chance to work with Tony Bennett or doo-wop stars like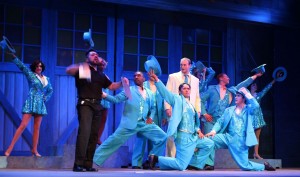 Kenny Vance and the Planotones (Looking for an Echo) would muscle their way through a throng at the Westport Country Playhouse for a photo op with an ailing Paul Newman and his wife Joanne Woodward. That Bruchwalski gets this about his character evinces a fundamental understanding of his craft at a very high level.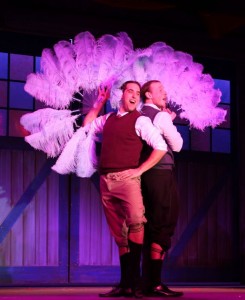 Of course, not every superstar has the time or patience for children. Bing Crosby's eldest son, Gary, describes life with his father as a Gothic horror story that only Christina Crawford could envy. (In his Doubleday memoir Going My Own Way, Crosby describes a childhood dominated by an icy, dictatorial father, lonely alcoholic mother and quartet of boisterous tormented boys.) But many theater heavyweights do foster budding talent and, of course, it is this aspect of Bob Wallace's personality that endears him to the highly judgmental but equally sentimental Betty Haynes. But here again, Bruchwalski is to be commended for capturing this aspect of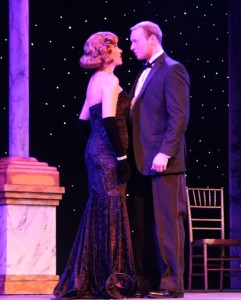 his character's personality in the tender scenes he shares with Susan Waverly.
Bruchwalski's recent credits include Father in Ragtime's national tour, King Arthur/Sir Lionel in the national tour of Camelot, Freddy-Eynsford Hill in My Fair Lady, Javert in Les Miserables, Shrek in Shrek: The Musical and Gaston in Beauty and the Beast. He has also appeared in The World Goes Round (for Interplayers Theatre Company), The Last Romance (for The Old Creamery Theatre Company), A Chorus Line (for Thingimajig Theatre Company), Anyone Can Whistle (Lakeland Civic Theatre), Tecumseh! (for Scioto Society) and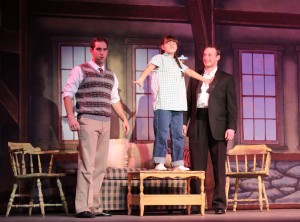 Magic Flute (for Talespinners Children's Theatre). He will also play the role of the Phantom in Yeston & Kopit's Phantom, which opens at the Broadway Palm on December 27. He has also appeared in
Troy holds a Bachelor of Music in Opera from the Cleveland Institute of Music and is currently pursuing his NASM Personal Training certification. He plays piano, guitar, tuba and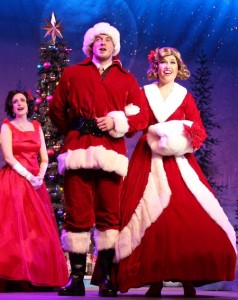 trumpet, and is versed in tango, waltz and beginner tap.
November 26, 2016.
RELATED POSTS.