Celebrating Amy Marie McCleary's 'Sounds of Christmas'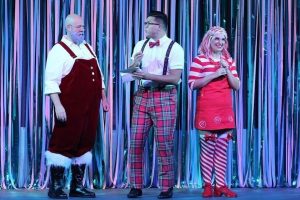 Sounds of Christmas comes to a close on Christmas Day. It may be a little late to review this holiday musical revue but, frankly, I waited for my granddaughter to get out of school for Christmas break so that I could take her to a matinee. Regardless of whether this piece encourages anyone to catch a remaining performance, what writer/director/choreographer Amy Marie McCleary has accomplished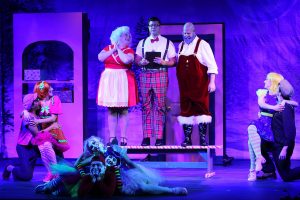 here deserves to be recognized and celebrated.
The premise that McCleary concocted for the show is both novel and endearing. It's Christmas Eve and a pajama-clad couple settle on a comfortable couch with their children to read "Twas the Night Before Christmas." While the boy is excited out of his mind, the daughter,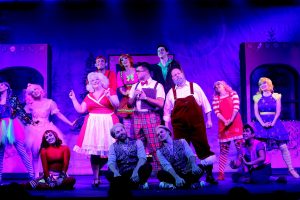 Olivia, is miffed because she'd rather be on her device posting and chatting with friends. Then mom (perfectly portrayed by Katherine Walker Hill (Betty Haynes in Irving Berlin's White Christmas) interjects a story from her childhood about an industrious elf by the name of Poindexter. Among his many duties, Poindexter has been charged with the task of assembling a playlist of music for Santa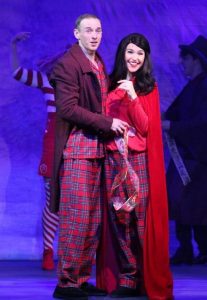 to listen to as he makes his deliveries around the world. Overwhelmed with schedules, production quotas and sundry other concerns, he's forgotten all about the playlist. Now he has just four short hours to piece together the melodies that Santa is counting on to keep him alert on the long winter's trip.
Before you read further, jot down your top 20 holiday favorites. Feel free to conduct a Google search. That will only complicate the exercise. But Amy McCleary's challenge wasn't simply to piece together a holiday playlist that will resonate with audiences from all age and economic demographics. She needed to choose songs that were amenable to tightly choreographed dance numbers while making sense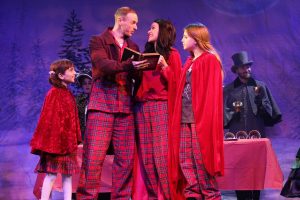 within the context of her cleverly-crafted storyline. For this reason, the Bing Crosby standard (and Guinness World Record-holder for best-selling single of all time) "White Christmas" didn't make the cut; nor did Crosby's "I'll Be Home for Christmas," Eartha Kitt's cheeky "Santa Baby," the King's "Blue Christmas" or Jose Feliciano's bilingual (and my granddaughter's fav) holiday tune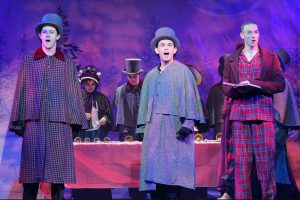 "Feliz Navidad."
Part of the fun of Sounds of Christmas is not only seeing which songs made it into the mix, but how McCleary paired and organized them. Along these lines, she included traditional carols, a set of jazzy holiday songs (featuring Candy Cane (Danielle Poznanovic, Santa (Victor Legarreta), Mrs. Claus (Shannon Connolly)
and the company in the North Pole Jazz Club) and a particularly well-conceived and enthusiastically-received series of country Christmas songs anchored by Chestnut the Elf (Will Callahan, who was equally wonderful as Seymour in Little Shop of Horrors). In fact, Callahan's rendition of "Run, Run Rudolph" (which was popularized first by Chuck Berry and charted more recently by country recording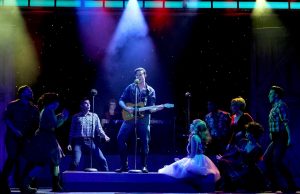 artists Luke Bryan in 2008 and Justin Moore in 2011) deserves special mention for it's upbeat, feel-good tempo. But it was the "O Holy Night"/ "Silent Night" tandem that pegged the Nostalgometer and had audience members hugging and touching hands.
While McCleary's selection
and arrangement of the music is unquestionably brilliant, her choreography is even better. In short, the dance numbers individually and in the aggregate showcase McCleary's penchant for refined, intricate choreography and her uber-talented cast and ensemble. Although it's unfair to choose a favorite dance sequence, the tap dance number brought the house down at the matinee I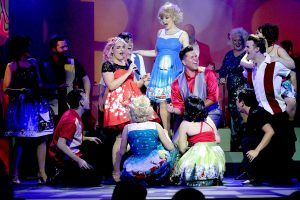 attended.
But what makes Sounds of Christmas work long-term is not just the music, the dance routines and the clever storyline. More, it's the satisfying character arcs McCleary traversed over the course of the musical by Poindexter and the family's disinterested teen, Olivia.
Joel Libed plays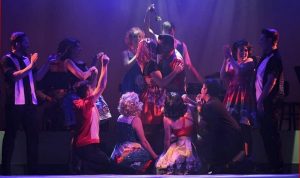 Poindexter, who's so consumed with proving that he can competently oversee and organize Santa's operation that he has no time to luxuriate in the joy and good feelings that Christmas can and should entail. But forced to assemble a playlist of holiday songs, Poindexter learns not only to appreciate his fellow elves, but their conviviality,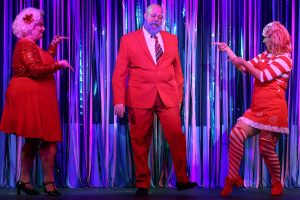 camaraderie and good cheer. Along the way, he even falls in love, with the romantic realization unexpectedly coming in a spirited rendition of Mariah Carey's "All I Want for Christmas Is You." And it's not just because he hits some ridiculously high notes that leave Santa, Mrs. Claus and company astonished. He morphs into such a cool, caring cat that his love interest, Candy Cane,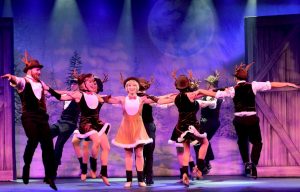 becomes weak in the knees.
Also finding unexpected Christmas spirit is Olivia, who goes from pouty and distant to warm and loving, providing a tearful moment in the musical's closing scene when she puts together a photo album that captures the essence of her family and the love they share – with the individual photos appearing on a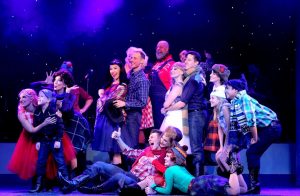 overhead screens stage right and stage left that enable the audience to figuratively look over Olivia's shoulder as she shares the album with her brother and parents.
While this opinion obviously pays tribute to the song selection, arrangement, choreography and smart, clever script, I would be remiss if I didn't also draw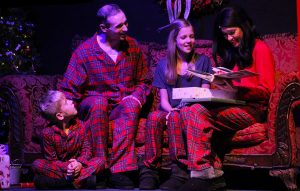 attention to the strong vocals and dance contributions made by Victor Legarreta as the sage and gregarious St. Nick, Shannon Connolly as Mrs. Claus, Katherine Walker Hill as the mom, Troy Bruchwalski as the dad, Danielle Poznanovic as Candy Cane (who, incidentally, was Joel Libed's equal on the high notes in "All I Want for Christmas Is You")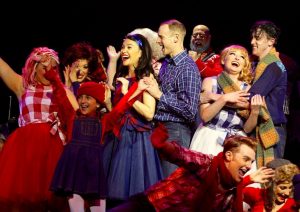 and Sami Doherty, who rocked "Rockin' Around the Christmas Tree" and continues her run as hoofer extraordinaire and mainstay of the Broadway Palm dance ensemble.
As said previously, this comes a little late to inspire very many to take in the show before it closes on Christmas Day. However, perhaps it will encourage Broadway Palm to bring Sounds of Christmas back in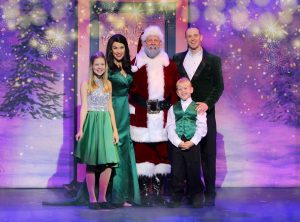 a season or two … or at least share the musical with the audiences who attend its Dutch Apple theater in Pennsylvania next season.
December 20, 2019.
RELATED POSTS.