Comedy team of Galyean, Schulte and Pankow make 'Mama Won't Fly' special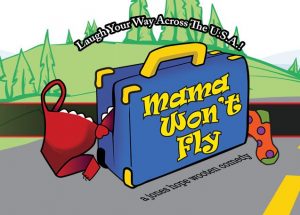 On stage through April 28 in the Off-Broadway Palm is Mama Won't Fly, a female road trip comedy by the writers of The Savannah Sipping Society and The Hallelujah Girls.
So here's what's going on. Mama's son is getting married on a beach in sunny California. Mama and her daughter, Savannah, live in Alabama (roll Tide!) but, to Savannah's shock and consternation, Mama won't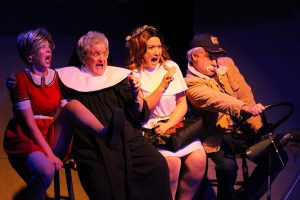 get on the Boeing 737 Max (okay, I ad libbed this one) that Savannah's booked seats on and insists they'll have to drive to California in her vintage and recently-repaired Buick sedan. At the last minute, Mama's soon-to-be daughter-in-law/Savannah's soon-to-be sister-in-law, Hayley, shows up to accompany her new in-laws to the wedding. And the road trip from hell is on.
There's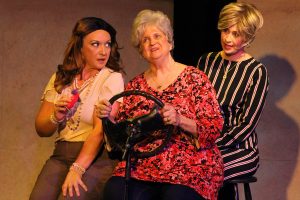 no getting around the fact that the premise and script for this show are highly contrived. Most of the unscheduled stops that Mama, Savannah and Hayley make en route to the latter's nuptials test the bounds of credulity, but hey, Mama Won't Fly is a farce in the tradition of The Lucille Ball Show, National Lampoon Vacation and Little Miss Sunshine. But even if you're not a fan of the farce, there's more than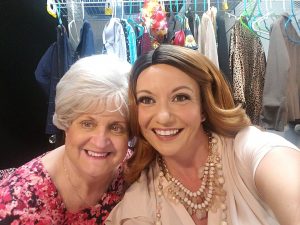 ridiculous situational comedy, a trunkful of lame laughs and the cozy confines of the Off Broadway theater to warrant an afternoon or evening of your time.
Such as the performances of Dena Galyean as Savannah Sprunt Fairchild Honeycutt, Donna Schulte as Mama Norleen Sprunt and Katie Pankow as Haley Quinn.
Galyean is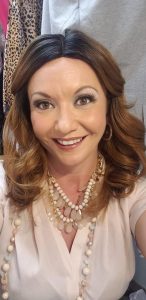 coming off a stand-out performance as the distinguished Susan B. Anthony in The Agitators. As Savannah, she's epically agitated once again. But this time her eternal vexation is prompted by her scheming, stubborn, judgmental mother and saccharine new sister who prattles on and on and on from the backseat of Nama's Buick as the scenery outside the windows slowly – oh so slowly – ticks by.
Galyean's job in Mama Won't Fly is simple – though far from easy. She's the designated comic foil, serving up softballs like a batting practice pitcher at the MLB All-Star Home Run Derby for Schulte and Pankow to hit out of the park. She's the Ethel Mertz to Pankow's Lucy; the Vicki Lawrence to Schulte's Carol Burnett.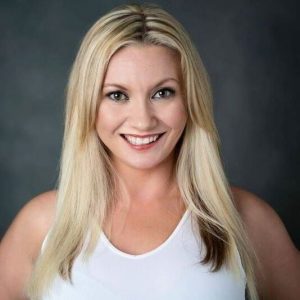 As such, Galyean's timing and delivery is impeccable. Part of her success as a straight woman is her ability to strike just the right balance between earnestness, irritability and incredulity. The Queen of the Scowl (earned in such memorable roles as Sylvie in Odd Couple: Female Version, Roz in Moon over Buffalo and Elaine Harper in Arsenic and Old Lace), Galyean earns a quantum of chuckles and belly laughs in Mama Won't Fly by dint of her signature sidewise glances, trademark eye rolls and finely furrowed brows.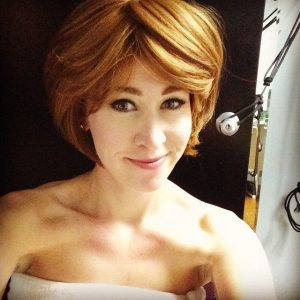 While Savannah Honeycutt is clearly the only sane woman to be found between Alabama and Las Vegas, she does have her fair share of snarky, sarcastic lines. And you won't soon forget the look on her face as she saunters center stage in a sombrero skirt in the Grobb Family backyard near the end of Act One.
Schulte discharges her role as Norleen with delightful, homespun Southern charm. There's a hint of Estelle Getty brashness (Sophia from The Golden Girls), but without the Jersey attitude. But the strength of her portrayal of Norleen is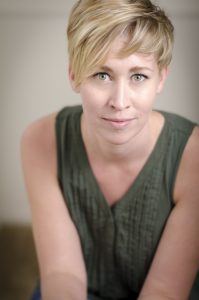 the tension and angst she brings to her relationship with her daughter, who has never forgiven dear old mum for ruining her relationship with Spud (Kristofer Holz), the one lost love who left town and Savannah many years – and failed relationships – ago.
Schulte was last seen in the Off Broadway Palm as Dot Hagler in The Savannah Sipping Society. Her other Prather Entertainment credits include Mavis Flowers in The Hallelujah Girls, Big Mac in Unnecessary Farce, Vera Walters in Nana's Naughty Knickers and Vivian Trachtman in Love, Sex and The IRS. She's also played Ouiser Boudreaux in Steel Magnolias, Aunt Martha in Arsenic and Old Lace, Ann Finnery in Getting Mama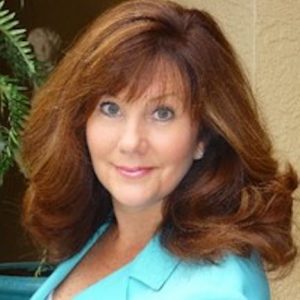 Married, Charmaine Beauregard in Sex Please We're Sixty and Grace in Grace and Glorie.
For as exceptional as Galyean and Schulte's performances are in Mama Won't Fly, Katie Pankow steals the show. If Galyean is Queen of the Scowl, then Pankow is the Goddess of Slapstick, the Princess of Pratfalls. And not to disappoint, Katie makes her entrance on the Mama Won't Fly stage by pitching headlong into Mama's living room and sprawling on Mama's floor. Pankow has a pratfalling pedigree. She made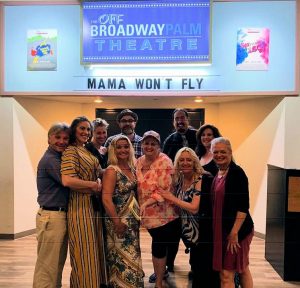 her entrance in Things My Mother Taught Me in much the same way, losing her footing as she tried to push a wedged brown leather armchair through a doorway and falling flat on her face in the middle of the floor.
Katie possesses that rare ability to throw herself headlong into the zany predicaments that always seem to befall her characters in the tradition of a Lucille Ball. If Pankow has any limits on the lengths she'll go to get a laugh,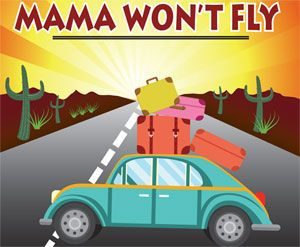 she hasn't shown them so far. Her apparent lack of inhibitions is on full display early on in Mama Won't Fly, when she launches a' cappella into a grating medley of all those annoying songs you sing to entertain the kiddos on long trips – like "One Hundred Bottles of Beer on the Wall."
But Katie's funniest sequence in Mama Won't Fly occurs in a scene in which the trio is pulled over by a cop as they're fleeing the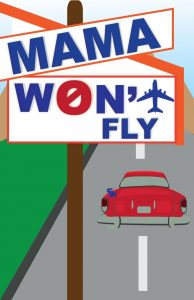 Lone Star State after Hayley has unintentionally killed one of Noreen's kinfolk on the Grobb side. Hayley, it turns out, is allergic to lawmen. Even before the cop makes his way to the driver's side window, she breaks out in hives. Tumbling out of the car, she starts scratching every inch of her body, neck, arms, legs and bottom. Before long, she's scooting on her butt across the highway like an anally-impacted Chihuahua (yeah, I went there). It's more than just hysterical. It's carefully choreographed physical comedy that would make Tina Fey or Amy Poehler cry tears of joy.
But there's more to Pankow's performance than the inevitable – albeit well-deserved – comparisons to physical comedy icons like Lucille Ball, Carol Burnett and Tina Fey. Katie has the acting chops to make a clumsy, overstated character like Hayley Quinn seem not just believable, but sympathetic and downright endearing.
Maybe that's because Hayley is so luckless. If she didn't have bad luck, she'd have no luck at all. Who among us hasn't felt at times that the universe was conspiring against us – the gods enjoying a good laugh at our expense. But Pankow renders Hayley lovable, and that gives the audience a rooting interest in what happens to this sweet, comically-constructed underdog. She really does make us care.
The rest of the cast does it's part to amp up the antics included in Nicholas Hope, Jessie Jones and Jamie Wooten's unwieldy script. Denyea Clarkson (Savannah Sipping Society), ML Graham (Savannah Sipping Society, Church Basement Ladies: Rise Up O Men), Kristofer Holz (Mid-Life 2!), Jennifer Hope (Mid-Life 2!, 42nd Street, Annie) and Joel Stigliano (Church Basement Ladies, Elf the Musical) play multiple roles.
Karen Goldberg directs.
Look, there's no way around it. If drama is your thing, Mama Won't Fly won't fly for you. But if comedy, farce, slapstick and foil/comedian interactions is your cup of tea, you're going to love the Galyean-Schulte-Pankow triumvirate in this hellacious road trip comedy. Mama Won't Fly.
March 23, 2019.