Meet 'Things My Mother Taught Me' actress Katie Pankow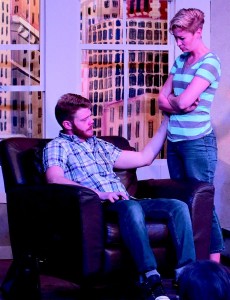 On stage now through April 29 in the Off Broadway Palm Dinner Theatre is the delightful romantic comedy Things My Mother Taught Me. The story follows a young couple who've moved from New York to Chicago, where they are moving into their first apartment together. Unbeknownst to Olivia, Gabe is planning to memorialize the occasion by asking him to marry her. He's also invited his and her parents to join them on move-in day so that they can be on hand when he pops the question. What could possibly go wrong with this plan? Besides the obvious, thieves steal the U-Haul, which contains every item they own, including their clothes. Oh, and the $20,000 engagement ring as well!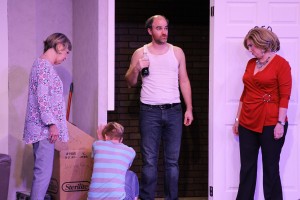 Katie Pankow plays the part of Olivia, who is trying to solve a dilemma of her own as the play opens. It seems that Olivia has managed to wedge the brand new brown leather armchair that she and Gabe just purchased in the frame of her apartment door. As she shoves and pushes, she loses her footing, falling flat on her face in the middle of the floor, and that's when the audience knows that Pankow is an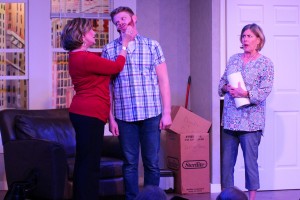 aficionado of physical comedy – if not in the tradition of Lucille Ball then perhaps in the style of Tina Fey. What makes this sequence so damn funny is that Pankow captures the struggles we've all experienced with the inanimate in our lives. All of us can empathize with her plight. Who hasn't looked and acted their absolute worst as they tried, typically unsuccessfully, to keep some object (like a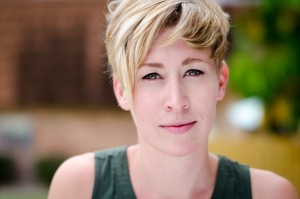 ladder of Christmas tree) from toppling over, trying to keep it from getting away (think shopping cart or, yikes, riding lawnmower) or removing an object or getting it unstuck.
While Things My Mother Taught Me unquestionably falls in the genre of romantic comedy, the show does have some dramatic moments,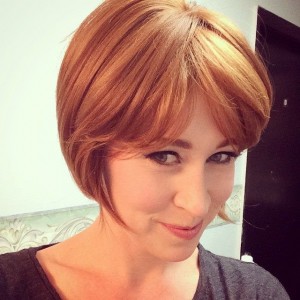 and Pankow makes the most of hers. Her character has one of those uneasy relationships with an overbearing, hypercritical mother, who is perfectly played by ML Graham. Because mom had a failed first marriage, she counsels her daughter to date around, live with a few guys and not get married until she's at least thirty years old. She's so adamant that Olivia not get serious that she shows little or no interest in Gabe, and Olivia is so put off that she doesn't even tell her mother that she's moving in with Gabe, a fact her mother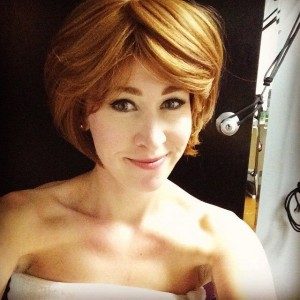 discovers to her chagrin only when she arrives at their apartment in Chicago. Their semi-inebriated reconciliation affords Pankow the chance to display her dramatic chops, which is all the more touching and satisfying because of its comedic overtones.
Pankow never overplays her character. Yet, she commands the stage and each of the scenes in which she appears. She is an actress of merit with a bright future in her chosen field.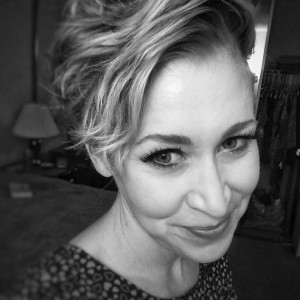 Broadway Palm audiences will remember Katie as the loony, pot-smoking nightclub singer Bobbi Michele in last summer's hit, Last of the Red Hot Lovers. Earlier this year, she played Maggie Saunders in Strauss Theatre's production of Lend Me a Tenor at BIG ARTS in Sanibel. Favorite past Off Broadway Palm credits include Karen Brown in Unnecessary Farce, Gretchen in Boeing Boeing and Cecily Pigeon in The Odd Couple.
Katie recieved her MFA in Acting from the University of Florida. While there, she trained in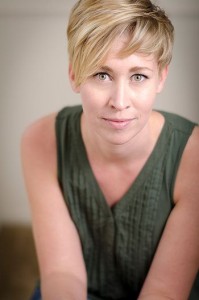 Alexander Technique, Lessac Vocal Technique, Laban Movement Analysis, stage combat, period movement, heightened language and Practical Aesthetics.
A bit of a jack-of-all-trades, Katie is a published poet, an award-winning radio news journalist, and a decorated artist. She graduated Summa Cum Laude from Florida Gulf Coast University in 2009 with a BA in English and lives and works right here in Southwest Florida.
March 27, 2017
RELATED POSTS.