Men save the day in 'Things My Mother Taught Me'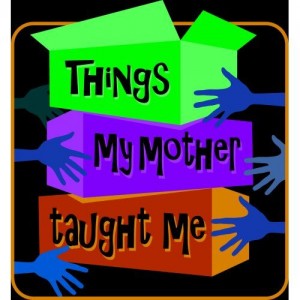 On stage in the Off Broadway Palm through April 29 is Katherine DiSavino's sentimental comedy Things My Mother Taught Me.
The play centers around Gabe (played by James Putnam) and Olivia (Katie Pankow), two 28-year-olds (okay she's only 27 and one-half) who have driven a U-Haul from New York to Chicago and are moving into their first apartment together. It's not going well. The brand new chair the couple bought together is wedged tightly in the door frame and won't budge, forcing Olivia and her beau to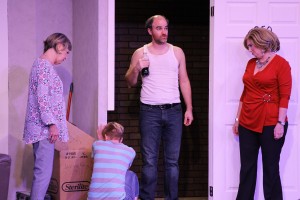 lug their belongings up the exterior fire escape to their fourth-floor flat. It's an omen. Her day is about to get much, much worse.
Unbeknownst to Liv, Gabe is planning to use the dubious occasion of move-in day to propose. I know. This violates Marriage Proposal Mistake No. 5: Not Waiting for the Right Moment. I mean, really,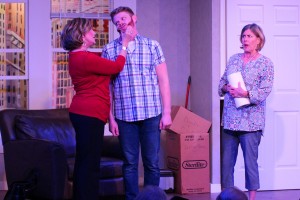 what girl hasn't dreamed of standing among unpacked boxes and haphazardly arranged furniture, tired, sweaty and frazzled, as her guy drops to one knee to propose marriage?
But this isn't Gabe's worst gaff. Committing Marriage Proposal Mistake No. 3, he has invited both sets of parents to join them on move-in day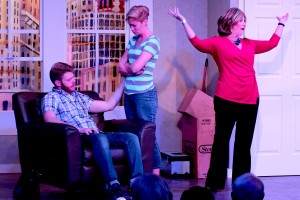 so that they can be on hand when he pops the question! In Gabe's defense, he's so passionate about Olivia he wants to shout his proposal for the entire world to hear. (He settles for jumping up on the kitchen counter and shouting out that he and the girl of his dreams are moving in together.) But for most women (according to surveys), the only blunder bigger than proposing in front of family and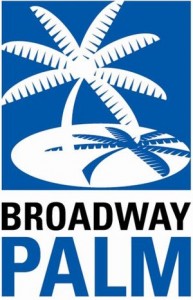 friends is popping the question at an NFL, NBA or MLB game.
Which brings us to Marriage Proposal Mistake No. 4 – Blabbing about the Plan. Yes, Gabe's told his parents and Liv's dad that he plans to ask Olivia to marry him and, you guessed it, Gabe's mom spills the beans, spoiling Gabe's big moment.
Awkward.
And awkward describes what ensues during all of Act One. For example, Gabe's mom, Lydia (Nancy Antonio), is a neat-freak who won't allow anyone to cart a stick of furniture into the apartment until it's been cleaned from top to bottom, starting with the top of the refrigerator.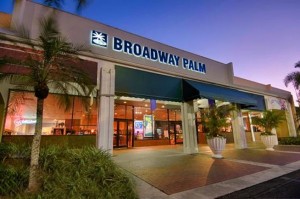 Worse, she refuses to allow Olivia to use the commode until the toilet seat is replaced. When Liv insists she has to go now, Lydia crafts a "pee pee pad" out of paper towels and toilet paper and stays in the room to make sure she uses it.
Awkward.
For as bad as Lydia might be, Olivia's mom, Karen (ML Graham), is even worse. Based on her own failed first marriage, Karen has instructed her daughter in no uncertain terms to date lots of different men and, above all else, avoid marriage until she's at least 30 years old. Liv hasn't told her that she and Gabe are moving in together, a fact Karen doesn't discover until she arrives in their apartment on moving day.
Awkward.
The semi-autobiographical situation in Act One is so realistic that many of DiSavino's comic one-liners failed to land with the Off-Broadway Palm audience, which found itself shifting uncomfortably in the theater's comfy seats during the show's early scenes. But that provided the perfect set-up for the warm sentimentality and outright hilarity of Act Two, which is heralded by the theft of the U-Haul and, with it, everything in the world that Gabe and Olivia own, including the engagement ring.
For this show, director Paul Bernier has assembled a cohesive cast that puts their all into every line and scene. ML Graham is superb as Olivia's overbearing mother who, in spite of her prickly, judgmental veneer, is proud that her daughter's found love and got it right on her very first try. Nancy Antonio is delightful as Gabe's germaphobic mom, and Katie Pankow is endearing as the beleaguered OCD Olivia. From the play's very first scene, Pankow evinces an understanding and flair for physical comedy and intuitive feel for comedic timing.
While the title of this show is Things My Mother Taught Me, it is the men who save the day and the engagement in Act Two. Joel Stigliano is hysterical as the Polish building superintendent who knows that the quickest way for mothers and daughters to overcome their differences comes in the form of shots of honey vodka. James Putnam is convincing as the romantic, glass-half-full Gabe, who is Olivia's perfect counterbalance. But it is Rob Summers and Michael Weaver who enjoy the funniest scenes in this light-hearted, full bodied comedy. As Gabe and Olivia's pickle-juiced dads, Wyatt and Carter, they dispense ice cream, whipped cream and drunken advice to a dispirited Gabe after he threatens to call off the engagement rather than propose without a ring.
In spite of his other missteps, Gabe knows that the biggest marriage proposal faux pas is asking for your girl's hand without a ring to seal the deal. Even Wyatt and Carter know that if you liked it, you better put a ring on it. And his solution to the loss of the ring is worth the price of admission alone.
Things My Mother Taught Me will leave you with a honey vodka or pickle whiskey kind of feeling. You may even come away with a greater appreciation for the different ways Millennials and Boomers view love and relationships.
March 23, 2017
RELATED POSTS.