Meet 'The Cave' actor Jordan Wilson, who plays Brandon, the blind rebel soldier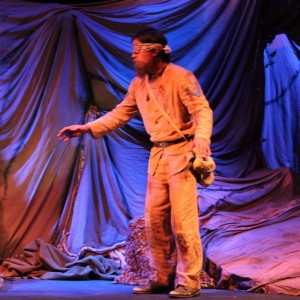 Theatre Conspiracy's production of The Cave opened on March 24 in the Foulds Theatre at the Alliance for the Arts. It stars Florida SouthWestern State College sophomore Marie Baptiste as Cassie, The Bible's Jordan Wilson as a wounded Confederate soldier by the name of Brandon and Michael J. Pineda as a Union deserter named Timothy.
None the characters in this Jeff Lindsay play is easy to intuit or fathom. But that of the wounded Confederate soldier named Brandon is probably the most difficult of all.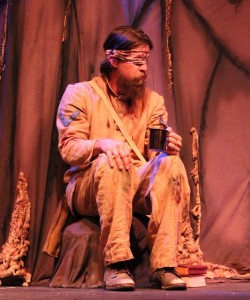 The challenges extend far beyond the fact that he has lost his sight. No longer an independently functioning man in his own eyes, Brandon has lost the will to live, although Cassie points out that he still possesses his other faculties, including the ability to smell the coffee she prepares for him (okay, it's only chicory, but if you haven't had coffee in quite some time, it'll do) and savor the aroma of bacon cooking over a crackling fire in the early morn. And after nearly two years of warfare, doing and witnessing the unthinkably barbaric, he's lost his faith in God and an afterlife. In fact, the blood and guts he's seen on the battlefield has reduced his view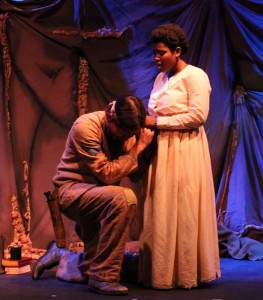 of mankind to little more than meat and gravy, meat and gravy, meat and gravy. But his worst realization of all is that he doesn't even understand or believe in the cause for which he's been fighting. Prodded by a woman he's never before met and a Union deserter he'd have killed but for her intercession, it suddenly occurs to him that he gave up his sight, his faith and his belief in his fellow man out of some ill-defined sense of duty he's never really articulated.
Jordan Wilson plays the part, which additionally requires him to traverse a wide range of subtle emotions, not the least of which is the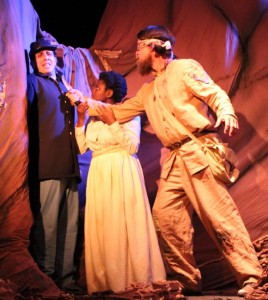 uncertainty that comes from having one's most basic beliefs and convictions challenged by people and events. It is especially enjoyable to watch him hitting is marks as he negotiates the stage pretending to be blind. It's often the subtle things that make all of the difference, like stabbing the air when attempting to sit down or reaching for that cup of coffee that Cassie offers him. The role of Brandon comes with a heavy line load, which Wilson delivers in a thick Southern drawl that is never rushed not overly elongated.
Born and raised in Southwest Florida, Wilson has performed in a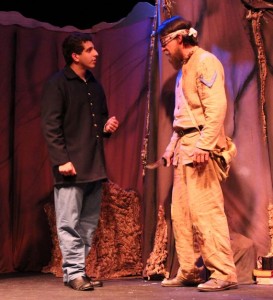 number of other Theatre Conspiracy productions, including The Bible: The Complete Word of God (abridged), Deadman's Cell Phone, The Nerd, Becky's New Car, The Complete Works of William Shakespeare (abridged) and Swell Party.
March 25, 2017.
RELATED POSTS.