Escott and Hile play blissfully oblivious insane aunts in CFABS' 'Arsenic & Old Lace'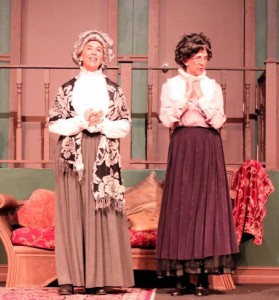 On stage now in the Hinman Auditorium is the CFABS Community Players' production of Joseph Kesselring's classic comedy noir Arsenic & Old Lace. The play revolves around two kindly old aunts who are happily engaged in the philanthropic pursuit of dispensing elderberry wine to lonely old gents who come calling looking for a room to rent in the Brewster boarding house. One glitch. Abby and Martha Brewster are blissfully ignorant that the rest of the community would frown upon them poisoning their would-be renters and then burying them, after a proper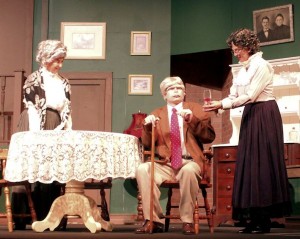 denominational funeral, in the basement of their home.
Played by Margot Escott and Cindy Hile, respectively, Abby and Martha are studies in farcical characterization. Telling a lie is against their moral code, but mercy killing doesn't give them the slightest pause. In fact, they are downright giddy at the prospect of putting another lonely old coot out of his lonely hearts club misery.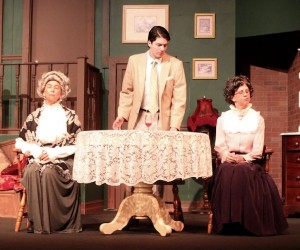 But their excitement is, after all, understandable. They are doing the Lord's work after He shows them their late-life calling when a potential boarder dies of a heart attack in their arm chair. They are unshakeable in their resolve, as their loving nephew, Mortimer Brewster, discovers after finding a body in the window seat adjacent to the aunties' dining room table. And while there is so much else going on as the other 12 actors in this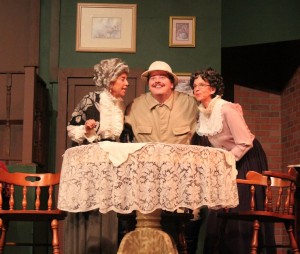 talented cast flitter across the Hinman Theater stage, Escott and Hile anchor the action with performances that are a delight to behold.
Margot Escott has been performing, directing and teaching for CFPABS since 2011 and is a member of Improv Anonymous. Her performance, in particular, is a thing of beauty as she "conveys exactly what the oblivion of complete insanity must be like." Of course, Escott has an advantage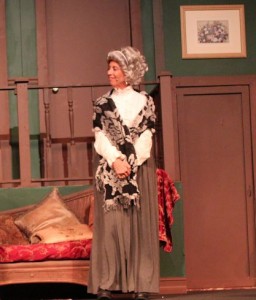 when it comes to understanding her character. Margot is a clinical social worker and licensed psychotherapist. She has been studying, performing and teaching Improv Comedy for the past several years for healthcare organizations and community groups, and is known for her workshops on "The Healing Power of Humor & Play." It appears that murder is something of a pasttime for Escott, who also partnered with Leigh Shein to write, direct and star in last October's hilarious dinner/brunch play Who Killed the Rabbi, in which a host of dysfunctional relatives attend a wedding in which the rabbi performing the service turns up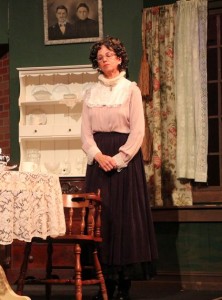 dead.
Cindy Hile played Elaine Navazio in CFABS' Last of the Red Hot Lovers and Eva LaMour in Murder, Mystery and Mayhem. She performed at the Marco Players as Rosie in Love, Loss and What I Wore and in the Naples Players Reader's Theatre. A member of the United Film & Television Artists (UFTA), she also plays a reporter in the Curtis Collins independent film Hanging Millstone.
Related articles
Published March 13, 2016.