Spotlight on 'Bad Jews' actress Kate Dirrigl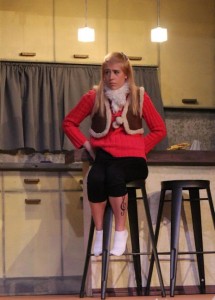 On view now at Lab Theater is Joshua Harmon's Bad Jews. It is a raucous, riotous comedy that stars Stella Ruiz as Daphna, Matt DeNoncour as her cousin Liam, Daniel Cancio as Liam's brother, Jonah, and Kate Dirrigl as Liam's shiksa blond-haired, blue-eyed girlfriend Melody.
All of the characters in Bad Jews are largely stereotypical, and that's especially true of Melody. The stage direction included in Harmon's script describes Melody as "like someone who would have been abducted when she was nine but returned to her parents unharmed." Or in the immortal words of Daphna, she give the appearance of someone who was "live water-birthed in a Talbot's."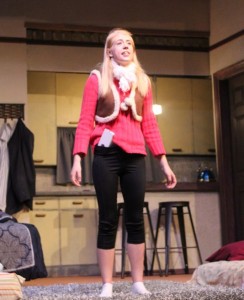 Vacuous to a fault, when Daphna snarkily asks her what type of a name Melody is, she answers, "Oh, I don't know, Caucasian?"
Not long after, the audience discovers that the girl proudly sports a treble clef tattoo on the side of her shapely left calf to remind her how much music meant to her. Meant? Well, it turns out that Melody is a failed opera major who has taken a low level administrative job with a local charity after failing to land a role after just two auditions. Sweet and naively innocent, she is no match for the savage, judgmental Daphna, who prods her into singing Gershwin's Summertime a'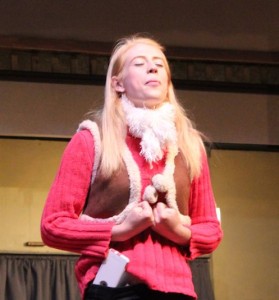 cappella to ease the tension mounting between the cousins. It's a rendition audiences will be talking about for a long, long time. Melody not only disgraces her name, she earns Dirrigl a dubious comparison to Cameron Diaz's karaoke number in My Best Friend's Wedding. (Of course, being compared to Cameron Diaz isn't the worst thing that can happen to an aspiring actress.)
Dirrigl plays the part with an endearing delicacy, earning the audience's compassion as they watch her walk blindly into the buzz saw that is her boyfriend's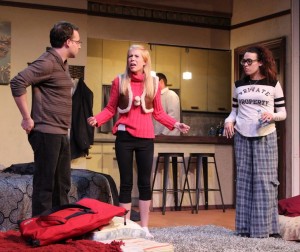 family.
Kate appeared as the equally adorable but clueless Dancer this past December in Jeff Goode's The Eight: Reindeer Monologues. Kate has a B.A. degree in theater performance from the University of Texas Pan American, where she was involved in numerous plays, including Arsenic and Old Lace (in which she played Elaine Harper), Les Liaisons Dangereuses (in which she played Cecile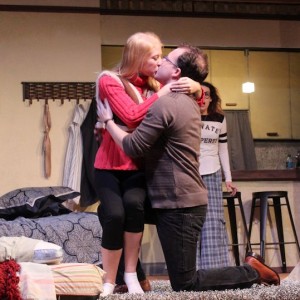 Volanges) and Peter Pan (where she was both Captain Hook and Mrs. Darling). When she is not on stage, Kate works as a preschool teacher for the Montessori School of Fort Myers.
Published March 13, 2016.