Stella Ruiz turns in command performance as Daphna in Lab Theater's 'Bad Jews'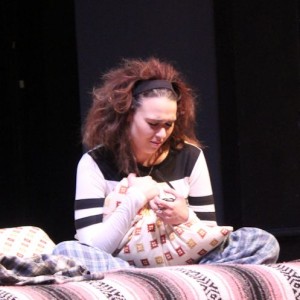 On stage now at Lab Theater is Joshua Harmon's Bad Jews. Filled with hilarious dialogue and razor-sharp barbs, this show is a 90-minute laugh riot. And the character causing the bulk of the ruckus is a Vassar senior by the name of Daphna, played by Stella Ruiz.
Daphna is upset from the opening line of Bad Jews. She's jealous that her cousin's parents have bought him an Upper West Side apartment with a view of the river even though Jonah is still in school. She is underwhelmed by his seeming lack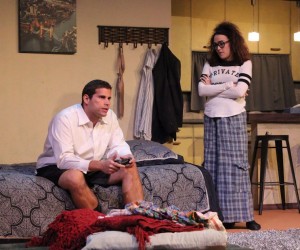 of motivation. But Jonah is the good cousin, and her kvetching about him is just a warm up for her impending duel with his brother, Liam, whose unabashed secularism drives Daphna to distraction.
In Daphna's opinion (and the audience quickly discovers that she is very, very opinionated), Liam has turned his back on both his religion and heritage. He has repudiated his given name of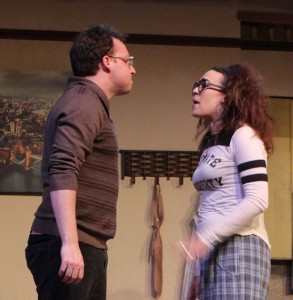 Shlomo. He is doing post-graduate work in contemporary Japanese youth culture instead of Judaism. He is dating yet another blond-haired, blue-eyed WASP who is woefully out of his intellectual weight class. And it doesn't help that the entitled little bastard missed their grandfather's funeral because he was off skiing with his gentile girlfriend in Aspen, no doubt at his parents' expense. So she launches a vicious verbal assault not only on Liam, but on his girlfriend, Melody, even before she learns that Poppy has already given Liam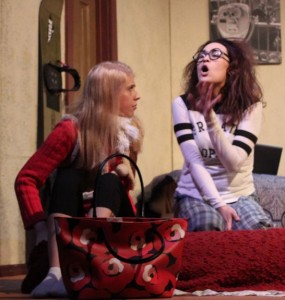 the family heirloom she covets – a gold medallion called a chai that he kept hidden from the Nazis during the two years he spent in the death camps by keeping the chai tucked underneath his tongue.
Ruiz turns in a command performance as the scheming, petulant, judgmental Daphna. Her lilting voice drips sarcasm. Her brows furrow with unconcealed condescension. Her pouty lips curl with self-righteous indignation. Daphna has never encountered a psychological or personal boundary she didn't gleefully disregard. She says all the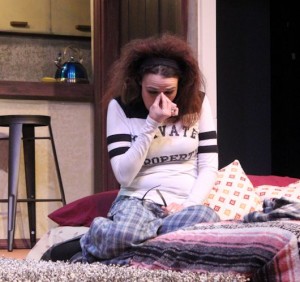 horrible things that pop into her overly-judgmental mind without filter or sensitivity. She is the live version of the way some of us speak to and about each other on Facebook, Twitter and other social media outlets. She circles, stalks and then pounces on her cousins and the hapless Melody, subjecting them all to her rapier wit and Mensa-level intelligence. But through it all, Ruiz always bears in mind that hers a comic rather than dramatic role. And so she delivers one scathing line after another with impeccable timing, encouraging the audience to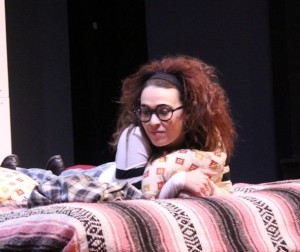 roil with laughter that threatens to drown out her next verbal barb or rejoinder.
When Lab Theater audiences last saw Ruiz, she was terrorizing her 60-something silver-maned sugar daddy's best friend, Alfred, and his wife, Melinda in last summer's hit, Happy., Anne Dodd directed that show. Dodd has watched Ruiz grow as an actress by leaps and bounds. "Stella and I were in Rimers of Eldrich [at Lab Theater] and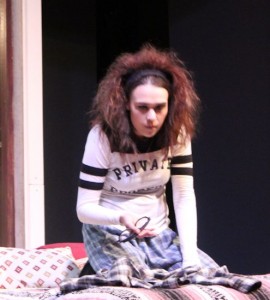 Relatively Speaking [at Theatre Conspiracy], and although our characters did not interact in these plays, I got to observe her act," said Dodd. "And in just the last year, she's grown incredibly as an actor. She's highly intelligent and very curious, and it's fun to work with an actor who's that curious and aware. Stella is very aware. She always watching. You can see that in her, in the way she acts."
Ruiz was indeed good in the role of the provocateur Eva, but she has taken her game to a whole new level as Daphna, delivering complex, convoluted chunks of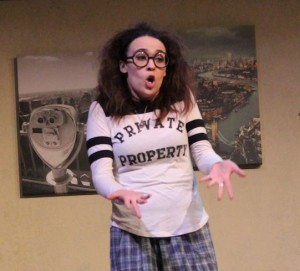 scathing diatribes with surgically-sharp and pathologically cold precision. The secret to Ruiz's exponential growth is her approach. She does not just learn her lines and tap into the appropriate emotions. Nay, she immerses herself in her character. While playwright Joshua Harmon provides virtually no backstory for his characters in Bad Jews, it's a safe bet that Stella has created a complete personal profile for Daphna, including the types of books she reads, the music she listens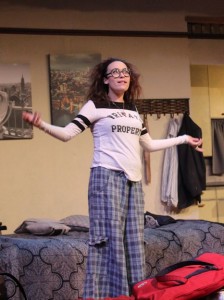 to and what she likes to eat. That's why when you see Bad Jews, you won't be watching a very talented actress play a part. You'll be watching Daphna come alive right before your startled eyes.
In addition to landing and executing challenging roles, Ruiz has received instruction in Shakespeare, scriptwriting and stage combat at Lab Theater and has participated in Camp Florida Rep. She has also taken seven years of ballet, tap and jazz and four years of Irish step, modern, lyrical and hip hop. Musically, she has two years of classical piano and classifies herself as a mezzo-soprano. But Stella has her sights set on higher education, perhaps a degree in film or theater.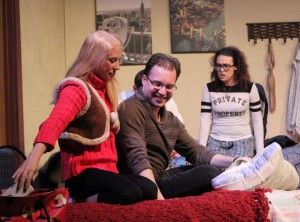 Besides Eva in Robert Caisley's Happy, Ruiz's acting credits include Lucy in Mr. Marmalade, Amelia, Helen, Waitress 3 and Kim in Bob: A Life in Five Acts, Patsy in The Rimers of Eldrich, Desdemona in Othello, Candy Starr in One Flew Over the Cuckoo's Nest, Ophelia in Othello, Belinda Cratchit and the Ghost of Christmas Past in A Christmas Carol, and Antigone in Antigonick.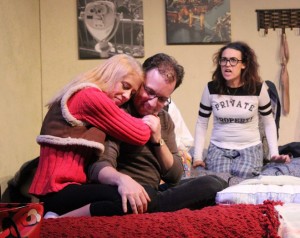 Other notable roles include Nina and Hildy in Relatively Speaking, Katherine in Taming of the Shrew and Hecate in Macbeth (both at Gulf Shore Shakespeare Festival) and serial killer Monique Avril in the 2012 indie film Redemption. Her stage management credits include Amadeus, Five Kinds of Silence, Cat on a Hot Tin Roof, Extremities and Because Beauty Must Be Broken Daily. She has also written three full-length plays, is one of the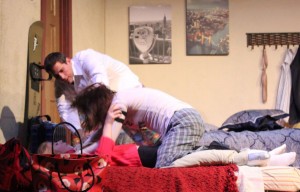 writers on Lab's upcoming The Rauschenberg Project Play, appeared as a guest judge at Fort Myers Film Festival's TGIM, and is the coordinator of Lab Theater's annual 24-Hour Playwriting Project.
Published March 13, 2016.