Director Dr. Catalina Monterrosa provides insights about A.R. Gurney's 'Later Life'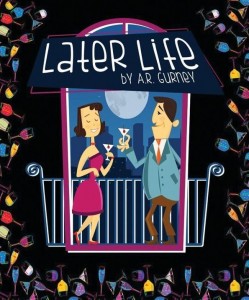 A.R. Gurney's Later Life opens April 6 at the Centers for the Arts Bonita Springs. Dr. Catalina Monterrosa directs.
The play follows Austin and Ruth, who meet at a cocktail party overlooking Boston Harbor thirty years after they were once an item. Convinced his entire life convinced that something terrible is bound to happen to him, he leads a lonely life of quiet desperation. By contrast, Ruth's personal life is in such turmoil that mutual friends look to Austin as Ruth's last shot at normalcy. At the same time, they hope the triple divorcee will breathe some life into the predictably mundane Austin. As the evening unfolds, these two damaged people begin to rediscover each other and themselves – sometimes comically, sometimes painfully, as their friends rally to remind them of the infinite possibilities that life holds – if only they'll choose to pursue them.
"For me, this play is about second chances and the ability for us to evolve as human beings within our own lifetime," comments Dr. Monterrosa about the play. "Fear of change grips most human beings. The ability to grasp onto joy and new possibilities is rare, but so critical, as we mature in age. What's best? To remain status quo, clinging to that which we know, or to go forward and possibly be ecstatic? I think the latter, but it's all for the individual to decide."
While some regard change with hope and a pervasive sense of optimism, most people experience unease or even disorientation when they are suddenly forced from their comfort zones and made to face the unknown. Afterwards, they often wonder why they ever hesitated, but we all have friends, relatives and co-workers who have an almost pathological aversion to change of any kind. Scratch the surface, and you'll usually find that beneath their worship of the status quo is a debilitating self-doubt, fear of failure, or debilitating allegiance to external goals or ideations that define their identity and self-worth.
Monterrosa herself threw off such shackles, ironically as a result of Later Life.
"I directed this play once before and also starred as the lead character, Ruth, in a production in New York," Dr. Monterrosa discloses. "As life imitates art, this role changed my life and I decided to pursue my lifelong dreams. I made a career change from owning a NYC advertising agency to healthcare and have been joyous ever since."
Will Austin and Ruth take a chance on each other? You'll have to buy and ticket and find out for yourself.
"Life is a mixture of joy and sorrow but sometimes the choice is within our own reach," Monterrosa sums up. "Carpe diem!"
March 29, 2017.
RELATED POSTS.