Meet the cast and crew of A.R. Gurney's 'Later Life'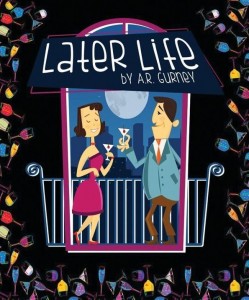 A.R. Gurney's Later Life opens April 6 at the Centers for Performing Arts Bonita Springs. The play follows Austin and Ruth, who meet at a cocktail party overlooking Boston Harbor thirty years after they were once an item. Convinced his entire life convinced that something terrible is bound to happen to him, he leads a lonely life of quiet desperation. By contrast, Ruth's personal life is in such turmoil that mutual friends look to Austin as Ruth's last shot at normalcy. At the same time, they hope the triple divorcee will breathe some life into the predictably mundane Austin. As the evening unfolds, these two damaged people begin to rediscover each other and themselves – sometimes comically, sometimes painfully, as their friends rally to remind them of the infinite possibilities that life holds – if only they'll choose to pursue them.
Bonita Springs winter resident Terry Bangs plays the role of Austin. A retired Air Force pilot, Bangs takes flight to Libertyville, Illinois when the weather here turns hot and humid.
Elizabeth D'Onofrio tackles the role of Ruth. D'Onofrio has worked in film, television and stage for more than 30 years.
Linda Mizeur and Canadian John Corrigan play multiple roles. Mizeur was last seen in the Centers for Performing Arts Bonita Springs' recent Stage It! 10-Minute Play Festival. As for Corrigan, Later Life represents his "international" debut.
Judy Koloski (Big Arts Community Theatre), Beverly Canell and Jodie Fox round out the cast.
Dr. Catalina Monterrosa directs the cast. Simon Kaplan serves as Stage Manager. Martin Towne III and Dominic Vigliotti handle lights and sound. Chuck Jobes recorded and will perform music composed especially for the production.
CFABS' sculpture instructor Giuseppe Corrado Smith handled set design and construction. He is also Master Carpenter at the Sugden Theatre in Naples. His credits include Moon Over Buffalo, A Glass Menagerie, Noises Off and Seascape. Dr. Richard Marcott and John Corrigan are assisting Smith with construction.
March 29, 2017.
RELATED POSTS.