Meet 'Moon Over Buffalo' actress Carole Fenstermacher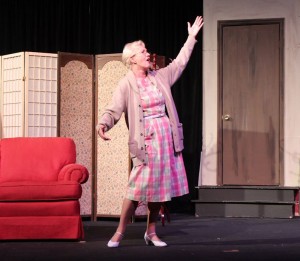 The CFABS Community Players are producing five performances of Ken Ludwig's hysterical farce Moon Over Buffalo. The action centers around aging theater icons George and Charlotte Hay who are finally about to get their shot at careers on the silver screen when tragedy strikes Frank Capra's movie set and he suddenly finds constrained to replace both his male and female leads. But the timing could not be worse. George and Charlotte are on the outs, which is not surprising when you discover that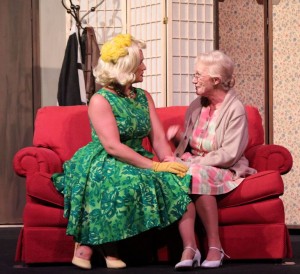 George has not only been carrying on with the pretty young actress who took over his daughter's roles when she quit their theater group, he's gotten her pregnant! Complicating matters even further is Charlotte's hearing impaired mother, Ethel, played by Carole Fenstermacher.
Ethel is a catalyst whose purpose is to amp up the comedy by half-hearing and misunderstanding everything that's said because of her hearing problems which mask her lack of interest in listening to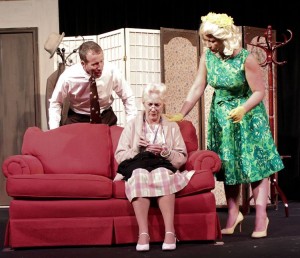 anything that's said by or affects her son-in-law. For example, after George gets hammered because Charlotte tells him their marriage is over and she's leaving him for their attorney, the troupe needs to sober him up so they can perform a matinee of Private Lives for Frank Capra. They tell Ethel to make strong coffee and hide the half-empty bottle of Chivas Regal they've taken away from George. She thinks they've asked her to make Irish coffee, which predictably leads to George getting even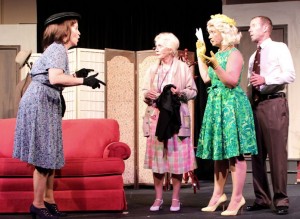 drunker.
She doesn't have many lines, but Ferstermacher is very, very funny in the role.
Since moving to Florida in 2000, Carole has appeared with the Naples Players in The Last Romance as Carol, Les Liasons Dangereuses as Mme de Rosemonde, Lend me a Tenor as Julia, Anything Goes as Evangeline Harcourt, Humble Boy as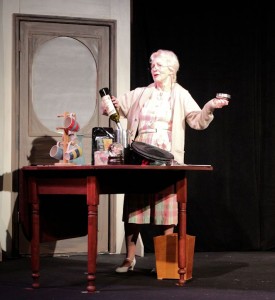 Flora, Enchanted April as Mrs. Graves, A Little Night Music as Liebeslieder, Crazy for You as Mrs.Childs, All My Sons as Kate, Greetings as Emily and A Doll's House as Helene with Gulfshore Playhouse. More recently, she directed The Savannah Disputation for The Studio Players.
Carole says she is honored to share the boards with such a gifted, fun team and extends a huge thanks to director Gary Obeldobel for helping her find her inner "troll."
July 20, 2017.
RELATED POSTS.