Meet 'Moon Over Buffalo' ingénue Miranda Silano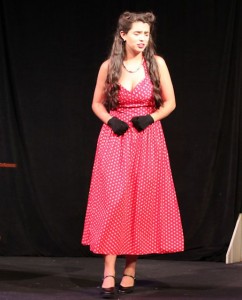 The CFABS Community Players are producing five performances of Ken Ludwig's hysterical farce Moon Over Buffalo. The action centers around aging theater icons George and Charlotte Hay who are finally about to get their shot at careers on the silver screen when tragedy strikes Frank Capra's movie set and he suddenly finds constrained to replace both his male and female leads. But the timing could not be worse. George and Charlotte are on the outs, which is not surprising when you discover that George has not only been carrying on with the pretty young actress who took over his daughter's roles when she quit their theater group, he's gotten her pregnant!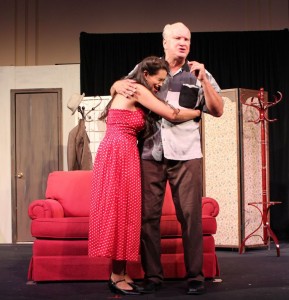 And playing the part of the duplicitous young ingénue is recent Gulf Coast High graduate and incoming University of Florida frosh Miranda Silano.
Miranda has done several shows with CFABS's youth theater program, but this is her first show with adults. She clearly belongs. Early on, her character, Eileen, is required to turn on the waterworks. In a normal production, crying on demand presents its own challenges. But Moon Over Buffalo is a farce, so it's not about the crying, fake or real. It's about the histrionics,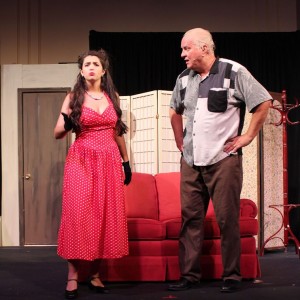 the wailing and the gnashing of teeth and Silano pierces the wide open confines of the Center for Performing Arts like a siren warning of an impending cyclone which, come to think of it, isn't a bad simile.
Hers is a limited role, but one that she discharges with both humor and grace. Audiences will no doubt see more of Miranda in the future, but looking back, she's already portrayed Marmee in Little Women. Other favorite credits include Fiddler on the Roof (Golde), Mulan (Mulan) and The Sound of Music (Sister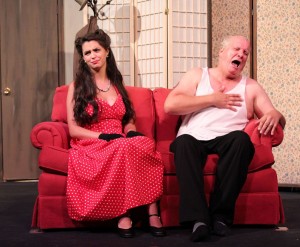 Berthe).
July 20, 2017.
RELATED POSTS.