Ten new 10-minute plays to premiere at Bonita's 'Stage It! 2 10-Minute Play Festival'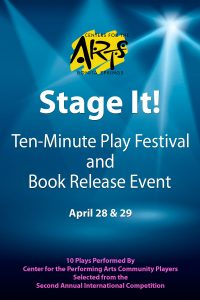 The Center for Performing Arts of Bonita Springs has announced the line for its Stage It! 2 Ten-Minute Play Festival which takes place at 8:00 p.m. on Saturday, April 28, and 2:00 p.m. on Sunday, April 29 in the Moe Auditorium & Film Center. Ten plays will premiere at the two-day event, which also includes a Book Release Party to celebrate the publication of all the winners.
A total of 206 plays were received from around the nation, New Zealand, Australia, Canada and England. Each play was critiqued by two of 21 judges from across the country and Canada. The judging panel included playwrights, directors, screenwriters, professional actors and editors from New York, Los Angeles, Atlanta, Toronto, Chicago, Boston, New Orleans, Jacksonville and Naples.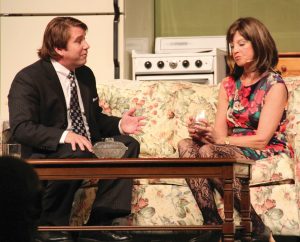 Thirty plays were selected for publication in the STAGE IT! 2 Ten-Minute Plays book that will be released on the opening night of the Festival.  Ten of the plays will be performed over the two days by CFABS community theatre performers, and an "Audience Favorite" will be selected by the patrons attending.
These are the ten plays that will be performed during the festival:
A Lively Outfit by Jeff Dunne of Eldersburg, MD
Cancelled by M. Rowan Meyer of Woodside, NY
Cuckoo by James Pfrehm of Homer, NY
Dany, Major and Mills by Denise Hinson of Sugarland, TX
Ebook Meets Treebook by Rex McGregor of Auckland, New Zealand
Love In Ten Minutes by Jim Flores of Hacienda Heights, CA
No Problem by Lela Chesson of Rocky Mount, NC
Sheep! by J. Gulotta of New York, NY
Swans by W.L. Newkirk of Celebration, FL
The Bull Of Queens by Brian Scanlan of New York, NY
"I'm sorry I'm so far away," said juror Cheryl King of Stage Left Studios in Manhattan and California. "I want to direct these."
The other plays included in the publication:
Anna The K by Don Lampton of Palm Coast , FL
Around And Around And Back Again by Dean Morton of Wilmington, NC
Brothers On A Hotel Bed by Elisabeth Giffin Speckman of Indianapolis, IN
Bunnies And Wolves by Elspeth Tilley of Wellington, New Zealand
Death On The Internet by Ellie Svoboda of Golden, CO
Decorum by Judd Lear Silverman of Brooklyn, NY
Do Vegans Eat Jello? by David Ratcliffe of Lewisville, NC
Food Dude Talking Food by Don Lampton of Palm Coast,  FL
How's Your First Day Going? by S. L. Daniels of Chicago, IL
I'm Dead When I Say I'm Dead by Ron Pantello of Longboat Key, FL
My Dream Husband by Nancy Rose Ostinato of Celebration, FL
Naked Player by Don Salvo of Celebration, FL
On A Wing And A Prayer by Judd Lear Silverman of Brooklyn, NY
Prayers In The Pines by Lindsay Partain of Milwaukie, OR
Rest Assured by George M. Johnson of Kamloops, BC, Canada
Secret Dreamers by Ed Friedman of New Rochelle, NY
Take Care by Andrew Thierfelder of Redford, MI
Tech Support by Tod Golding of Gold River, CA
The Windsor Con by Paul McCormick of San Francisco, CA
Welcome To  Afterlife by Eric Weil of Elizabeth City, NC
Tickets are $12 and can purchased in advance by calling 239-495-8989 or visiting Center's website, http://www.artcenterbonita.org.
The Moe Auditorium and Film Center is located at 10150 Bonita Beach Road in Bonita Springs.