ARTSWFL's 'Drowsy Chaperone' review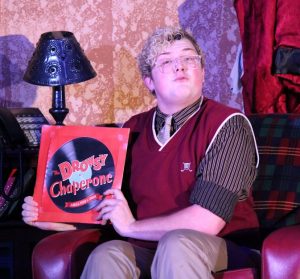 Janet Van De Graaf is marrying Robert Martin, and the glittering starlet of Feldzieg's Follies is leaving the stage for love! When wealthy widow Mrs. Tottenham decides to host the wedding of the year at her palatial estate, she gets more than just a nice write-up in the society pages. Horrified at the prospect of losing his star, Feldzieg, has hired a more-vain-than-verile Latin lover by the name of Aldolpho to seduce the bride and, not willing to leave Feldzieg to his own devices, his angry and anxious principal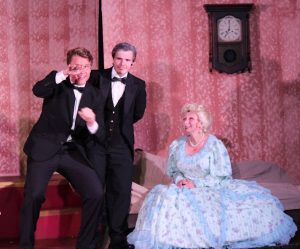 investor has sent two gangsters disguised as pastry chefs to make sure that wedding doesn't take place. Can the Drowsy Chaperone foil Aldolpho's plans? Will the best man, George, make sure that Robert makes it to the wedding on time or will he inadvertently torpedo the very nuptials he's trying to promote? These are the antics that are afoot in the fictitious 1928 musical comedy known as The Drowsy Chaperone, on stage at Creative Theater Workshop.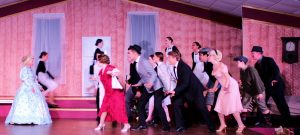 The Drowsy Chaperone is a magical piece of meta-theatre. An ode to melodrama, this playful, heartfelt parody of the 1920s musical comedy is the lighthearted antidote to the angst and malaise of the election cycle. It features a chirpy jazz age score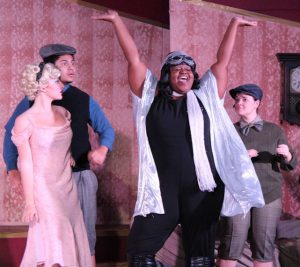 by Lisa Lambert and Greg Morrison, and a lively, clever book by Bob Martin and Don McKellar (both were Tony winners in 2006). The score boasts such tunes as the scenery-chomping "Show Off," the sizzling and silly "I Am Aldolpho," the double-entendre laden "Toledo Surprise" and "As We Stumble Along," a rousing anthem to optimistic alcoholism.
The show is characterized by many highlights, beginning with the performance of Samuel Pucin as the narrator.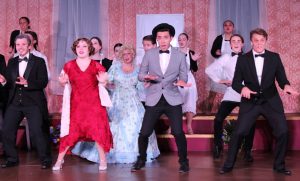 His title in the production is "man in the chair," but he's the one who breathes life into the characters that spring from the dusty old vinyl of a long-forgotten 1928 musical, The Drowsy Chaperone, that he plays on an old record player straight out of the legendary Edison Phonograph Company. Pucin is masterful as he provides context, offers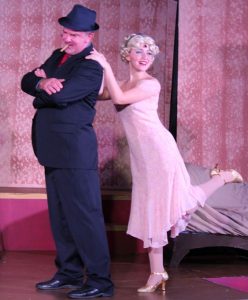 insight and advances the storyline playing out across the Creative Theater Workshop stage. The writers have given him a number of quips and droll one-liners, which he delivers with apt dry wit and in a disarming conversational tone.
Kristen Wilson plays the hostess with the mostest, the ineffable Mrs. Tottendale. Paul Todd, Sr. is her underling. A sometimes-costume-designer, Wilson enjoys the privilege of dressing in one gown more beautiful than the last, but Wilson teams up with Todd to deliver a routine that's anything but sophisticated and will remind older audience members of Abbott & Costello's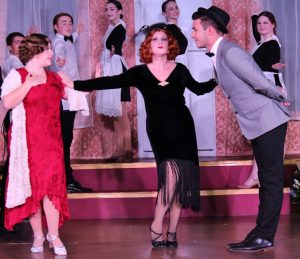 "Who's On First?" comedy routine. After telling Underling that "water" will be code for gin during the wedding, Tottendale asks for an actual glass of water. Naturally, Underling brings her straight gin, which she predictably spews all over him before demanding water for real. This time he brings her vodka, which she once again spits out in his direction. But this time, Underling is wearing a clear plastic face shield (which could, coincidentally, provide protection from coronavirus should he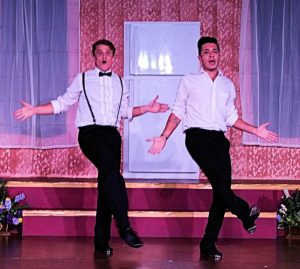 venture outdoors).
Jesse Massari and AJ Ford are exceptional in the roles of the betrothed Janet Van de Graaf and Robert Martin. Their acting is flawless, their dancing impeccable and both have strong clear voices. Ford, whose credits include Billy Flynn in Chicago for Cultural Park Theatre and Kurt in The Sound of Music, Nathan in The Full Monty and lost boy in Peter Pan for Broadway Palm, is building a well-deserved reputation as a musical theater leading man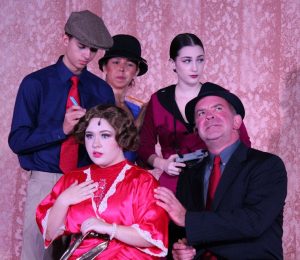 mainstay.
It is also Ford, accompanied by Theo Rosso in the role of his best man, George, who wow the audience with an amazing tap dance number early in the show, and the sounds of their taps on the wooden stage reverberate long after the final bows are taken.
From the times of Jean Harlow (Dinner at Eight, Bombshell) and Marilyn Monroe (Gentlemen Prefer Blondes, How to Marry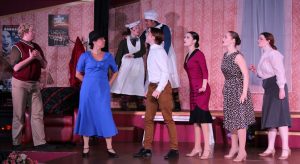 a Millionaire) to Suzanne Somers and Kaley Cuoco (at least in the earliest episode of Big Bang Theory and as the ultra-dumb but incredibly attractive Bridget on 8 Simple Rules for Dating My Teenage Daughter), comely actors such as Kristen Noble have been challenged to portray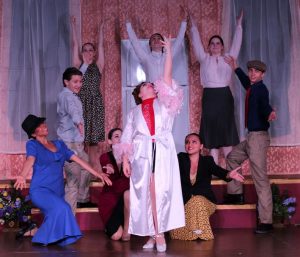 shallow social climbers. But Noble (who is actually a brunette beneath that wig) goes beyond depicting her character, Kitty, in this way. Her portrayal will elicit the sympathy of every female audience member who's ever felt overlooked, unappreciated and taken for granted by her employer, co-worker or the man in her life. And for fans of 20-era flapper dresses, Noble gets to sport some great costumes as well.
Tricia Hennessy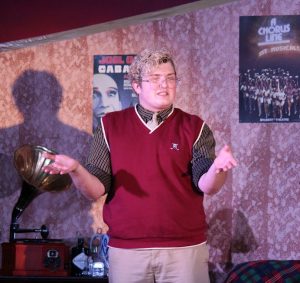 reports that she's been absent from the stage for two years. It doesn't show. She's marvelous as Janet Van de Graaf's less-than-responsible protectress. But Hennessy's character is self-sacrificing if nothing else. When Aldolpho mistakes her for Janet, our endearing chaperone takes one for the team. For his part, Spencer Barney is hilarious as the randy rascal who's a slave to his love of women. If words are a woman's weakness, then the rake is a master of seductive language, employing the musical timbre of his voice and exceptional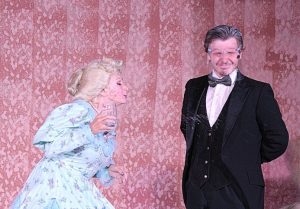 eloquence to hypnotize and ensnare his quarry. Of course, The Drowsy Chaperone is a spoof, which makes Aldolpho a more of a journeyman in his craft, but his repartee with Hennessy's character is nevertheless a joy to behold. For as satisfying as their back-and-forth may be, the seductive dance number that the couple perform is even more mesmerizing.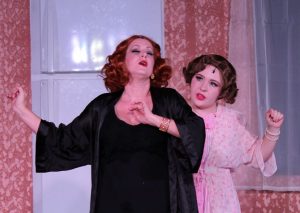 Cantrella Canady is Trix the Aviatrix, and she makes the most of the little time she has on stage. As we've all come to expect, Cantrella's powerful and passionate vocals perfectly convey the bravery, daring-do and pioneering spirit of a '20s-era aviatrix. Bessie Coleman would have no doubt been honored to have a stand-in as accomplished and swashbuckling as the fabulous Ms. Canady.
There's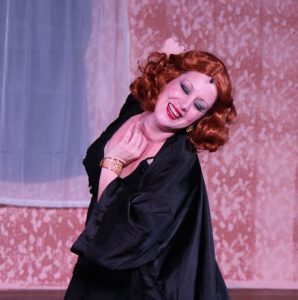 not a bad performance in this show, but regrettably, there isn't enough room to mention every actor individually (although each is deserving of some ink). But it would be unforgivable not to draw attention to the Herculean effort involved in directing and choreographing this production, particularly during a pandemic! The cast is large and there are a lot of moving parts, particularly in the Fosse-style dance numbers. On top of that, wide, narrow and separated from the proscenium by a set of narrow steps, the Creative Theater Workshop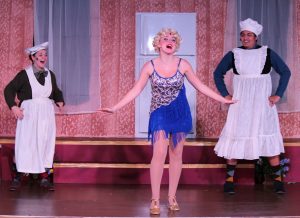 stage is a challenging venue when all 26 cast members are on the boards at the same time. So director Kimberly Suskind and choreographer Robin Dawn Ryan are to be complimented for putting together a high-energy, visually pleasing night of entertainment that audiences are sure to appreciate and enjoy.
October 27, 2020.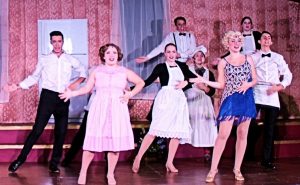 RELATED MATTERS.