Meet performance artist Tim Miller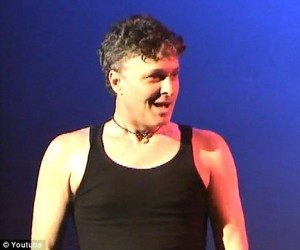 Tim Miller is an internationally acclaimed performance artist whose creative work over more than 35 years explores the artistic, spiritual and political topography of his identity as a gay man. He is in town for nine days as an artist in residence to workshop with students enrolled in the Devising Performance (TPP 3293) and Staging Devised Performance (TPP 3294) classes offered by the Theatre Program in the Bower School of Music & the Arts at Florida Gulf Coast University.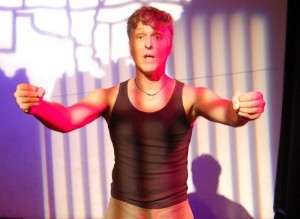 Tim Miller has made a career of blending activism into his one-man performances. "I knew from the time I was 15 or 16 that if I wanted to tell stories about my gay identity and outspoken political perspectives, I'd have to create those stories myself as a writer/performer," Tim told WGCU's Julie Glenn on West Coast Live.
Through the '80s and well into the '90s, Miller's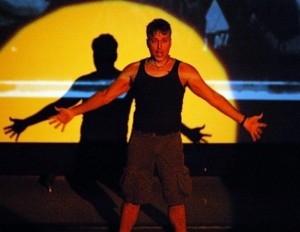 performance pieces revolved around gay rights and the HIV/AIDS epidemic which struck shortly after he relocated to New York from L.A. "There's no question that if a global pandemic sails into the world that artists would, could and should respond," Miller said in the WGCU interview. "In fact, I think that we were first responders. Long before science kicked in in any useful way, the people that were helping were health care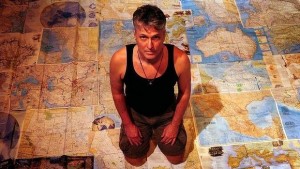 providers and artists, and we had this explosion of theater and dance and music. For many years, the cultural response was the only response we had. So that, for me, was a strong template."
Once cocktails of antiviral drugs made it possible for people to live indefinitely with HIV disease,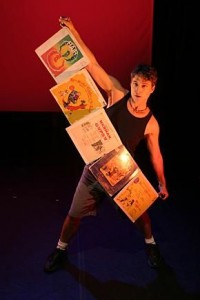 Miller shifted his emphasis t0 issues of marriage equality and immigration. The latter was keenly influenced by Miller's struggles to keep his life partner in the United States.
"My husband, Alister McCartney, is a writer and now a professor," Tim told Julie Glenn on Gulf Coast Live. "We met in 1994 in London. Alister was an Australian citizen with a British passport. Once we became involved in a relationship, it immediately became clear to me that unlike straight folks in America until 2 years ago, you could fall in love with someone [of the same sex], but you couldn't marry them under federal law or get them a green card. We struggled for 20 years to keep Alister in the United States. He didn't see his family in Australia for 17 years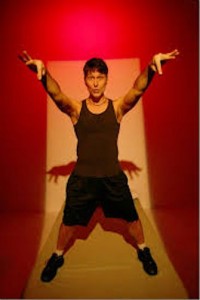 because if he left the country, we couldn't get him back in because he didn't have a green card. So this was my point of entry for a lot of my work – just how unjust it was that gay and lesbian couples were being denied the 1,114 federal rights that marriage affords, with immigration rights and the ability to get your spouse a green card being chief among them."
Miller recounts the trials he was forced to undergo in trying to keep Alister in the United States in Glory Box and US, which are funny, sexy, and politically charged explorations of same-sex marriage and the struggle for immigration rights for lesbian and gay bi-national couples. For much of the past 15 years, he has been one of the main artists doing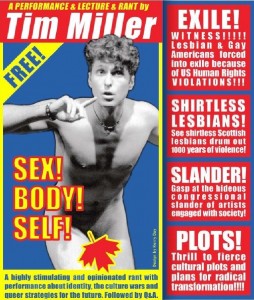 work on the subjects of marriage equality centering around the immigration angle. While some of these issues have been settled by the Supreme Court's decision in 2015 recognizing same sex marriage, Miller realizes there's still much work to be done around being gay and Latino or black, or gay and disabled.
"This Oscar season, we finally had a film win Best Picture in Moonlight, which was the first gay film to ever win the award," notes Miller. "It's a Florida film which I think is really important. But it portrays what being a gay black man in Liberty City is like. So there's still so much work to be done in these representations."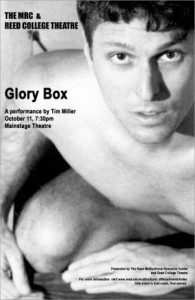 Miller's anthology of performance pieces is prodigious, and includes Postwar (1982), Cost of Living (1983), Democracy in America (1984), Buddy Systems (1985), Some Golden States (1987), Stretch Marks (1989), Sex/Love/Stories (1991), My Queer Body (1992), Naked Breath (1994), Fruit Cocktail (1996), Shirts & Skin (1997) Glory Box (1999), Us (2003) and 1001 Beds (2006). Each is denoted by his signature blend of passion and quirky conversational humor.
Miller has performed all over North America, Europe and Australia and has appeared at such prestigious venues as Yale Repertory Theatre, the Institute of Contemporary Art in London, the Walker Art Center in Minneapolis and the Brooklyn Academy of Music.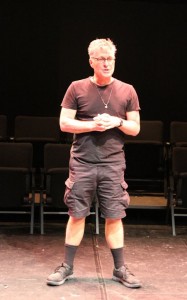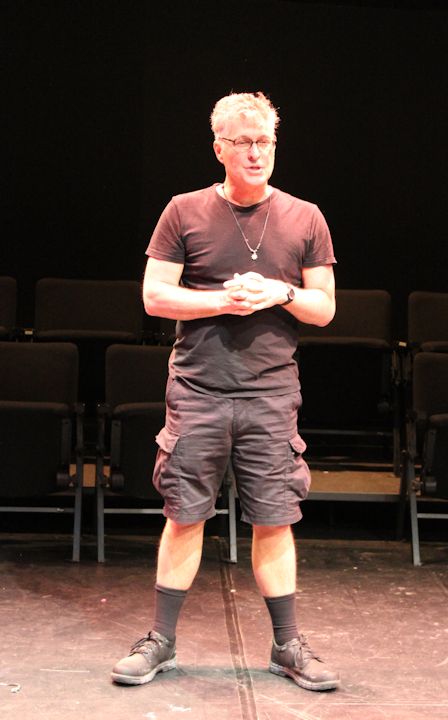 At present, Miller is touring a new show called Rooted, in which he connects his marriage to Alister back to his great-great-grandfather, who married at the end of the Civil War.
"I have a copy of the marriage license my great-great-grandfather obtained in New York State at 20 years old after fighting with the Union Army in the Civil War, and when Alister and I got our New York State marriage license in Manhattan County, it was significant for me to imagine these two documents together. What do they have to say to each other? What sparks fly from the documents? Separated by 128 years, those two marriage licenses send me on a new journey in [Rooted]. My great-great-grandfather was part of the greatest social justice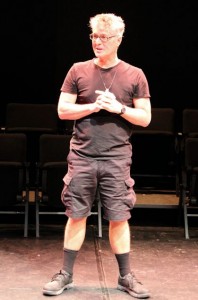 movement in our country, to erase slavery, during which almost a million people died. It's good company be in and puts our struggles today more into perspective. It makes some of our struggles and challenges seem not so overwhelming." [Author's note: most historians estimate the number dead at 620,000 Union and Confederate soldiers, 60,000 civilians and as many as 200,000 former slaves.]
In addition to his performance pieces, Tim has authored three books, Shirts & Skin, Body Blows and 1001 Beds. The latter, an anthology of his performances, essays and journals that was published in 2006 by the University of Wisconsin Press, won the 2007 Lambda Literary Award for best book in Drama-Theatre.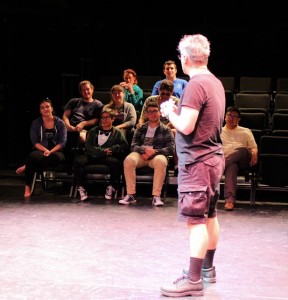 His solo theater works have been published in the play collections O Solo Homo and Sharing the Delirium.
Miller has taught performance at UCLA, NYU, the School of Theology at Claremont and at universities all over the United States. He is a co-founder of two of the most influential performance spaces in the United States: Performance Space 122 on Manhattan's Lower East Side and Highways Performance Space in Santa Monica, CA.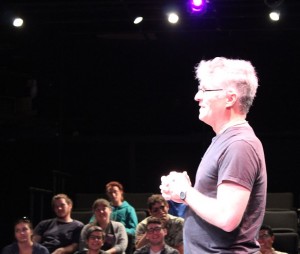 Miller has received numerous grants from the National Endowment for the Arts. In 1990, Miller was awarded a NEA Solo Performer Fellowship, which was withdrawn under political pressure from the Bush White House because of the gay themes of Miller's work. Miller teamed with three other artists (the so-called "NEA 4") to successfully sue the federal government with the help of the ACLU for violation of their First Amendment rights and won a settlement where the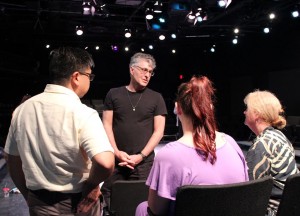 government paid them the amount of the defunded grants and all court costs. Though the Supreme Court of the United States decided in 1998 to overturn part of Miller's case and determined that "standards of decency" are constitutional criterion for federal funding of the arts, Miller vows "to continue fighting for freedom of expression for fierce diverse voices."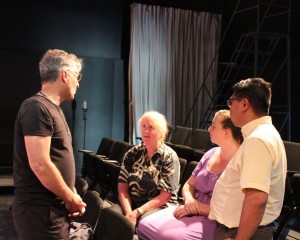 April 4, 2017.
RELATED POSTS.