Francine Wolf: Please Don't Tell My Kids!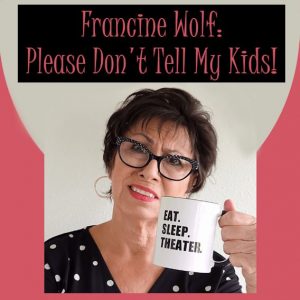 One of the shows included in the inaugural Fringe Fort Myers is Francine Wolf: Please Don't Tell My Kids!, which Ms. Wolf co-wrote with acclaimed British comedy writer and fringe performer, Gerard Harris.
In this memoir-style one-woman show, Wolf shares true stories from an interesting lifetime of work spanning four decades, structured around the premise that she would prefer her family never find out about the more salacious incidents. Among the latter are:
a love affair that bordered on insanity,
her shocking talking dolls,
a serious chat with Senator John Glenn about daycare policy
how she scored a date with Anderson Cooper
how weird it is to be a speaking model on the Home Shopping Network, and
her brush with American history when, by sheer coincidence, at a Dunedin-based law firm that happened to represent someone who was at the center of an internationally infamous life-and-death court case (in which several of Wolf's public relations memos have become part of the official record and are now included in law and medical students' coursework).
Confessional, witty, and inspirational, Francine's compelling autobiographical jaunt will have you laughing until you cry. But, whatever you do, Please Don't Tell Her Kids!
Wolf is a Largo-based artist who began studying acting at the age of forty. Today, she is a union member who has been involved with assorted improv groups since the mid-90s. With thirty-three years of stage, screen, and commercial experience, Francine toured her previous solo improv show to festivals across the country, including the 2018 Tampa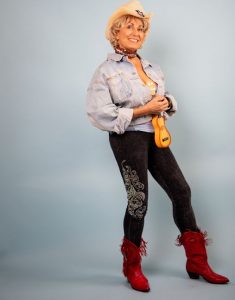 International Fringe Festival, the Countdown Improv Festival, and the Vintage Improv Festival in Boston – a show that the 2019 PortFringe Review Team lauded as "lovely and inventive," stating that she has a "wonderfully weird and creative‖ mind."
In 2019, Francine had the honor of being juried into The Art of Women: A Heart and Soul Celebration (an evening showcasing diverse art installations by diverse women in Tampa) and brought Half-Baked Boomer to the Rogue Festival in Fresno, California and to PortFringe in Portland, Maine. During the pandemic, her Pants Optional Comedy online show included improvisers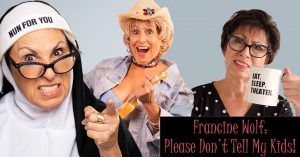 and audience members from around the world.
Her company, ZaZu Productions, LLC, has also brought innovative new plays to Tampa Bay, most recently, Dorothy Hershman's solo show, Roshin's Wake, which came to the Studio@620 in St. Petersburg in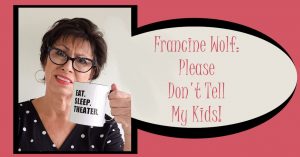 January.
So make plans to hear this average Brooklyn-born, Canadian-American, teacher-turned-Jane-of-all-trades, long-distance grandma present Francine Wolf: Please Don't Tell My Kids! There are three shows in the Alliance for the Arts Classroom Theatre at:
7:00 p.m. on Friday, June 2;
4:00 p.m. on Saturday, June 3; and
2:30 p.m. on Sunday, June 4.
May 23, 2023.