'I Love You' well-acted, beautifully sung, highly entertaining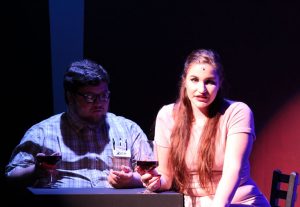 On stage through April 6 in FSW's Black Box Theatre is the delightfully entertaining and playfully hilarious 1996 musical I Love You, You're Perfect, Now Change. This witty revue examines dating, romance, love, marriage and loss in all its glorious forms. And in spite of its age, the topics covered and their treatment remain surprisingly timely, perhaps even timeless.
Under the direction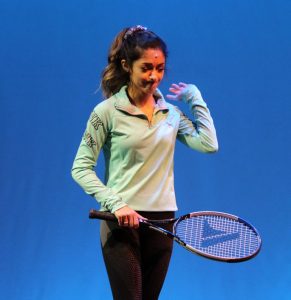 of Stuart Brown, the show is (as you'd expect) extremely well-acted and beautifully sung. While all of the cast members have strong singing voices, those of the three female performers are exceptional – whether singing soulful solos or harmonizing with their male counterparts or the cast as a whole. They're accompanied by third-generation Cape Coral pianist Julius "Juice" Davis (who's also a gifted songwriter with published music in gospel, R&B and other musical genres), whose rendition of composer Jimmy Roberts' upbeat tunes gives the whole show a concert-like quality.
Joe DePietro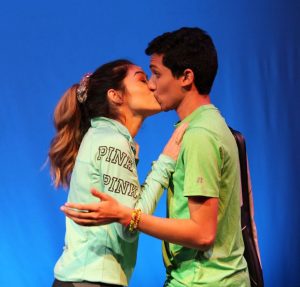 divided his musical into 19 separate vignettes. Some are fall-0ut funny; others are tender and touching. Each one resonates to some degree and at some level, regardless of age and demographics. As a consequence of this cornucopia of scenes and sequences, every audience member is likely to leave with a favorite or two – providing considerable fodder for those post-theater conversations that dominate the ride home or the apres-theater drink.
With the possible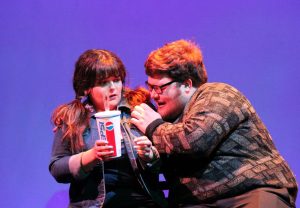 exception of the star quarterback or captain of the cheerleading squad, what teen isn't self-conscious about their attractiveness to the opposite sex? Lexie Anne Cole and Kole Cox give expression to this angst in "A Stud and a Babe."
There's more to good acting than delivery and flawless recitation of lines. Stuart Brown teaches all of his young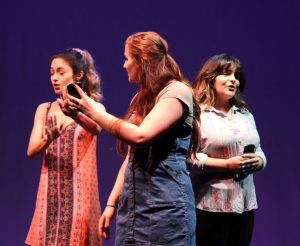 thespians to live in the moment while inhabiting a character, which Cole and Krista Carroll clearly pull off in "Men Who Talk (and the Women Who Pretend to Listin)," a study in female exasperation with first dates who drone on boringly about their jobs or sports in a misguided Men-Are-From-Mars attempt to impress their date rather than taking the opportunity to find out about the girl who agreed to go out with them on that first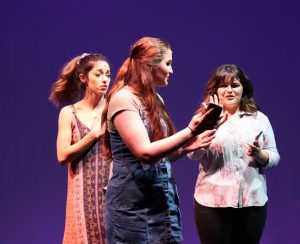 (and presumably last) date. Cole and Carroll speak volumes through their tortured facial expressions and demeanor, while the ladies in the audience knowingly nod their commiseration.
In another wry scenario, DePietro crafts a homage to those tough-as-nails guys who, dragged against their will to a chick flick, end up dissolving in tears, or worse, at some point during the film. In this vignette, Mark King sportingly falls on the sword of macho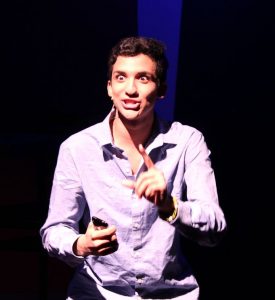 mystique as he sobs on Krista Carroll's bewildered shoulder as he completely breaks down. Hence, the moniker for the vignette, "Tear Jerk," is laden with double meaning.
One of the funniest lines in the show belongs to Kiana Raine Pinder in "The Lasagna Incident." Although far smarter and a much better athlete, she's nevertheless smitten by her clueless tennis partner, played by Jorge Cabal. For time out of memory, women have been dumbing themselves down in order to assuage their guys' fragile egos, and in this vignette Pinder chastises herself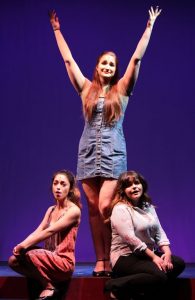 for not shaving points and letting Cabal win at least one game in the two sets they just played. But she finally puts herself out there and invites him over for dinner. "I'll cook the lasagna," she offers. "And I'll bring …" he stammers. "The condoms," she blurts out, unable to believe she actually said the words out loud. "Condoms don't even go with lasagna," she mutters to herself.  
She's wrong, of course. Safe sex is an appropriate ending no matter the cuisine. But that's far from the point of this sequence, as Pinder underscores with a heartfelt rendition of "I Will Be Loved Tonight," DePietro and Roberts' ode to ending the wait and giving in to passion. "So pop the champagne, break out the cologne, turn up the moonlight and turn off the phone."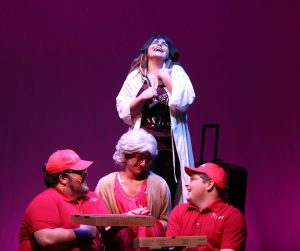 Although written by a man, "I Love You, You're Perfect, Now Change" contains its fair share of deserved guy bashing, and that's on full display in the next vignette, "When a Man Texts a Woman." You guessed it! The thrust of this vignette is the phenomenon of sexting or, to be more accurate, the reaction women have when they receive an unsolicited, inexplicable dick pic – which, incidentally, Psychology Today labels a modern-day digital "peril" or, to be more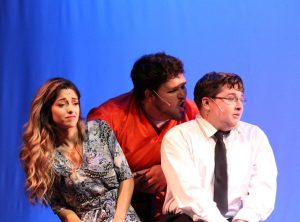 magnanimous, a manifestation of male misperception of female sexual interest. Regardless of your take on the Weiner Effect, Lexie Anne Cole, Kiana Raine Pinder and Krista Carroll couldn't be funnier as they gawk with disgust at the junk parading across their phones' LED displays.
There's not the space – nor do you have the stamina –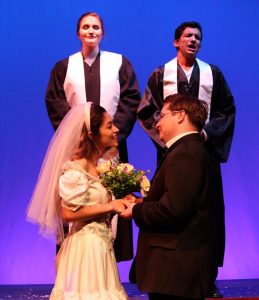 for an explication of each of DePietro's remaining vignettes. Besides, they're so much better to see and hear than to read about here. Suffice it to say that there are some gems in Act 2, particularly Lexie Anne Cole's "Always a Bridesmaid" about the rainbow of hideous bridesmaid dresses lurking from the corner of her bedroom closet, Jorge Cabal and Kiana Pinder as an exhausted married couple with children hoping to hook-up after the kids finally go to bed, and Kole Cox's oh-so-tender "Shouldn't I Be Less In Love With You?" expressing surprise that even after 30 years, he's still so in love with his wife.
But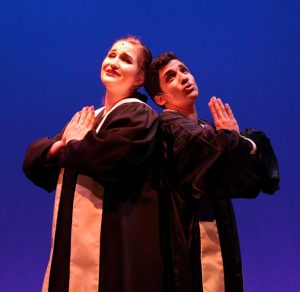 without question, the Act 2 stand-outs are "The Family that Drives Together" and "Funerals Are For Dating," because of the visuals. It's simply amazing what an imaginative writer and director can pull off with little more than four chairs on casters and a fake silver mustache that's only taped on one side. 
Congratulations are in order to Stuart Brown on another fine job of coaching up a young cast of aspiring actors , and to Jorge Cabal, Krista Carroll, Lexie Anne Cole, Kole Cox, Mark King and Kiana Raine Pinder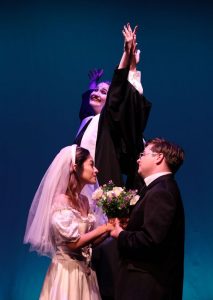 for so eloquently and convincingly bringing to life the trials and tribulations of young and old men and women as they enter and navigate the dating game and tunnel of love. If they represent the future of acting, whether here in Southwest Florida or the nation at large, then we can all look forward to many more entertaining and thought-provoking productions in the coming years. If you're skeptical, all you have to do is wander down to Lab Theater and catch two of Brown's former students and FSW alum in Andorra – Steven Coe as Andri and dual enrollment student and former Wellesley Girl, Danica Murray.
To be real, I Love You, You're Perfect, Now Change does not possess the gravitas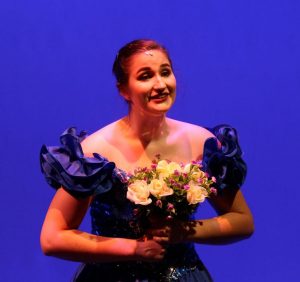 of Andorra. It's not as suave, sophisticated or sexy as Chicago. It doesn't have the cache' of La Cage Aux Folles. But it's highly entertaining and, as previously stated, well-acted and beautifully sung. You'll laugh, you'll sigh and you'll leave feeling happy and satisfied. That's worth much more than the price of admission.
March 28, 2019.