Triple threat, FSW's Kiana Pinder finds element in 'I Love You' musical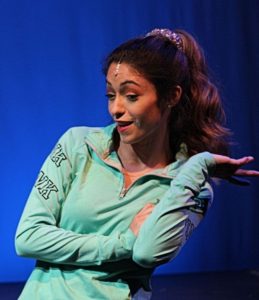 On stage through April 6 in FSW's Black Box Theatre is the delightfully entertaining and playfully hilarious 1996 musical I Love You, You're Perfect, Now Change. This witty revue examines dating, romance, love, marriage and loss in all its glorious forms. The show features a cast of six that includes Kiana Raine Pinder.
Pinder sat out the FSW Theatre Program's last show, Wellesley Girl. At least from the standpoint of performing. Instead, she staged managed to gain experience in all facets of stage production. But another benefit she derived from the experience was a keen appreciation for the dynamic involved in taking direction and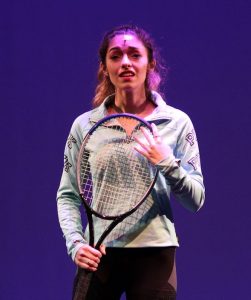 applying the director's guidance in bringing a character to life.
"When you're in that moment, dissecting the character and trying to bring her to life, it's hard to give up your preconceptions about who the character is and how she should act," Pinder said during a break before Wellesley Girl's final dress rehearsal. "Standing on the outside, it's so obvious what he wants. Having seen that, it will be easier in the future for me to give up my own preconceptions and embrace the director's vision without getting flustered, to create a character that's more in line with what the director wants.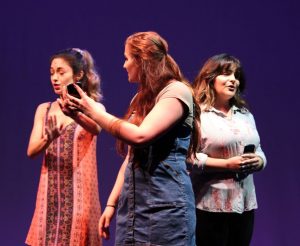 I'll be able to think on my toes, apply [the director's suggestions] quicker and let the character expand."
Kiana had the opportunity to put these insights into practice in I Love You, You're Perfect, Now Change not once, but more than half a dozen times. That's because she plays seven different characters in the 10 vignettes in which she appears.
She's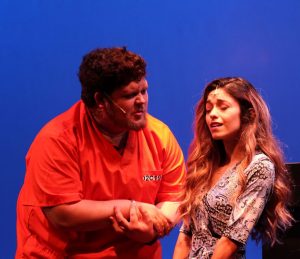 a smart, super-athletic, self-confident coed in "The Lasagna Incident" who must make the first move with her clueless tennis partner, inviting to cook him dinner – anything he wants.
In "Sacred Straight," she's a woman having second thoughts about getting married who inexplicably finds herself at a couples workshop receiving relationship advice from a mass murderer serving seven life sentences!
She's a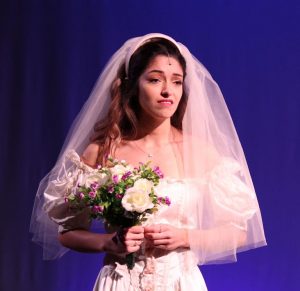 seemingly deliriously happy bride in "Cantata Reprise #1/Wedding Vows" and "Cantata Reprise #2/Always a Bridesmaid," and an exhausted mother of two small boys hoping to have sex with her husband after the kids finally fall asleep in "Sex and the Married Couple."
And she's a somewhat jaded middle-aged divorcee named Rose Ritz who prattles on nervously while making her very first dating video for one of those online dating services. It's in this vignette that Pinder really hits her stride.
Of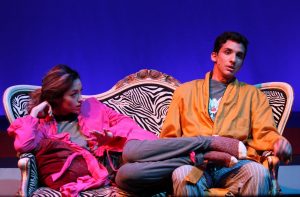 course, we're not privy to the back-and-forth that occurred between Pinder, Brown and the rest of the I Love You cast during table reads and all the rehearsals leading up to the show. There were, no doubt, glitches and stumbles during the arduous process of dissecting, assembling and breathing life into each of these characters. But the end result was worth whatever effort Kiana and Stuart Brown expended.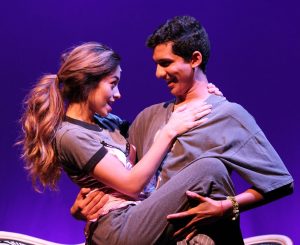 The young actor was immediate, convincing and winsome in each of these diverse roles.
But great acting isn't enough to get Pinder where she wants to go. Her interest is musical theater, and for that she also needs to excel and singing and dancing. I Love You doesn't call for much by way of the latter skill set, but the show does afford Kiana the opportunity to show off her musical chops. She was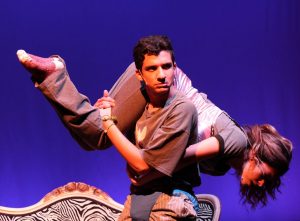 nothing short of sensational in her solo, "I Will Be Loved Tonight," and equally superb in her duo with Jorge Cabal in "Marriage Tango."
Clearly, this triple threat actor has found her element in I Love You, You're Perfect, Now Change.
Kiana is a product of the Center for the Arts at Cypress Lake High School. Her past credits include Tilly in She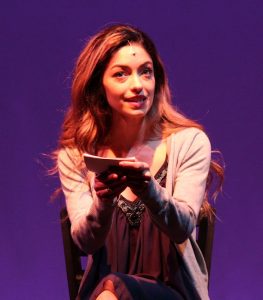 Kills Monsters (FSW Theatre Program), the Assistant Choreographer Lara in A Chorus Line (Florida Rep Conservancy) and Claire in This Random World (FSW Theatre Program). But, alas, local producers, directors and theater audiences may not get to enjoy her mad, crazy skills much longer. After she earns her AA his Spring, she plans to leave for greener pastures, possibly in the Austin or Houston area, where theater in general and musical theater in particular is just beginning to blossom.
A venue like Austin or Houston will also permit Kiana to advance her education while concurrently pursuing roles and accumulating greater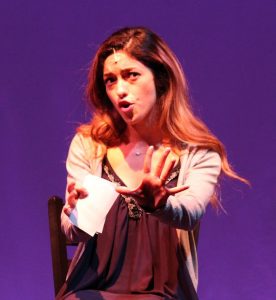 experience on stage and behind the scenes. And that should put her in great shape to take her talent to New York or L.A., which is, after all, her ultimate goal.
But, hey, who knows? She may even return to her roots one day and perform at Broadway Palm, the Naples Philharmonic or the Barbara B. Mann Performing Arts Hall. Could happen. One never knows.
But for now, you can see Kiana Raine Pinder in I Love You, You're Perfect, Now Change in the FSW Black Box Theatre. It's on stage through April 6.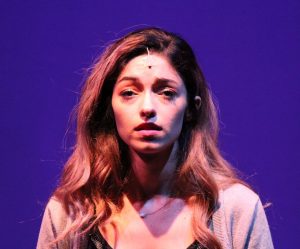 March 30, 2019.
RELATED POSTS.