'I Love You' actor Jorge Cabal continues to evolve theatrically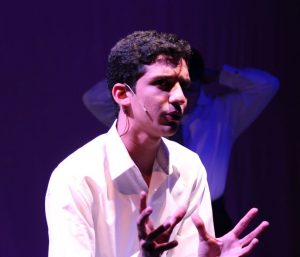 On stage through April 6 in FSW's Black Box Theatre is the delightfully entertaining and playfully hilarious 1996 musical I Love You, You're Perfect, Now Change. This witty revue examines dating, romance, love, marriage and loss in all its glorious forms. The show features a cast of six that includes Jorge Cabal.
This past fall, Cabal played Max in Wellesley Girl. Prior to that, he portrayed Chuck the Dungeon Master in She Kills Monsters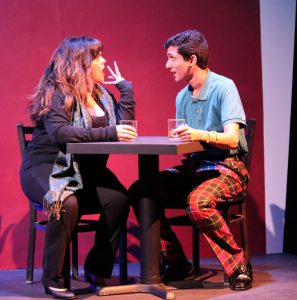 for Florida SouthWestern State College. He's also appeared in Cultural Park's production of Neil Simon's Fools. In high school, he not only performed in a number of productions, he also wrote, directed and starred in a play of his own.
When he was interviewed for Wellesley Girl, Jorge revealed that his dream would be to play the characters from A Gentleman's Guide to Love and Murder. "It would be incredible to play multiple characters in different costumes at the drop of a hat,"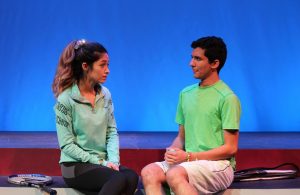 he said at the time. "I'm a very character-driven type of guy, so I'd very much like to be able to tackle that one day … or any other eccentric character for that matter."
Well, I Love You, You're Perfect, Now Change isn't A Gentleman's Guide to Love and Murder, but it does task Cabal with inhabiting a succession of disparate characters at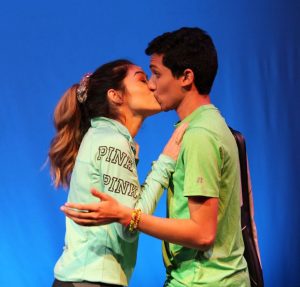 the drop of the proverbial hat. He's in 11 of the 19 vignettes that playwright Joe DePietro weaves into the fabric of his humorous, upbeat musical. A change of personality and costume is required for each.
As an actor, Cabal continues to stretch, grow and evolve. In I Love You, he especially shines in "The Lasagna Incident," "Sex and the Married Couple" and "Funerals are for Dating." And he has an unexpectedly strong voice and the chops to belt out a good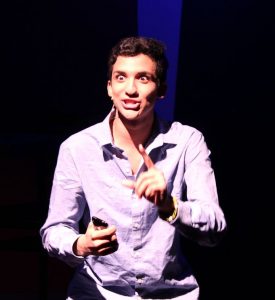 tune or two!
In "The Lasagna Incident," he's that guy who gets involved with a woman way out of his league. The girl (played by Kiana Raine Pinder) is smarter and a vastly better athlete. He's hapless, clueless and adorably naïve, and that, no doubt, is the essence of his charm. Cabal plays the part of the guy who can't believe his good fortune exceptionally well. Not only is he going to get lasagna, he's going to have sex with an incredibly beautiful girl he never dared to ask out … and all he has to do is bring the … condoms. Oh my!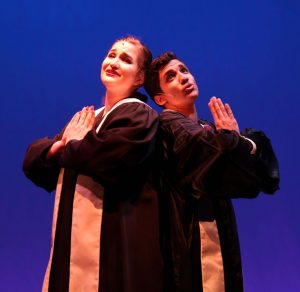 In "Sex and the Married Couple," Jorge portrays that physically, mentally and emotionally exhausted dad who's not too tired to answer the call when his wife gives him that look. Although Cabal has no first-hand, personal experience as father and husband, he captures the essence of that sublime moment when he's tucked in both boys, put away their toys, cleaned up Legos and gorillas, Ninja Turtles and Godzillas and now he's gonna have sex.
Unless ….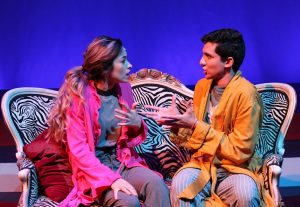 Of course, as libidinous parents everywhere know, best laid plans often get waylaid. "Tyler threw up in bed." "I'm caught in the headboard." "The lizard escaped." And it's at this juncture in their duet that Cabal and Pinder excel in creating believable characters who evoke the sympathy and rooting interest of everyone in the audience. And the look of determination, conquest and, yes, victory that crosses Cabal's face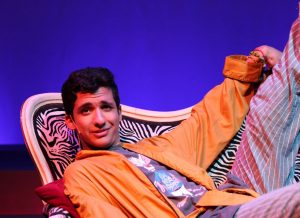 as he scoops up Pinder and throws her across his shoulder for a bout of "burning, yearning, wheezing, squeezing, gaudy, naughty, heaving, pleading, good old-fashioned sex" is, well, priceless.
But Cabal adds a new, more nuanced dimension to his acting repertoire as a geriatric gent bent on picking up a date at a stranger's funeral. He exhibits the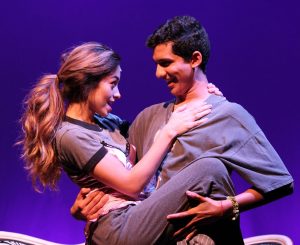 mannerisms of a doddering old man. His accent is impeccable. And his comedic timing is spot on as he rips off the silver mustache that keeps falling off one side of his face.
Cabal credits FSW Theatre Professor Stuart Brown with giving him the tools to dissect, digest and reassemble the characters he's privileged to play, no matter how droll or cartoonish.
And Brown has taught him how to be in the moment within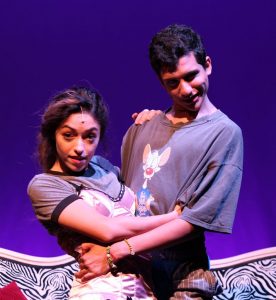 his character.
"There's so many things that I didn't know I could accomplish until I met Stuart," Jorge says without hesitation. "He has this knack for helping us find answers without giving us the answers. A lot of them are to questions we never ask ourselves. He'll look at a role and open our minds to many different interpretations of the character."
It shows even in a lighthearted little musical filled with lots of scenes, sequences and characters like I Love You, You're Perfect, Now Change.
You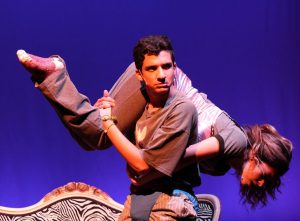 can check out Jorge and the rest of the I Love You cast in the FSW Black Box Theatre. The show runs through April 6.
March 29, 2019.