FSW Black Box Theatre tackling Chekhov's 'Seagull' in November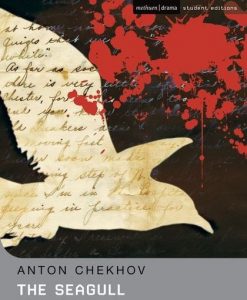 Florida SouthWestern State College's Black Box Theatre is bringing the community Anton Chekhov's The Seagull in November.
The Seagull is a slice-of-life drama set in the Russian countryside at the end of the 19th century. The cast of characters is dissatisfied with their lives. Some desire love. Others desire success. A few desire artistic genius. As these goals, desires and worthwhile pursuits clash and conflict, no one ever seems to attain happiness. But while they may be vain and often miserable, the folks who populate The Seagull are philosophically aware of the tragi-comical aspects of their existence.
A true ensemble piece, at its center, The Seagull revolves around:
Boris Trigorin, a wildly famous but insecure writer,

Irina Arkadina, an aging actress who is Trigorin's lover;

Irina's son, Konstantin Treplyov, an experimental writer;

the ingénue Nina Zarechnaya, who is the object of Konstantin's affection.
In the orbit of this foursome are the estate's manager, Ilya Shamrayev, his wife, Polina, and his daughter, Masha, Arkadina's brother, the retired civil servant Sorin, a schoolteacher by the name of Semyon Medvedenko and Yevgeny Dorn, a country doctor and unrepentant ladies' man.
Scholars have often said that Chekhov's plays are character studies designed to create a specific mood. Some critics view The Seagull as a tragic play about eternally unhappy people. Others see it as a humorous albeit bitter satire, poking fun at human folly.
The Seagull has, of course, been adapted many times before—as The Notebook of Trigorin by Tennessee Williams, and Aaron Posner's Vanya and Sonia and Masha and Spike, as well as in musicals, opera and film. So it will prove interesting to see how FSW Theatre Professor Stuart Brown brings his iteration to life.
The Seagull features Kiana Raine-Pinder, Chance Cintron, Jorge Cabal, Danica Murray, Lexie Anne Cole, Mark King, Scotty Wells, Brice Kingsley, Grace Koltz, Rolf Julmisse and Haven Fischer.
The Seagull opens November 8.
October 13, 2019.