About the Langford-Kinston home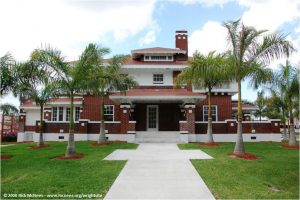 Ghostbird Theatre Company will produce two short plays on May 4 during Art Walk in the Langford-Kingston Home. The first is Samuel Beckett's Catastrophe. The other is Barry Cavin's Ibb, which is an acronym for "inspired by Beckett."
With its large front porch and stoop and impressive grand staircase, the Langford-Kingston Home is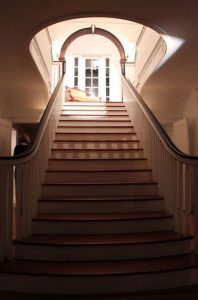 a rare Chicago Bungalow Style Home that possesses architectural features normally associated with Frank Lloyd Wright. It was built in 1919 by Walter Langford, a prominent figure in our area's citrus, railroad and banking industries. In fact, it was Langford who built the elegant Beaux Arts bank building on the southeast corner of First and Hendry Streets.
The home was purchased by the Kingston carburetor inventor, George Kingston, five years after Langford's sudden and untimely death in 1920. It was ultimately acquired by the United Methodist Church, which donated it to the City of Fort Myers in 2001. The house was moved in May of 2003 to a lot across the street from the Burroughs Home, another historically preserved building in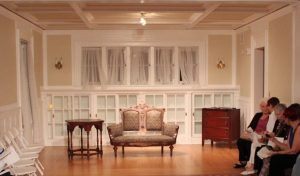 downtown Fort Myers.
"To have these plays performed in this historic home is such a great opportunity for our theatre and for the community," says Ghostbird Producing Director Jim Brock. "We're so happy to be reconnecting back to our roots in Fort Myers."