Kate Dirrigl plays Deer in Ghostbird's 'ORBS!'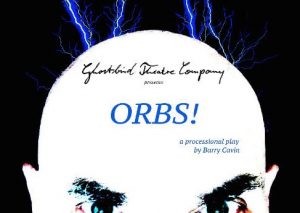 Ghostbird Theatre Company's next production is ORBS!, a site-specific play written by FGCU Theatre Professor and Ghostbird Artistic Director Barry Cavin. Conceived as a music-filled procession that takes place on the groomed paths of the historic grounds of the Koreshan Unity Community, ORBS! revolves around Dr. Cyrus Teed's a modern vision of a clean, electric utopia for a new Adam and Eve.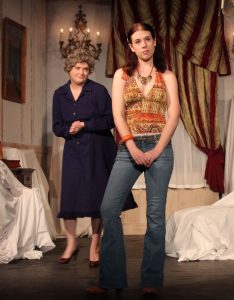 Kate Dirrigl plays the role of Deer.
Dirrigl's last performance involved a remarkable degree of emotional availability, mental toughness and endurance. As The Girl in Lab Theater's season-opening production of Veronica's Room, Kate turned in a powerful performance that still has the Southwest Florida theater community talking in reverent tones.
Kate made her Lab Theater debut in its 2016 production of Jeff Goode's highly-satirical The Eight: Reindeer Monologues, in which she played Dancer, a ditzy, adorably clueless Jewish ex-ballerina who found refuge at the North Pole after it became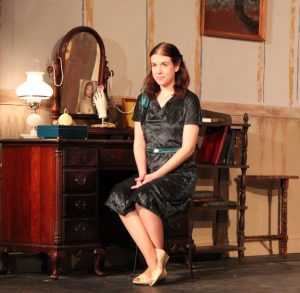 illegal and unsafe for reindeer to dance the Nutcracker, Swan Lake and the other classics back in the day. Then she returned to The Lab as a blond-haired, blue-eyed shiksa girlfriend in Joshua Harmon's Bad Jews. The stage direction included in Harmon's script described Melody as "like someone who would have been abducted when she was nine but returned to her parents unharmed." Vacuous to a fault, when asked what type of a name Melody is, she answers, "Oh, I don't know, Caucasian?"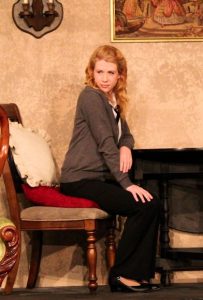 Dirrigl then appeared in Wings, where she reprised the role of Amy, a miraculously patient, uber-competent therapist who establishes a close rapport with stroke veteran Emily Stilson and members of her speech therapy group. She really shined in last season's The Last Night of Ballyhoo, where she portrayed sweetly soft-spoken Wellesley student Sunny Freitag.
Kate has a B.A. degree in theater performance from the University of Texas Pan American, where she was involved in numerous plays, including Arsenic and Old Lace (in which she played Elaine Harper), Les Liaisons Dangereuses (in which she played Cecile Volanges) and Peter Pan (where she was both Captain Hook and Mrs. Darling).
January 25, 2018.
RELATED POSTS.