Katelyn Gravel plays Angel in Ghostbird's 'ORBS!'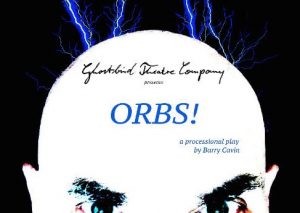 Ghostbird Theatre Company's next production is ORBS!, a site-specific play written by FGCU Theatre Professor and Ghostbird Artistic Director Barry Cavin. Conceived as a music-filled procession that takes place on the groomed paths of the historic grounds of the Koreshan Unity Community, ORBS! revolves around Dr. Cyrus Teed's a modern vision of a clean, electric utopia for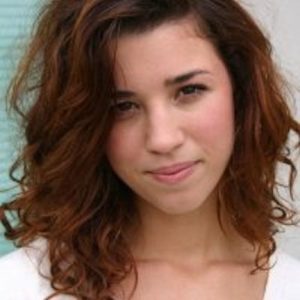 a new Adam and Eve. Katelyn Gravel plays the role of Angel in the play.
Ghostbird audiences last saw Gravel in Writing Shadows, a powerful psycho-drama that was premised on a St. Louis housewife by the name of Pearl Curran who began channeling a woman who lived in the 1600s after dabbling with a Ouija board one afternoon in 1913. Katelyn played the role of Eva. Cavin was also the playwright for Writing Shadows.
Katelyn
credits her mom for inculcating her love of theater. Not only did she encourage her daughter's involvement in theater from an early age, she also took her frequently to Broadway Palm Dinner Theatre. One instance was seminal in her decision to make theater part of her adult life.
"[Mom took us] to the Annie Christmas show," Katelyn recounted in an interview for another blog. "I was sitting up front and they picked me to come up on stage. I got to be in the cast for a minute … [T]hat was my first time in a professional theater on stage. I was nervous as hell and … had hives [by the time]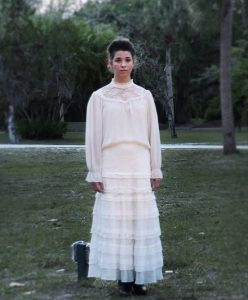 I got off the stage. I remember thinking, 'Oh my god, this is what I want to do. This is SO cool.' I felt totally scared, but I loved the feeling. That feeling is what made me realize I really love this. This is something that ignites me and excites me."
Katelyn graduated in 2012 from Florida Gulf Coast University with a Bachelor of Arts in English and Theatre. That May, she partnered with Brittney Brady, Jim Brock and Philip Heubeck to form Ghostbird Theater Company. Since that time, she has performed in numerous Ghostbird productions, including Antigonick (as Ismene), The Chicken Play (she was Y) No. 27 (in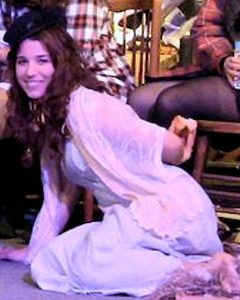 which she played the Creature), The Perfect Island of Dr. Teed (as Emma), The Guardsman (as Helene), Snow (in which she played the title role), Wooden Mouth (multiple roles), Because Beauty Must Be Broken Daily (Sister), Woyzeck (in which she played Dancing Child), Miss Julie (as Kristine) and Mud (as Mae).
In addition to being an actor, Gravel is also a singer, songwriter, poet and accomplished make-up artist (she owns and operated Bare Roots Salon and Apothecary), costume designer and stage manager. Last season, she further expanded her repertoire by partnering with Barry Cavin on her first playwriting project,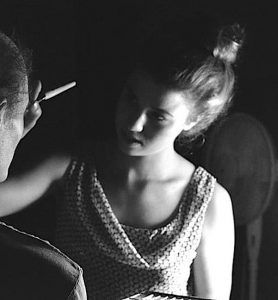 No. 27, which Ghostbird performed at Shangri-La Springs. (Self-deprecating, Katelyn credits Cavin with all the heavy lifting associated with No. 27.)
You can see this multi-talented actor, playwright, singer/songwriter and poet in ORBS! But make your reservations early as space is limited and there will be only four performances.
January 25, 2018.
RELATED POSTS.