Playwright Char Loomis makes acting debut as 'Twelfth Night' chambermaid Maria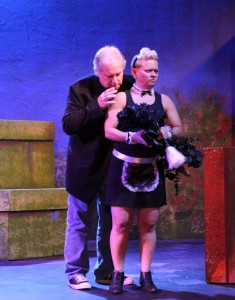 On stage now at Lab Theater is Twelfth Night. Better known as an up-and-coming playwright, Char Loomis makes her acting debut in the role of Maria.
Maria is Olivia's lady in waiting. While Shakespeare never reveals how long she has functioned in that capacity, Maria has occupied her position long enough to know how her mistress thinks, speaks and acts. And she takes advantage of this familiarity to rid herself, Olivia's uncle and his friend of Olivia's steward, a pompous, puritanical ass by the name of Malvolio. She jettisons the self-impressed Malvolio by sending him a text which he believes comes from Olivia. The text deludes him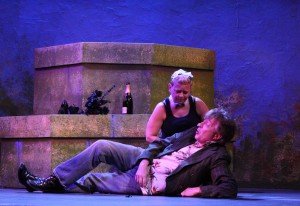 into believing that Olivia has fallen for him and wants him to come to her barefoot and bare chested, wearing nothing but yellow pants, white cuffs and a black bowtie. And so ardent is he when he does that Olivia deems him mad and has him placed in chains and thrown into a madhouse. Her scheme to humiliate and remove Malvolio is so diabolical that the rowdy Sir Toby Belch falls in love with and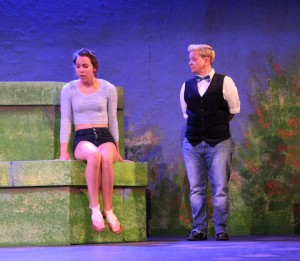 marries her (off stage) at the play's end.
It's not a big role, but Loomis attacks it with zeal and clearly takes delight not only in embarrassing Malvolio, but in performing on stage live as well.
Char is best known to Lab Theater audiences as a playwright. After winning the Audience Choice Award in 2012 and 2013, Loomis received the coveted Judge's Choice Award for Best Play in the 2014 Laboratory Theater 24-Hour Playwriting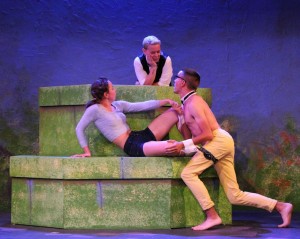 Project with an edgy one-act play that crackled with humor, wit, sarcasm and irony that had both the judges and the audience howling with laughter.
Loomis is the Chief  Video Editor at Waterman Broadcasting, a post she has held for the last ten years. She also moonlights as a freelance video editor on a range of projects. Char has dabbled in various aspects of film, television and theatre, and her credits include one line in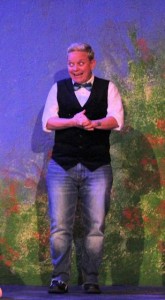 Rat Bastards, an award-winning independent film directed by Emmy award winner Mike Stivala, a small acting bit in Florida Repertory Theatre's production of WIT, and making eye contact with Kevin Spacey while working for MSNBC as a Tech Associate. A jack of all trades, Char mostly enjoys working behind the scenes on any project and writing in her spare time. Originally from upstate New York, Char made the journey to the Sunshine State many years ago as a Florida Repertory intern following graduation with her Master's Degree from Marywood University in Scranton, Pennsylvania.
Related Articles.