Set and lighting reinforce themes explored in Lab Theater's 'Twelfth Night'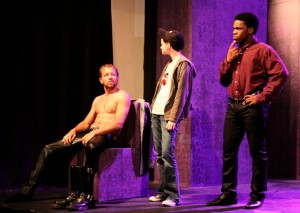 On stage now at Lab Theater is Shakespeare's Twelfth Night. The play features a talented young cast, veteran actors in the guise of Dr. Ken Bryant and John Repa, and gender blurring characters, plot and subplots that include cross dressing, same sex bussing, Felicia collars and all-around, all-over gender identity confusion. But lost in all the festivities, activities, revelry and antics is the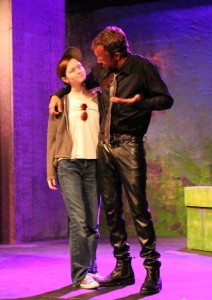 exceptional job that Lab Theater has done with the set and lighting for this production.
At first blush, the set seems somewhat minimalist. In the center of the stage is just a two-tier light green fountain. But it is through the gradation in color from purple to pink that this set really makes a statement. 
The purple side of the stage signifies Duke Orsino's domain. Not only is purple characteristically associated with royalty and wealth, it signifies meditiation, introspection and moodiness. In chromotherapy, purple or indigo energizes those who seek beauty, love and justice.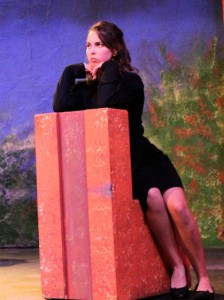 The scarlet red/coral pink side of the stage is where the bereft Olivia resides. While these colors might not be associated with death or mourning, they are indicative of love and passion. In the context of Twelfth Night, they represent Olivia's emerging sexuality, passion and growing sexual appetite. Reds and pinks not only excite our emotions, they stimulate action, and Olivia is comically but clearly pro-active when it comes to seducing Duke Orsino's emissary, Cesario.
The shrubbery painted across the back of the stage does not just complement the fountain and unify the two sides of the stage. It conjures the idyllic, bucolic nature of the land of Illyria and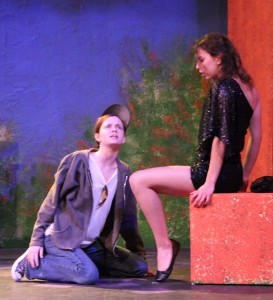 underscores the dual nature of both the stage and themes running through the script of this doubly humorous and farcical play.
Matt DeNoncour shows off the luxuriously painted set with both spotlights, diffuse lighting and backlights that accentuate the characters and cast long shadows across the violet stage floor. In this, DeNoncour is aided by a brand new LED lighting system that Lab Theater installed just a handful of productions ago, thanks in large measure to a grant generously provided by the City of Fort Myers.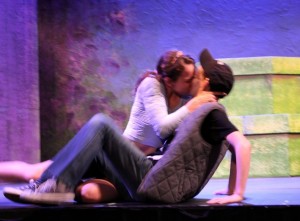 Set and lighting often go unnoticed. In some productions, they serve as an additional character, as they did in last year's production of Diary of Anne Frank. In Twelfth Night, color and light do more than merely add some nice visual touches. They serve to reinforce themes expressed by the characters through Shakespeare's unparalleled prose, poetry and song. Kudos for a job well done to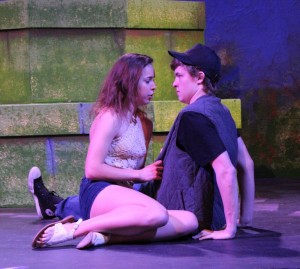 Michael Eyth for set design, Matt DeNoncour for lighting design, Dave Chesebro for light & sound, and Eyth, Chesebro, Diane Langan and Jim Hinman for set construction.
Twelfth Night continues at Lab Theater tonight at 8:00 p.m.
Related Articles.