Heather Shaw is new sheriff in town for Lab's 'Hush Up Sweet Charlotte'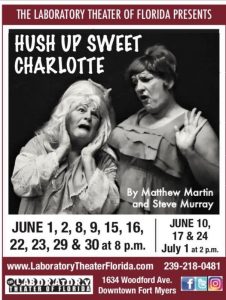 Lab Theater opens its 2018-2019 season with the summer sensation, Hush Up Sweet Charlotte, a drag-tastic spoof of the eponymous film starring Bette Davis and Olivia de Havilland. Playing the part of Sheriff Luke Standish is Heather Shaw.
One day Heather and Jon decided to quit their jobs and sail away. They sold everything, bought and old yacht and floated south. And that's how Heather ended up in her first show here in Fort Myers after spending more than 12 years with the Starkville Community Theatre in Mississippi. From her first role in Terror By Gaslight to directing The Odd Couple and beyond, "Bulldog Country" is where she cut her teeth in the spotlight.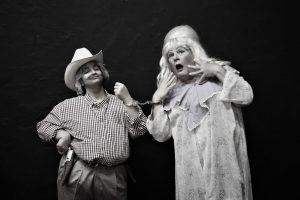 Heather extends a heartfelt thanks to Annette Trossbach and Lab Theater for welcoming her to the local stage as the cross-dressing sheriff she is. "Spit-ding."
May 30, 2018.
RELATED POSTS.