Annette Trossbach plays Anna in Lanford Wilson's 'Burn This'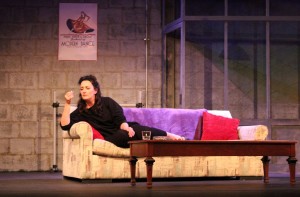 On stage now through February 28 at Lab Theater is Burn This. In the lead playing opposite Paul Graffy is Lab Theater founder and Artistic Director Annette Trossbach.
Trossbach's character is a choreographer wannabe by the name of Anna. She lives in a spare warehouse apartment with unpainted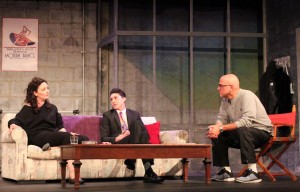 concrete block walls somewhere in Manhattan circa 1986 with a gay roommate by the name of Larry, who is so fearful he cannot make it as a dancer on or off Broadway that he is now working for an advertising agency. When the play opens, the two are grieving for their other roommate and Anna's dance partner, Robbie, who was killed in a freak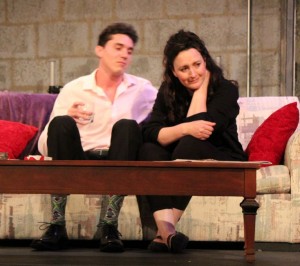 boating accident with his lover, Dom.
Robbie not only inspired Anna, he grounded her too, so his loss is doubly devastating. Ambivalent about her relationship with a wealthy screenwriter by the name of Burton (played by Rob Green), she feels as trapped in her nowhere life as the pinned butterflies she encounters when staying with Robbie's family during his funeral. It was Robbie's older brother, Pale, who rescued her from that nightmare, and it's Pale who once again offers her an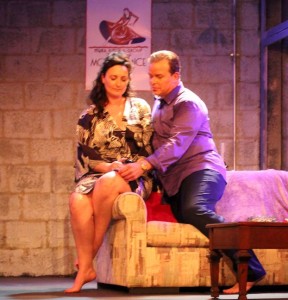 escape from the bad dream her life has become. There's one problem. Pale is a prototypical bad boy, as he demonstrates in spades when he shows up in the dead night to collect Robbie's personal effects with a chip on his shoulder the size of Mount Everest.
We aren't given much about Anna's past other than an off-hand remark by her roommate Larry, who says she grew up protected. But, alas, Anna is not the first, and certainly won't be the last, good girl who falls hard for a bad boy, especially one who hails from the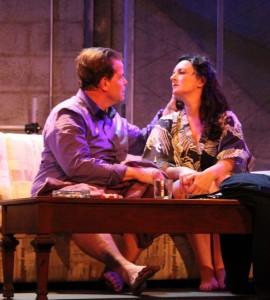 other side of the Hudson.
There are many reasons good girls swoon over bad boys. Like Eve, they want the forbidden fruit. Not surprisingly, Anna barely flinches when it comes out that Pale is married with two kids. She expresses few qualms and or reservations when he tells her that his wife left with the kids because he was never home. But there is another dynamic that attracts Anna to Robbie's big brother. No, it's not that Pale is a heterosexual substitute for her late, great gay dance partner. It's that he exudes self-confidence. In contrast with Burton, Pale exudes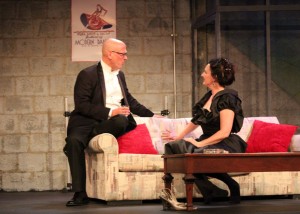 cocksure self-confidence. He knows who he is, warts and all, and makes no excuses about it. But Pale's kind of self-confidence is a two-sided coin. The flip side is harsh nonchalance, which is precisely what he gave his estranged wife. Of course, getting him to care is part of the challenge that excites and entices good girls like Anna, no matter how misdirected they may be in their belief that they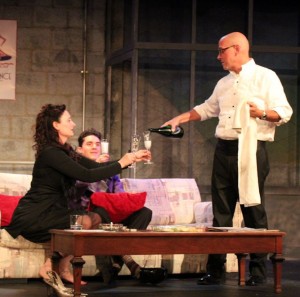 can change this bad boy for the good.
There's another dynamic at play here, as well. Pale thrills and frightens Anna at the same time. Thrill, risk, and danger serve as aphrodisiacs. Playing by the rules can be stultifying and de-energizing. Burton refuses to write a screenplay that's meaningful and authentic because it may not be commercially successful. There's nothing inspiring about him. He's as afraid to take chances creatively as he is sexually, and both he and Anna realize it. Pale, on the other hand, does not give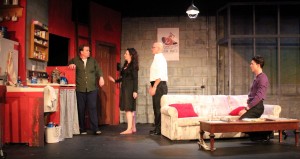 two shits about the rules, and that's exciting to a protected girl like Anna who is obviously trying her hardest to eschew the conventional societal rules she's followed most of her life by living in New York with gay roommates and trying to make it in the worlds of dance, music and theater.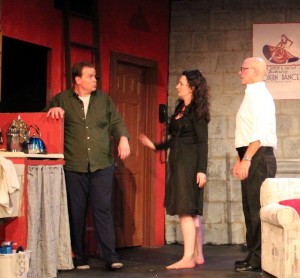 To be accurate, the late Lanford Wilson provides precious little in terms of backstory for his protagonist, Anna. That's part of what draws an actress of Trossbach's experience and accomplishments to the role. Within the limits of the script and the dialogue Wilson does provide, she can infuse her character with the life lessons and experience that makes the most sense in her efforts to make her character a living, breathing, three-dimensional person. In this, Trossbach is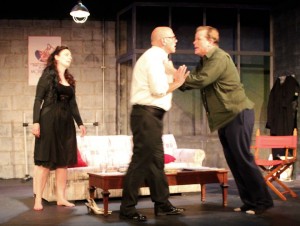 particularly skilled – both by virtue of the roles she's previously played and by dint of the plays she's previously directed.
On the acting side, Annette starred in last season's production of Sarah Ruhl's Stage Kiss (across from Paul Graffy) and, before that, in My Brilliant Divorce, a one-woman show in which she played 20 separate characters. Her other acting credits include Sylvie in Intimate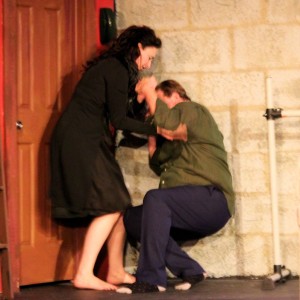 Exchanges, Yelena in The Wood Demon, and Netta in Cavalcade.
Her directing credits include Diary of Anne Frank, Miss Witherspoon, Glengarry Glen Ross, her own adaptation of Romeo & Juliet, Who's Afraid of Virginia Woolf, and The Last Days of Judas Iscariot.
Trossbach is founder and artistic director of the Laboratory Theater of Florida and the Gulf Coast Shakespeare Festival. Classically trained at the innovative East 15 Drama School in London,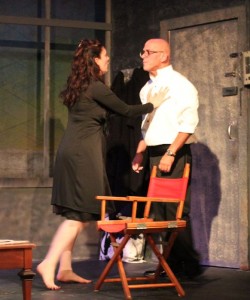 Annette has worked with Margaret Walker (What a Lovely War), international combat choreographer Mike Loades, director Terry Johnson, Alasdair Ramsey and actor Tony Scannell. She directed in England and Germany before moving to the United States. Annette has been teaching theater and acting skills for more than 20 years. At Laboratory Theater of Florida, she and her company continue the East 15 focus of teaching core theatrical skills such as character development, stagecraft, combat, textual analysis, voice and physicality to new actors of all ages.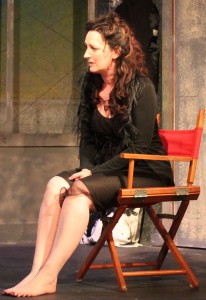 Annette is a 2010 recipient of the Gulfshore Business 40 Under 40 Award, a two-time Zelda Fichandler Award nominee (conferred by the Stage Directors and Choreographers Foundation, this award honors directors and choreographers who are making a deep and extraordinary theatrical contribution to a particular region of the United States), and was just named to an exclusive class of nominees for WGCU's 2017 MAKERS award (which recognizes authentic, passionate and inspiring women who have left a lasting impact on the people, environment, economy and/or culture of Southwest Florida).
February 5, 2017.
RELATED POSTS.