Paul Graffy is Pale in Lanford Wilson's 'Burn This'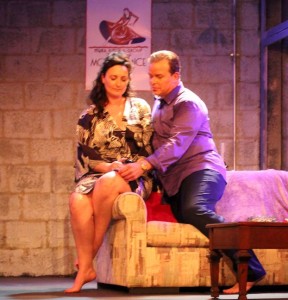 On stage now through February 28 at Lab Theater is Burn This. Paul Graffy plays Pale, a role made famous by John Malkovich.
Pale has been labelled alternately as a misanthrope, a bad boy, a guy with a chip on his shoulder the size of a garbage scowl. In Graffy's capable hands, he's all that and much more. But what neither the playwright nor the actor provide much of a clue about is why in the world Pale's so driven to forge a permanent romantic relationship with his dead brother's dance partner.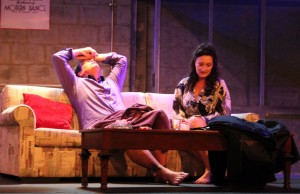 Their first spring-creaking tumble into bed is understandable enough. He's high as a kite on coke and booze, intent on differentiating himself from his gay younger brother. She's soft, warm and has that "just outta bed" hair going, which only stands to reason given that's it's five in the freaking morning and she just threw off the covers to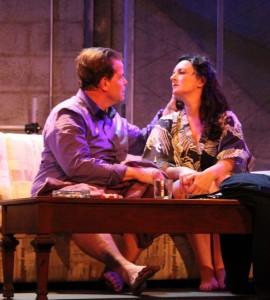 answer the door he's been pounding on like the proverbial chimpanzee banging on the bongos in Dire Strait's 1985 single Money for Nothing. So from Pale's perspective, why wouldn't he want to do his gay brother's comely dance partner?
According to the coital post-mortem Anna gives her roommate, Larry, Pale was all that and a bag of chips in the sack, and from what Larry overhead through the paper-thin walls of the loft, Anna was no slouch either. So it's to be expected that Pale wants to score an encore. But after Anna breaks it off with him, he tells her he's not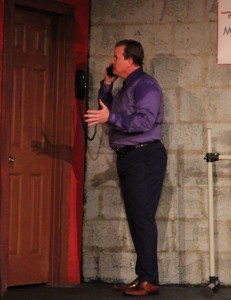 doing too well and really wants to get back together with her. That's the part that seems out of character and needs to be more fully fleshed out.
As a playwright, Lanford Wilson leaves it to the audience to supply answers to this and many other questions raised by his play. And not surprisingly, opinions and theories vary as to why Anna and Pale are emotionally (as opposed to just physically) attracted to one another. Perhaps Pale has reached a stage in his life where he needs some stability, a woman who loves and accepts him for who he is (including a bad case of hyperhidrosis). Perhaps it's the thrill of taking her away from another man –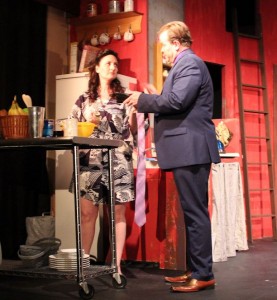 a rich boy filmmaker who's everything Pale is not and who, to boot, humiliated him in their brief scuffle in Anna's apartment on New Year's Eve. It is equally plausible that Pale sees in Anna a connection to his brother, Robbie, and the world of dance Pale knew nothing about. It could be all of this. Or none of it. A mirror, Graffy just reflects back to the audience what Wilson and his enigmatic script provide.
Pale is radically different from the last character Graffy played. In Gore Vidal's The Best Man, Senator Joe Cantwell's motivations were on display for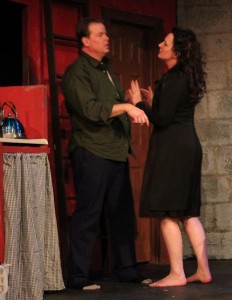 everyone to see. There was no mystery about why the presidential candidate from Texas acted the way he did. His intent was evident in every line of dialogue and movement on stage. But with Pale, motivation must be inferred or distilled from the astonishing array of emotion that Graffy is required to recreate during his brief but memorable encounters with the other three characters in this nearly three-hour two-act play. And that just serves to make Graffy all the more convincing and believable as an abrasive and edgy Guido from da neighborhood who's made a name for himself as a no-nonsense manager of a fine dining establishment across the river in Montclair, New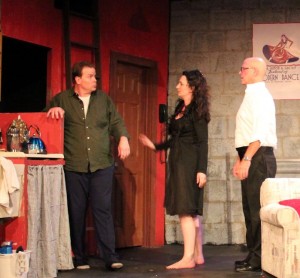 Joisey.
Most folks in Southwest Florida know Graffy as a real estate broker extraordinaire. He was featured in the Wall Street Journal after negotiating the sale of a premier 3-beach estate in Naples for a breathtaking $42 million. Since launching his real estate career in 2000, Paul has represented many of Naples' some notable families, selling many of Naples' signature properties. Along the way, he has been recognized by the "Real Trends/Wall Street Journal Top Agents" report as a member of the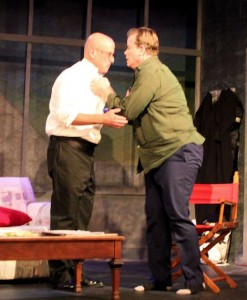 exclusive Top-1/2-of-1-Percent-of-Realtors-Nationwide club, received Gulfshore Life's 5-Star Client Satisfaction Award, multiple Platinum Circle of Excellence Awards, and the President's Volunteer Service Award.
Interestingly, prior to 2000, Paul worked for designers Kenneth Cole, Calvin Klein, Joe Boxer and Big Dog Sportswear. He served as Vice President of Sales for the latter three, garnering the fashion industry's coveted Earnie Award in both 1995 and 1996.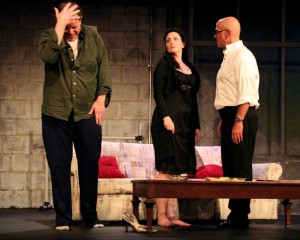 But Graffy's involvement in the performing arts pre-dates his careers in fashion and real estate. As a young man, he was one of 20 students selected nationwide to attend the prestigious Julliard School of Music at Lincoln Center in New York. After finishing his training at Julliard, Paul performed in numerous productions both in New York and regionally before pursuing a career in sales.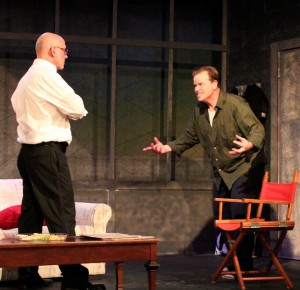 Over the past 15 years, Paul has appeared in 25 productions and directed 12 others at such theaters as The Lab, Naples Players, Artis Naples, TheatreZone, The Studio Players and The Naples Dinner Theater. Prior to starring as Senator Joe Cantwell in The Best Man earlier this season, he was seen as Frank Sr. in Catch Me if You Can. He and co-star Annette Trossbach are no strangers to each other. Both previously starred at The Lab in Stage Kiss. Paul has also played Alan in God of Carnage and George in Moon Over Buffalo, both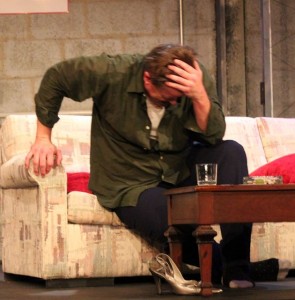 at The Naples Players in 2014. In 2011, Florida Weekly recognized his stage talent with its Best Actor award.
But for as good an actor as he is, Paul has a passion for directing. "In the performing arts, you can study until you're blue in the face. You have to do it (to actually learn.)," Graffy told Florida Weekly's Chris Silk in a 2012 interview. "Like any other art, you learn more from your failures than your successes. Every time, it's a whole new playbook." Graffy directed Les Liaisons Dangereuses for The Naples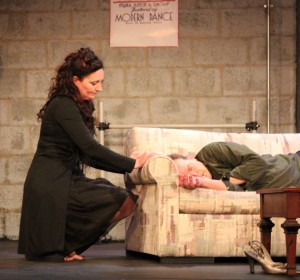 Players in 2014 and Steel Magnolias for The Naples Players in 2013. He's directed at other places as well, including at Juilliard while he was a student there.
Graffy also knows the business end of theater, having served two terms on the Naples Players' Board of Directors.
But for now, he's Pale (don't call him Jimmy) in Burn This. You'll find him at The Lab.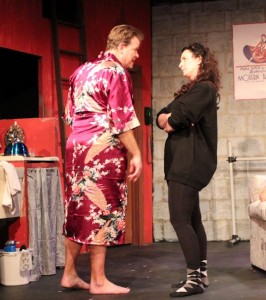 February 6, 2017.
RELATED POSTS.