Rachael Dominguez is Violet Imbry in Lab Theater's production of 'Play On!'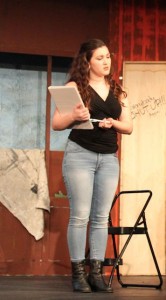 On stage at Lab Theater is the riotous comedy Play On! In the role of Violet Imbry is Rachael Dominguez.
Violet Imbry is a community theater newbie. She has joined the cast of Murder Most Foul, a murder mystery penned by Phyllis Montague, who is allowing the theater to produce one of her plays free of charge. But Violet is struggling. She misses cues, forgets lines and confuses the names of the other characters with the actors who are playing their roles. And the odds of her getting it all straight before opening night aren't great because Ms. Montague arrives at each new rehearsal with sheaths of changes. Everyone's struggling and tensions are high. But there is one saving grace.
Enter cast mate Billy Carewe.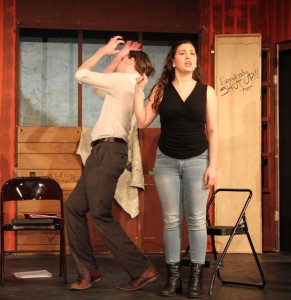 Billy plays the part of Stephen Sellers in Murder Most Foul. He's a rival of the villain, dr. Rex Forbes. Forbes is engaged to Violet's character, Diana Lassiter. But Diana has eyes for Stephen, and their on-stage romance continues backstage when Violet and Billy think nobody's watching. But it's impossible to conceal an off-stage romance from cast or crew.
Dominguez does much with her dual roles, and she is nothing short of hilarious in Act Three, which depicts opening night, when anything that can go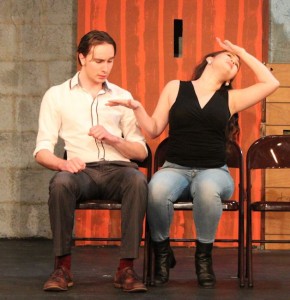 wrong, does, and the play quickly devolves into an improv fest as Violet and the rest of the cast virtually draw a blank and are forced to ad lib their way through the play.
Rachael is delighted to be part of Play On! Her acting credits include Helena in A Midsummer Night's Dream (for Cypress Lake High School) and Nancy in Oliver! (for Florida Rep).
March 12, 2017.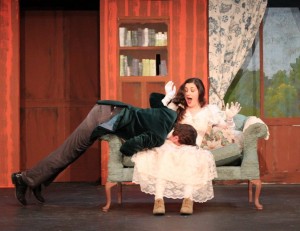 RELATED POSTS.