Sandra Dixon takes ownership of the role of Dr. Eve Bollinger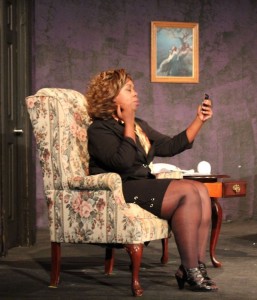 On stage for ten scintillating performances at Lab Theater is Del Shores' cult classic Sordid Lives. The show features a preposterous backstory, volatile characters and a gem of cast compliments of Director Scott Carpenter. But the character you'll love to hate is Dr. Eve Bollinger, the therapist who is trying to "de-homosexualize" Earl "Brother Boy" Ingram, a gay man who has been institutionalized for 23 long years because he likes to dress up as the iconic country singer Tammy Wynette.
And that's just driving Dr. Eve out of her ever-loving mind!
Dr. Eve: You have got to get over this Tammy Wynette fixation!
Brother Boy: Well, someone's got to carry on her legacy now that she's gone!
Dr. Eve: You've been doing this for twenty-three years! What was your excuse before she died?
Brother Boy: My mind's a blank.
That's the crux of the problem for Dr. Eve. Not because the fixation is an obstacle to Brother Boy's mental health, but because Dr. Eve has a book deal and appearance on Oprah that hinges on her "curing" Brother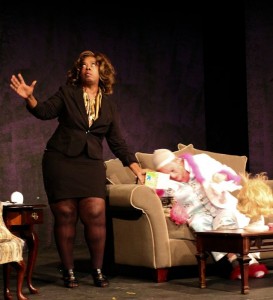 Boy and another of the asylum's internees of their errant sexual orientation. She wants out of the institution as much as they do, but her own ticket out depends on the success of her treatments and, in her desperation, Dr. Evil is willing to do just about anything, including seducing Brother Boy right there on the office couch.
It takes courage to play a character as narcissistic and unabashedly odious as Dr. Evil. If she harbors misgivings about undertaking such a role, Sandra Dixon doesn't show it.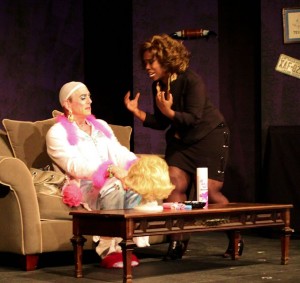 Or perhaps it's because she needs analysis herself.
Either way, she clearly owns the character and her inherent malevolence, and her performance in Sordid Lives is one of many highlights.
Sandra moved to Cape Coral from Chicago in 2012. She was seen most recently at Lab in Body & Sold. Sandra has also performed in shows produced by the Cape's Cultural Park Theatre, including The Fantastiks, Agatha Christie's And Then There Were None, Music Man and Elvis Has Left the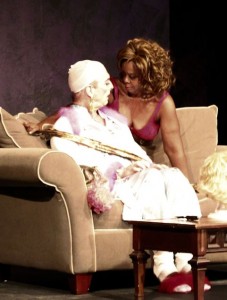 Building.
Prior to relocating to the Cape, Dixon also performed in community theater productions of The Women and Little Shop of Horrors.
"I am grateful to be working with such a talented director, cast and crew," Sandra notes.
September 20, 2017.
RELATED POSTS.