Spotlight on 'Musical Comedy Murders' actor Mark King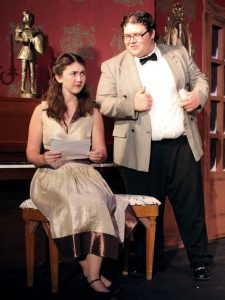 The Musical Comedy Murders of the 1940s is on stage at Lab Theater now through March 31. Actor Mark King plays the role of comedian Eddie McCuen.
The character of Eddie McCuen has an interesting pedigree. He's based on iconic comedian Bob Hope. Is function in Musical Comedy Murders is to tie together two disparate story lines, and he traverses an impressive character arc, going from being cowardly at the beginning of the play to heroic at the end. He is attracted to chorus girl Nikki Crandall, who is way out of his league. He stammers and stumbles as he tries to strike up a conversation with her, but as soon as he realizes that everyone else who has been invited to the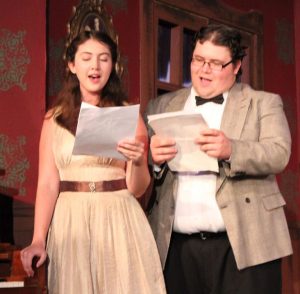 Von Grossenkneuten Mansion was involved in the ill-fated Manhattan Holiday musical which closed after three chorus girls were murdered by the infamous State Door Slasher, he tries to get Nikki to leave lest she become victim number four. But trapped by a fierce snowstorm, he and Nikki have no choice but to stay, and Eddie summons courage he didn't know he possessed as the bodies begin to pile up and danger lurks behind every curtain and secret passage.
Eddie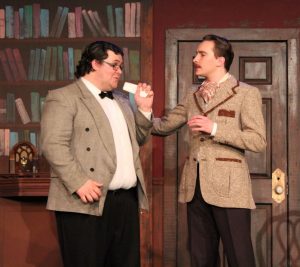 McCuen represents Mark King's debut at Lab Theater. However, you may have seen him in Urinetown or Tarzan at Florida Rep, Les Misérables or All Shook Up at Cultural Park, Young Frankenstein or Shakespeare's Scottish Play at NFMHS, or even The Addams Family and The Miracle Worker at The Alliance for The Arts.
Mark is planning to attend college, but has not yet chosen the school he wants to attend or his major course of study. But wherever he ends up and whatever his major,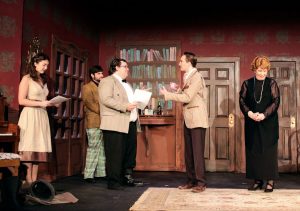 Mark is sure to appear on stage going forward … although perhaps not as a comedian. That's just way too risky.
March 9, 2018.
RELATED POSTS.