'Visiting Mr. Green' play dates, times and ticket info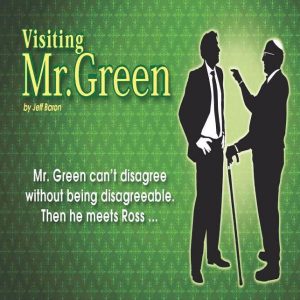 Play: Visiting Mr. Green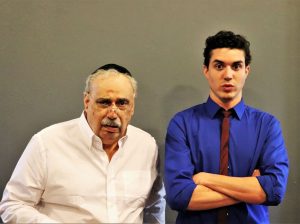 Playwright: Jeff Baron
Synopsis: The story follows two men thrown together under the oddest of circumstances. Having almost hit 86-year-old widower Mr. Green with his car, Ross Gardiner is charged with reckless driving. He must now complete a form of community service and visit Mr. Green every week for the next six months. At first, both men resent these forced visits, but soon their conversations reveal family secrets and past hardships in need of being brought into the light of day.
What the Critics Say:
"…this is a two-person gem." – Denver Post
"There is a level of intelligence and compassionate understanding here which exceeds what we expect to find in the category of sentimental comedy entertainments…" –Talkin' Broadway
★★★★ "A great piece of theatre" – London Sunday Telegraph
"A cannily crafted comedy-drama about friendship, family and forgiveness. Baron's play runs like a well-oiled express." – NY Newsday
"Visites á Mr Green is, very simply, a great, beautiful, essential moment of theatre. It grabs us at the beginning and doesn't let us go until the end." – France Soir
"A wise, absorbing and funny play that packs quite a punch. Sparks fly." – Sydney Sunday Telegraph
"Delicate, compact and compelling. A powerful play." – Volkskrant (Amsterdam)
Director: Annette Trossbach
Cast:
Mr. Green: Michael Hennessey
Ross Gardiner: Brandon Somers
Days and Times: April 13, 14, 19, 20, 21, 26, 27, 28 at 8:00 p.m. with 2:00 p.m. matinees on April 22, 28 and 29.
Tickets: Tickets are available to purchase on Brownpapertickets.com or by calling the box office at 239-218-0481.
Location: 1634 Woodford Avenue in the Fort Myers River District.
March 28, 2018.
RELATED POSTS.