Focus on Dave Matthew Chesebro, who plays Gaston, the cafe's lovesick chef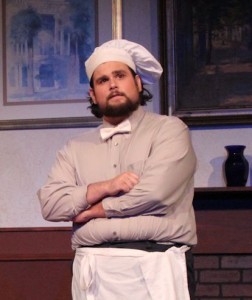 On stage again this Friday and Saturday at Lab Theater in the River District is Michael Hollinger's one-act farcical tragicomedy, An Empty Plate in the Café du Grand Boeuf. The storyline revolves around an eccentric American ex-journalist named Victor who purportedly owns the best restaurant in all of Paris although it exists to serve but one patron and one patron only, that being Victor himself (played by Ken Bryant).
Of course, to lay claim to the accolade of best in a culinary capital such as Paris a restaurant would undeniably have to employ the finest gourmet chef in Europe, if not the world.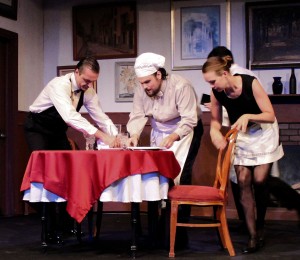 That would mean that the Café du Grand Boeuf's Gaston would have to be better than the likes of Hell's Kitchen's Gordon James Ramsay (the only chef in the United Kingdom with 14 Michelin stars), Meilleur Ouvrier de France and chef of the century Joel Robuchon (whose 25 Michelin Stars is the most to any chef's credit in the world), the Godfather of Modern Cuisine Marco Pierre White (who'd earned 3 Michelin stars by the time he was just 33), the incredible Wolfgang Puck, the Father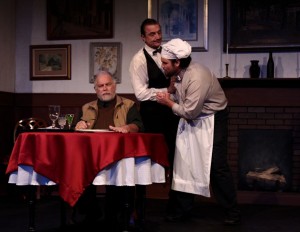 of Culinary Art in France Paul Bocuse (whose cuisine lingers on the taste buds) or French Laundry's Thomas Keller (where meals with wine pairings average $750 per person). All of these men, along with David Chang, Anthony Bourdain, Jamie Oliver, Ferran Adria and Charlie Trotter have two things that Café du Grand Boeuf's Gaston lack: age and presence.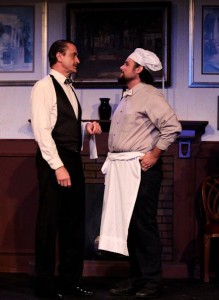 Now that's certainly not the fault of Dave Matthew Chesebro, who has only been involved in theater for six scant years. An older, more pretentious actor would perhaps have better suited this role. Nevertheless, Chesebro brings his own manner of swagger to the part. For example, in spite of being named Gaston, he is conspicuously bereft of French accent, suggesting (no doubt) to the horror of Frenchmen everywhere what the rest of the world already knows – you don't have to be French to be among the very best chefs on the planet (due deference to Marco Pierre White and Paul Bocuse).
As the play unfolds, the audience might wonder why the best – or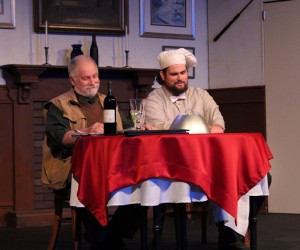 one of the best – chefs in the world would hide his formidable talents under a basket where only his employer, Victor's Mademoiselle and the wait staff ever get to enjoy his culinary masterwork. The money? Having time to pursue outside pursuits (a' la Charlie Trotter, who has written 14 cookbooks and 3 management books or David Chang and Anthony Bourdain, who are also accomplished authors)? Or is it an different type of pursuit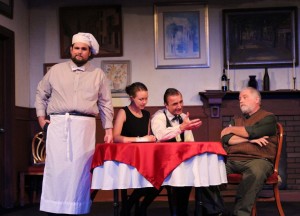 entirely that keeps Gaston in the kitchen at Café du Grand Boeuf?
Empty Plate, after all, is not a play about food. It's a play about loss and longing for that which you cannot have. In Gaston's case, he pines away for Mimi (played by Marta Sand), the café's comely hostess and dispirited wife of its haughty head waiter, Claude (played by Mike Dinko). Gaston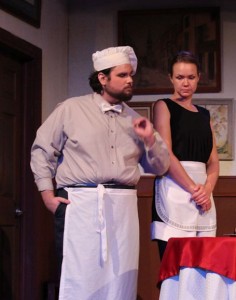 confesses his love to Victor though not to the ever-frustrated Mimi, who wishes that her husband would lust over her as he does for the stammering waiter-in-training Antoine and provide her with a wardrobe rivaling that of the American First Lady, Jackie Bouvier Kennedy. Sadly, his few on-stage interactions with the charmingly forlorn Mimi lack any spice, sizzle or sauciness. Left to his own devices, Chesebro might have turned up the heat between these two characters. But alas, for whatever reason, playwright Michael Hollinger chose to downplay the interactions between these two supporting characters.
One thing's for certain. Chesebro is fun to watch in this play,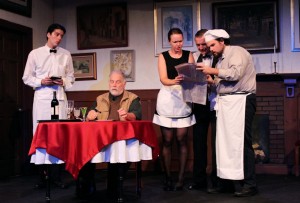 and he enjoys some of the funniest one-liners in the play. But keep in mind that right now, he's still studying, learning and experimenting with different recipes and ingredients. Chesebro is himself a writer. He was one of the playwrights who worked on this past season's The Rauschenberg Project Play, in which he also played a number of roles. He also played Mr.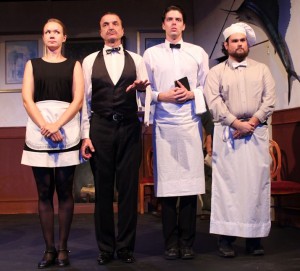 Mushnik in Little House of Horrors, and has worked on a number of other productions in set construction and props management. So check back often. The best of Dave's acting and playwrighting remains to be refined and served.
Want more?