Focus on Juan Alejandro, who plays waiter-in-training Antoine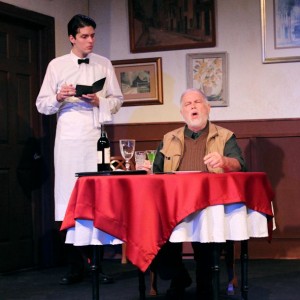 On stage tonight at Lab Theater is Michael Hollinger's existential tragicomedy An Empty Plate in the Café du Grand Boeuf. Playing the part of waiter-in-training Antoine is Juan Alejandro.
As Antoine, Alejandro is not center stage as he was in his last production, where he played a young theater critic by the name of Mortimer Brewster in Arsenic & Old Lace for the CFABS Community Players. In Empty Plate, he plays a former busboy who has been brought to the Café du Grand Boeuf by its head waiter to replace a beloved former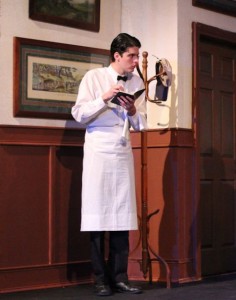 employee who has died. The role presented Alejandro two challenges, two opportunities to stretch and grow as an evolving young actor.
First, Antoine would rather be a journalist, but finds that career path and many others blocked by the fact that he stutters. Although this is a comedy, playwright Michael Hollinger does not imbue this character with this limitation to evoke cheap laughs (in the tradition of, for example, My Cousin Vinny or A Fish Named Wanda). Empty Plate is a show about longing and loss, and to Hollinger's credit, he employs Antoine's stuttering as the setback in life that Antoine must overcome to attain his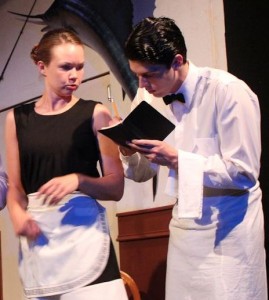 goals and dreams.
Children who stutter are often ridiculed and bullied, and there is suggestion in the play that Antoine has faced his share of mean-spiritedness both in childhood and his previous place of employment. I was not privy to discussions between Alejandro and director Harry Hazen, so I cannot say whether they considered the full palette of repetitions, blocks, secondary symptoms (chin down during tense stutters), eye contact aversion to display shame, and breathing dis-coordination that typify stuttering. But Antoine's stuttering seemed realistic and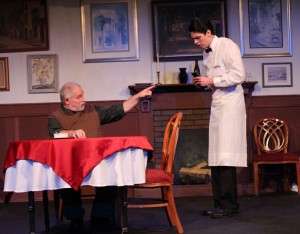 did the job Hollinger intended of eliciting sympathy and compassion on the part of the audience. And the correctness of this psychological reaction is reinforced toward the play's end when the frustrated journalist, newspaper owner and Ernest Hemingway wish-he'd-been, Victor, suggests that Antoine should not let that or anything else prevent him from pursuing a career in writing and journalism.
Alejandro also had to learn tuba for his role as Antoine. "We actually paid for him to take music lessons," acknowledges Lab Theater Artistic Director Annette Trossbach. He only had to learn one song for purposes of the play, that being Lady in Spain. And the script directions call for him to play that song poorly, even painfully, which Alejandro did in good humor. But this goes to show the effort and extent to which Alejandro is willing to go in order to hone his craft and improve his on-stage skills.
I did not have the pleasure of seeing Alejandro in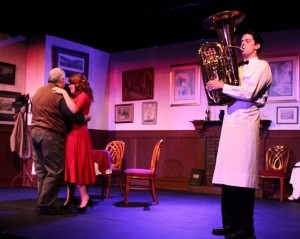 earlier productions with the Naples Players and other theater groups in the Naples/Fort Myers area. His acting credits for those companies included Septimus Hodge in Theatre Conspiracy's 2015 production of Arcadia, Patrick Chibas in Spinning into Butter, Steve Grimes in Good People at the Naples Players, and Percy Bysshe Shelley in Bloody Poetry at the FGCU Theatre Lab. But his progress and development in just the past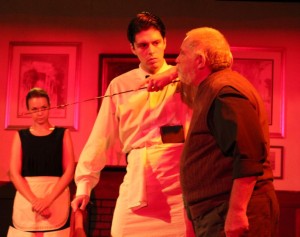 six months has been remarkable. From Ty in last December's Laboratory Theater 24-Hour Playwriting Project winner, The Bird Flew, to Theatre Conspiracy's production of Kayak in January, where he played the part of Peter Iversen alongside Lauren Drexler and Alex Holmes, and March's production of Arsenic & Old Lace at the Centers for Performing Arts Bonita Springs, Alejandro has demonstrated steady growth in his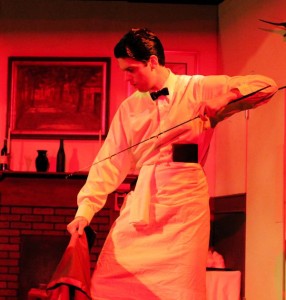 acting skills, and his portrayal of Antoine evinces a level of maturity not present in earlier roles.
Kudos to Juan Alejandro. The local theater community looks forward to your next role.
Posted June 10, 2016.
Related Articles and Posts.