Spotlight on Sage Meyers, who plays the mysterious Lady in Spain, Louise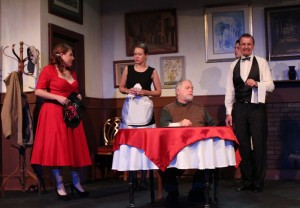 On stage now at Lab Theater is Michael Hollinger's farcical tragicomedy, An Empty Plate in the Café du Grand Beouf. Playing almost a cameo role is Sage Meyers, who portrays Louise, the mysterious "Lady in Spain."
When the play starts, the café's rich owner, Victor, arrives morose and disheveled, intent on starving himself to death because he and his love are no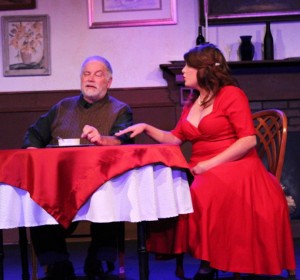 more. The startled staff has no idea what may have happened, and as employees in a small tightly-knit establishment are wont to do, they begin to speculate on her fate, even postulating that she's met with foul play.
Then, as the play winds to its inexorable conclusion, Victor reveals to his concerned staff the events that took place as he and Louise watched a bull fight in Madrid. But to everyone's surprise, no sooner has Victor brought his tale of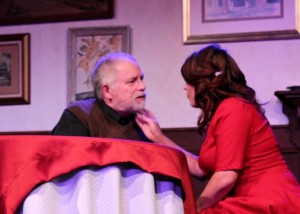 woe to a dramatic conclusion on the restaurant's floor than in walks Louise, donned in a red dress that would rival the cape used by any matador in the bull rings of Spain.
Hers is as dramatic an entry as any actress could hope to land, but for Meyers it came as an unexpected surprise when the actress who was cast in the role suddenly dropped out just two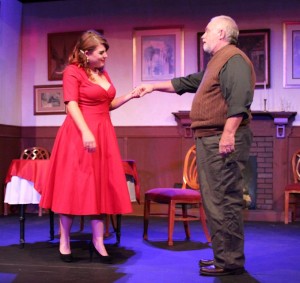 weeks prior to the opening. But you'd never know that Meyers had been just the understudy for the part. Like a comet, she is a shooting star during her brief time on stage.
Sage is enjoying just her second at Lab Theater. Previously, she was a member of the cast of The Rauschenberg Project Play, where she reprised multiple roles. She has appeared in several shows throughout Southwest Florida, including Little Shop of Horrors, Smokey Joe's Café, and A Funny
Thing Happened on the Way to the Forum. She thanks both director Barry Hazen and Dave Chesebro for the chance to be in Empty Plate. Chesebro, you may or may not know, plays the role of Gaston, the lovesick chef who pines away for the Café du Grand Boeuf's sexually and socially frustrated hostess, Mimi, who is played by newcomer Marta Sand.
Related Articles and Posts.