Lab Theater spoofing 'Baby Jane' horror film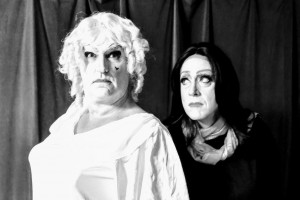 In 1917, Baby Jane is a blond-haired, blue-eyed spoiled rotten child star. Her sister, Blanche, isn't anything. But within a few years, Blanche becomes a bona fide film actress. Known as the Queen of the Hollywood Melodrama, she outshines her sister in every way. And as Blanche's career skyrockets, Vaudeville fizzles out and Jane is left behind. But then, Blanche's career comes crashing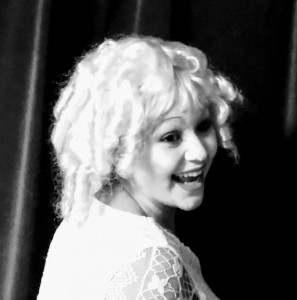 to an abrupt end when she's paralyzed from the waist down as the result of a freak car accident. Forgotten by their adoring fans and fellow actors, the sisters have no one left except each other.
Fast forward 30 years to 1962. Jane and Blanche are living together in Blanche's mansion. Blanche is managing the estate as best she can, but Jane has descended into alcoholism and sadism. She now serves not only as Blanche's caretaker, but as her tormenter as well. When Blanche informs Jane she plans to sell the house, all hell really breaks loose.
This is the plot of the classic film Whatever Happened to Baby Jane? But Lab Theater isn't reviving the old horror film. It's producing Dale Guzman's parody of the horror flick. More to the point, The Lab has cast men in the roles made famous by Joan Crawford and Bette Davis. Randy Jones stars as Jane with Rob Green playing the role of Blanche. Joining Jones and Green are Patrick Erhardt as Mrs. Bates, Jack Weld as Edwin Bates and Kayleigh O'Connell as Elvira. [What would a horror film parody be without the Bates and Elvira?]
Also appearing in Whatever Happened to Baby Jane: A Parody of the Horror are Steven Coe, Cindi Heimberg, Patrick Rogers, Eren Sisk, Holly Hagan and Yancy de la Roz as Little Jane.
Whether you are new to Baby Jane or a long-standing devotee, Whatever Happened to Baby Jane: A Parody of the Horror has all the earmarks of a new cult classic – one designed to shed light on the real life horror faced by the legion of childhood actors left woefully behind by the film and television industries.
May 30, 2017.
RELATED LINKS.