New Phoenix performs incendiary 'Last Schwartz' dark comedy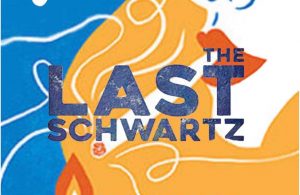 New Phoenix Theatre brings Deborah Laufer's The Last Schwartz to the stage February 16-26. Striking a tenuous balance between humor and pathos, this incendiary dark comedy poignantly demonstrates that the ties that bind can also strangle.
The Schwartz family has convened in the Catskills for the Yazheit memorial of the family patriarch on the one-year anniversary of his death. And oh what a family reunion it promises to be.
The Schwartz clan is anything but tightknit. The eldest child, Norma, is dogmatic, self-righteous and the self-appointed magistrate of her family's traditions. No one else seems to care and for the life of her, Norma can just not understand why the Schwartz siblings "aren't a real family." But she has no room to talk. Her own husband hasn't spoken to her since she turned in their 15-year-old son the police for smoking pot.
Herb is the oldest of three brothers. He's a bit preoccupied. After five miscarriages, it's pretty clear that his wife, Bonnie, is incapable of providing what he covets most – an heir. So he buries his nose in the newspaper until his youngest brother shows up with a Hollywood starlet sexpot decked out in a skintight dress and stiletto heels. But that's not the half of it!
An eccentric astronomer, Simon is losing his sight and spends what little time he has left in the sighted world gazing at the moon through a telescope.
Then there's the youngest Schwartz, Gene, a successful television commercial director who appears to have it all. But while his sister-in-law, Bonnie, cannot carry a child to term, Gene's sexy girlfriend, Kia, is planning an abortion.
What else could possibly go wrong?
The cast features Donna Richman as Norma, Michael Murray as Herb, Cindi Heimberg as Bonnie, Scott Carpenter as Simon, Jason Drew as Gene and Emilie Baartman as Kia. Brenda Kensler directors.
February 12, 2023.
RELATED POSTS.