Ten time Tony nominee 'The Full Monty' coming to New Phoenix Theatre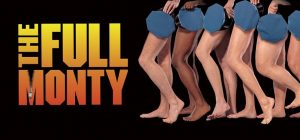 Coming to New Phoenix Theatre on February 27 for four full weekends is Terrence McNally and David Yazbek's The Full Monty. Based on the cult hit film of the same name, this ten-time Tony Award nominee is filled with honest affection, engaging melodies and the most highly anticipated closing number of any show.
A group of unemployed Buffalo steelworkers spying on their wives at a girl's night out at Tony Giordano's club are chagrined when they see how much they are enjoying watching the male strippers. Jealous and feeling emasculated, the men come up with a bold and unclothed way to make some quick cash. They'll become male strippers too! In fact, they'll perform under the name Hot Metal. But in order to appeal to Tony Giordano's female patrons and prove that they're all in, they'll do the Full Monty.
As they rehearse their choreographed number, they're not only physically exposed, they're emotionally bare as well. Although they fear that their audience might be just as critical of them as they are of the women they see in a Victoria Secret catalog ("The Goods"), they press on. And as they conquer their fears, self-consciousness and prejudices, the men come to discover that they're stronger as a group, and the strength that they find in each other gives them courage to "Let It Go." The Full Monty isn't just about showing off the outside, it's about what we all have inside as well.
The Full Monty is a story full of heart. Right to the end, audiences will be wondering if these lovable misfits will really pull it off. With a raucous mix of razor-sharp humor and toe-tapping pizzazz, this heartwarming, upbeat comedy will have audiences begging for more.
The Full Monty runs at New Phoenix February 27 through March 22.
December 22, 2019.