Cicero McCarter is Hedley in August Wilson's 'Seven Guitars'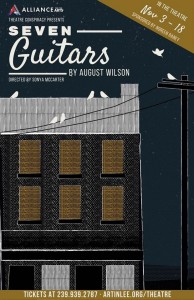 On stage in the Foulds Theatre at the Alliance for the Arts from November 3-18 is Theatre Conspiracy's production of August Wilson's Seven Guitars. Playing the role of Canewell is Cicero McCarter.
Seven Guitars revolves around a jazz guitarist and singer by the name of Floyd "Schoolboy" Barton. After serving time in jail on trumped up vagrancy charges, he comes back to Pittsburgh trying to convince his old love, Vera, to come with him to Chicago, where a sweet record deal awaits him. But Floyd has made a lot of mistakes, and he sets off on a journey to right his wrongs and prove to his community that he has changed. As soon as everyone is convinced and it seems as though things are finally going his way, Floyd is killed, and everyone's world comes crashing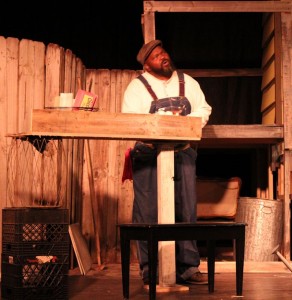 down once more. Each of the men grapple with what it means to be a man, and all of the characters struggle with how to get ahead in a world that seems to be set against everything they are.
At 59, Hedley is the oldest of the characters in the play. He tells his friends at Louise's apartment that when he gets his father's inheritance, he's going to build a plantation right there in Pittsburgh. They laugh at the thought. After all, a plantation in Pittsburgh? But Hedley is openly critical and suspicious of the white society that oppresses him, and equates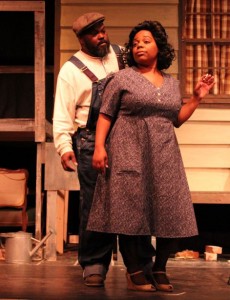 plantation ownership with freedom from being told what to by others, particularly white authority figures. And that intolerance for being under someone's control is what prevents him from going into a sanitarium for treatment of his worsening tuberculosis.
Theatre Conspiracy audiences will remember him as Slow Drag in last season's Ma Rainey's Black Bottom and Henry Simpson in the 2015 production of Lillian Hellman's Toys in the Attic. McCarter is married with four children and enjoys woodworking and playing chess.
October 24, 2017.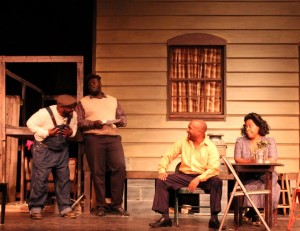 RELATED POSTS.