Cantrella Canady joins 'Seven Guitars' cast as Ruby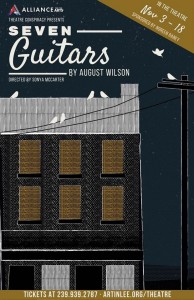 On stage in the Foulds Theatre at the Alliance for the Arts is Theatre Conspiracy's production of August Wilson's Seven Guitars. Cantrella Canady plays the role of Ruby.
Seven Guitars revolves around a jazz guitarist and singer by the name of Floyd "Schoolboy" Barton. After serving time in jail on trumped up vagrancy charges, he comes back to Pittsburgh trying to convince his old love, Vera, to come with him to Chicago, where a sweet record deal awaits him. But Floyd has made a lot of mistakes, and he sets off on a journey to right his wrongs and prove to his community that he has changed. As soon as everyone is convinced and it seems as though things are finally going his way, Floyd is killed, and everyone's world comes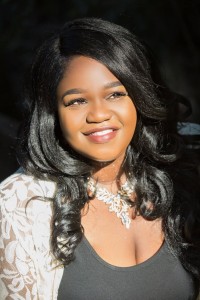 crashing down once more. Each of the men grapple with what it means to be a man, and all of the characters struggle with how to get ahead in a world that seems to be set against everything they are.
Vera's neighbor is a woman named Louise. Ruby is Louise's niece. She arrives at her aunt's house in the middle of the action. She comes to Pittsburgh from Alabama after two men have a deadly dispute over her.
Cantrella Canady stays busy – very, very busy. She rocked the house several weeks ago at the Sugden Theatre in The Naples Players' production of Sister Act: The Musical. She was also seen last season in Lab Theater's limited run of Deborah Lake Fortson's Body & Sold. But Theatre Conspiracy audiences will recall her as the introspective diva with attitude in Ma Black Bottom.
Prior to that, she was in last season's The Country Wife at Theatre Conspiracy, where she played Lady Fidget opposite Elvis Mortley. Other acting credits include The Rauschenberg Project Play at Lab Theater, For Colored Girls Who Have Considered Suicide/When the Rainbow is Enuf (in which she played the Lady in Green), Mr. Burns: A Post-Electric Play, and the stage adaptation of Toni Morrison's award-winning novel The Bluest Eye. She also appeared in Angela Pierre and the Motown 4 at Cultural Park Theater in Cape Coral, and hosted the "As Small as a Mustard Seed: Planting as We Grow" Benefit Dinner at The New Beginnings of SWFL. She also understudied for the role of Silvia in Cultural Park Theater's production of All Shook Up.
Canady finds staged reading useful for expanding and honing her formidable acting skills. She read the part of Inez Jessie in Soulforce at Florida Gulf Coast University and Smoke during Florida Repertory Theatre's PlayLab staged reading.
Cantrella also currently co-hosts Destiny Radio Talk Show and is a member of the Gospel Jams Radio Show, Jam Crew. Her love of acting has also inspired her to perform in several community theater productions and web skits. She is enrolled at Florida Gulf Coast University, where she is pursuing her Bachelor of Arts in Communication with a minor in Theater.
October 24, 2017.
RELATED POSTS.