Theatre Conspiracy at the Alliance producing August Wilson's 'King Hedley II'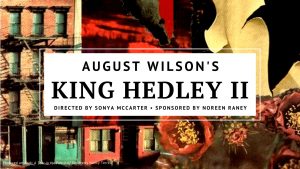 Playwright August Wilson makes his triumphant return to the Foulds Theatre at the Alliance for the Arts on Saturday, March 7 with King Hedley II. This is the fourth production in Theatre Conspiracy at the Alliance's ongoing commitment to produce each of the ten plays in August Wilson's Century Cycle.
Placing his hopes and dreams on the line, a man pieces together his life in Pittsburgh after seven years in prison. Set in 1985, Hedley II features stories of characters initially presented in Seven Guitars and asks the question: will the seeds of neglect, resentment and pride breed pain and self-destruction or can forgiveness and compassion produce healing and self-renovation?
Directed by Sonya McCarter, King Hedley II stars Derek Lively as the King and Tijuanna Clemons, Lemec Bernard, Dwayne Donnell, Cantrella Canady and Chris McCarter.
The play opens on March 7 and runs through Sunday, March 14.
February 25, 2020; revised March 3, 2020.
RELATED POSTS