'Hatmaker's Wife' play dates, times and tickets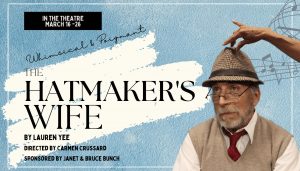 Play:  The Hatmaker's Wife
Playwright: Lauren Yee
Genre:  Magical Surrealism, Comedy
Synopsis:  Not long after moving in, the woman hears a wall speaking to her. Then she starts receiving notes. It appears the wall wants to help her and her boyfriend by sharing the story of two former residents, a hatmaker named Hetchman and his wife. Hetchman loved his magical hat so much more than his wife that she ran off and took the hat with her, leaving him bereft and alone, with only his bighearted friend Meckel to keep him company.
Director:  Carmen Crussard
Cast:
Voice (the young woman):  Madelaine Weymouth
Gabe: Giuseppe Loduca
Voice of the Wall:  Kendra Weaver
Hetchman:  Scott Thompson
Hetchman's Wife:  Joann Haley
Yeckel:  Jim Yarnes
Golem:  Bryan Dworkin
Play Dates and Times: Performances are
March 16 – 18 and 23 – 25 at 7:30 p.m. and
March 26 at 2:00 p.m.
Tickets: Tickets are $25 for members, $30 for non-members and available at ArtInLee.org or by calling the box office at 239-939-2787.
Sponsors: The production is generously sponsored by Janet and Bruce Bunch.
Location:  Fould's Theatre, Alliance for the Arts, 10091 McGregor Boulevard, Fort Myers.
March 3, 2023.
RELATED POSTS.
Whimsical and poignant, 'Hatmaker's Wife' redefines ideas of family, home and true love